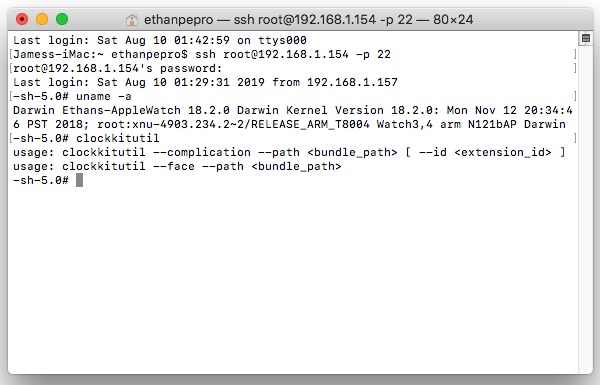 While we look forward to the iOS 13 jailbreak after next month's iOS13 public release, it looks like the 'Brenbreak' jailbreak for Apple Watch is also moving forward nicely. If you are not familiar with Brenbreak, it is a jailbreak tool for watchOS developed by @ethanpepro, which will enable Apple Watch users to jailbreak their wearable device and make changes to it not allowed by stock watchOS.
We have previously reported about the so called Brenbreak jailbreak for Apple Watch, in fact in our previous report we mentioned that its developer expects to release the jailbreak to public in Q4 2019. Now it looks like he is going to meet his target as Ethan has announced on Twitter that he has achieved SSH capabilities on his jailbroken Apple Watch. This is a big development since access to SSH will enable a jailbreak user to log into the root of their device and run commands on it through an external device.
SSH root access will make it possible for the jailbreak to make changes to watchOS system files, and help in installing third-party tweaks on it. This means users will be able to install tweaks and possibly new watch faces on their devices using Brenbreak's final version.
@ethanpepro has also shared an image with his tweet that shows him running SSH on his Watch Series 3 (aka Watch 3,4).
Brenbreak watchOS jailbreak supports all current models of Apple Watch, which includes Apple Watch Series 0, 1, 2, 3 and 4. It will work with watchOS 4.0 all the way up to watchOS 5.1.2, so if you are interested in using this jailbreak tool make sure you don't update your Apple Watch.
As always we will keep an eye on Brenbreak's development and update you once more information is available.
all coming together nicely 😜 pic.twitter.com/xsbirHjsdW

— James Luke (@ethanpepro) August 10, 2019
Disclosure: iOSHacker may receive a commission if you purchase products through our affiliate links. For more visit our privacy policy page.