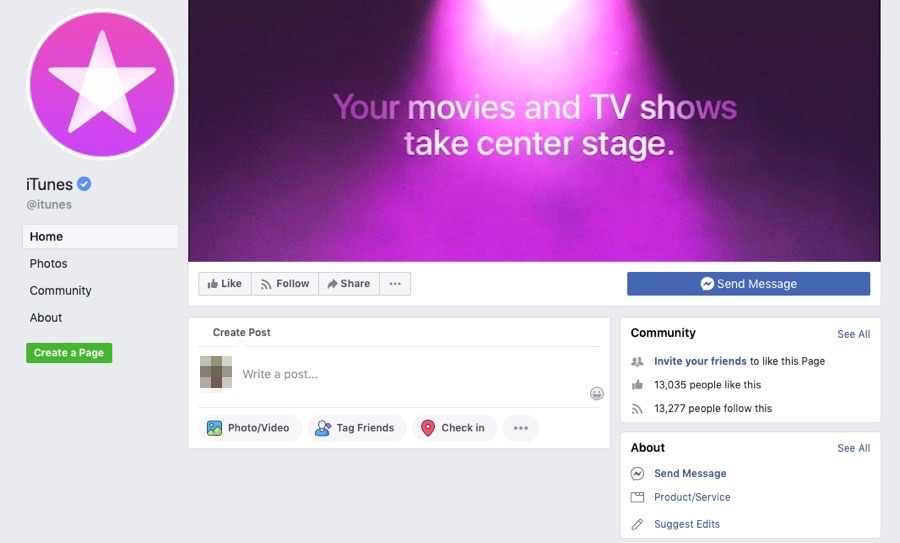 There are reports that claim Apple is going to kill iTunes app on the desktop in favor of new Music, Podcasts and TV apps. These apps are expected to debut with macOS 10.15, which will be announced on June 3rd. Now it looks like the company is preparing for the move as it has recently wiped off all of the content posted on official iTunes pages on Facebook and Instagram. Even though the iTunes pages still exists all posts, photos and videos have been removed from them.
In the case of the iTunes Facebook page, it seems like Apple has migrated its nearly 30 million likes and previously posted content to the Apple TV page. The Apple TV page is showing the page 'Creation date' as April 30, 2009, which suggests the company has simply renamed the original iTunes page as Apple TV and shifted the iTunes page name to another page that has only 13k likes and no content.
Similarly on Instagram the verified page called iTunes has 0 posts and simply points towards the Apple TV Instagram page with 1.6 million followers. This page too appears to have been renamed to Apple TV from original iTunes page name.
This move from Apple holds significance as there have been reports from both Bloomberg and 9to5Mac that suggests Apple is finally going to replace iTunes with new standalone apps for Music, Podcasts and iTunes. In fact screenshots for the macOS Music app were recently leaked.
While the leaked reports have suggested the company plans to move many of iTunes features into standalone apps, they have not revealed what will happen to other iTunes features, as the app also allows users to purchase Music, apps, manage iPhone data and backups and more. (MacRumors)