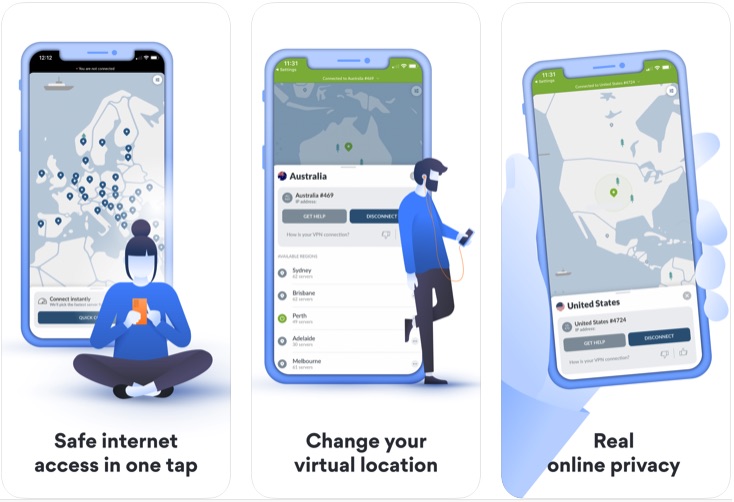 For many tech-savvy people, a VPN is a necessary security tool. Not only does it protect your data but it can also help you browse the Internet anonymously. What's more, you can use it to unblock entertainment websites, share files remotely and torrent without exposing your identity.
Unfortunately, the best VPNs come at a cost. Most of them provide subscriptions to use their services across multiple devices and not iPhones alone. So, what if you only need to secure your iOS gadgets? Can you get a free VPN for your iPhone?
A VPN is necessary for not only accessing blocked content but it is also useful for protecting yourself from hackers. So no matter if you are dealing with hackers who are involved in ethical hacking or unethical one, a VPN can offer great protection.
Install a Free VPN
Apple App Store is jam-packed with free virtual private networks you can install on your iPhone at no cost. Many of them barely take any space in your iPhone. The setup process is straightforward and you can secure your connections with a single click.
The best free VPNs have servers in a decent variety of cities and countries. That means you can switch IP address around to reflect you're in the UK, China or Brazil while you could be in your London apartment. The benefit is that you can increase your anonymity by using different servers at various times.
Any decent free VPN should also encrypt your data through secure algorithms. The best clients use 256-bit, the military grade standard. However, it's not unusual for free apps to use 128-bit, which is still secure but not as secure as 256-bit.
Enroll for a Free Trial VPN
Some premium VPN providers allow you to use their apps free of charge for a day, one week, a month or three months. The benefit: you get all premium features without spending a dime. If a VPN has 5000+ servers, supports unlimited traffic and can unblock Netflix US, you get these services without spending money on it.
Getting a free VPN trial is usually stress free. All you need is to find a VPN app with a trial version and install it on your phone. Some clients might also require that you create an account by providing your email address. However, seldom do they ask for your credit card number.
After your premium trial is done, you get a notification to upgrade your account by paying for a subscription. If you fail to buy a plan, then you're restricted from using the VPN. When you think about it, free trials provide an excellent way to review a company before you decide whether to use their paid services or not.
Buy a VPN With a Money-back Guarantee
Another way to get a free VPN for your iPhone is to find a premium VPN that provides money-back guarantees. Research about several companies and select one that provides the services you're looking for. For example, if you want a VPN for bypassing geo-restrictions, ensure it has multiple servers and can unblock any website in the world.
Regarding payments, you have two options. You can pay for a short-term plan or a long-term package. Paying for VPNs monthly is more expensive than buying an annual subscription. However, it's a great choice if you're not sure whether a company will honor its money-back policy.
All the same, money-back guarantees are like free trials. You get to use a VPN's best features as much as you want. And if you're not satisfied, you receive your money back. Although it's a great policy, not every company respects their policy.
Take time to find VPNs that pays back with no questions asked. It doesn't matter why you feel unsatisfied with a provider. All you need is to enable to money-back option and it' processed immediately.
Free vs Paid VPNs: What's best for your iPhone?
You need a VPN for your iPhone. Maybe you just want to browse the Internet securely. Perhaps you use public WiFi regularly and want to stay away from hackers. Irrespective of your reasons, installing a VPN is an excellent decision.
But should you pay for a VPN when you can get the same services free of charge? Below is a comparison of the benefits of free versus paid VPNs.
In the Internet security space, you get what you pay for. A decade ago, it was possible to get top-notch security tools free of charge. But these days, the best security programs have paywalls behind them. But that's alright. You can still find free VPNs that use standard security techniques.
For example, they use OpenVPN for data tunneling, the same protocols most premium VPNs use. However, they lack the variety accorded by paid providers. If they use OpenVPN, you don't get the privilege of also experimenting with L2TP/IPSec and WireGuard.
When you install a free VPN, there's a chance you'll receive a cap on the amount of bandwidth you can use in a day, week or month. Some companies also have a lifetime bandwidth limit. These caps are usually small, at least if you're a heavy bandwidth user.
On the flip side, most free VPN providers have a small number of servers. Some of these servers don't work or they provide extremely slow connections. By comparison, paid VPNs almost always have zero bandwidth limits and feature hundreds or thousands of fast, secure, servers.
Generally speaking, free VPNs provide poor quality services whether you want to stream sports or download files on torrent websites. Their security systems are relatively weak and get detected by geo-locking software pretty easily.
When it comes to transparency, most of these companies can't promise to keep your data safely. They use it to make money—they're businesses to. If you want high-quality VPN services, your best option is a paid provider.
In a Nutshell
You can get a free VPN for your iPhone. All you need is a quick check on Apple Store to find the best-rated free VPN and install it. Can you get quality services from a free VPN? Yes, if you opt for a free trial from a premium VPN or if you purchase a premium plan. Most of them are affordable anyway and your security is worth the cost.
Disclosure: iOSHacker may receive a commission if you purchase products through our affiliate links. For more visit our privacy policy page.