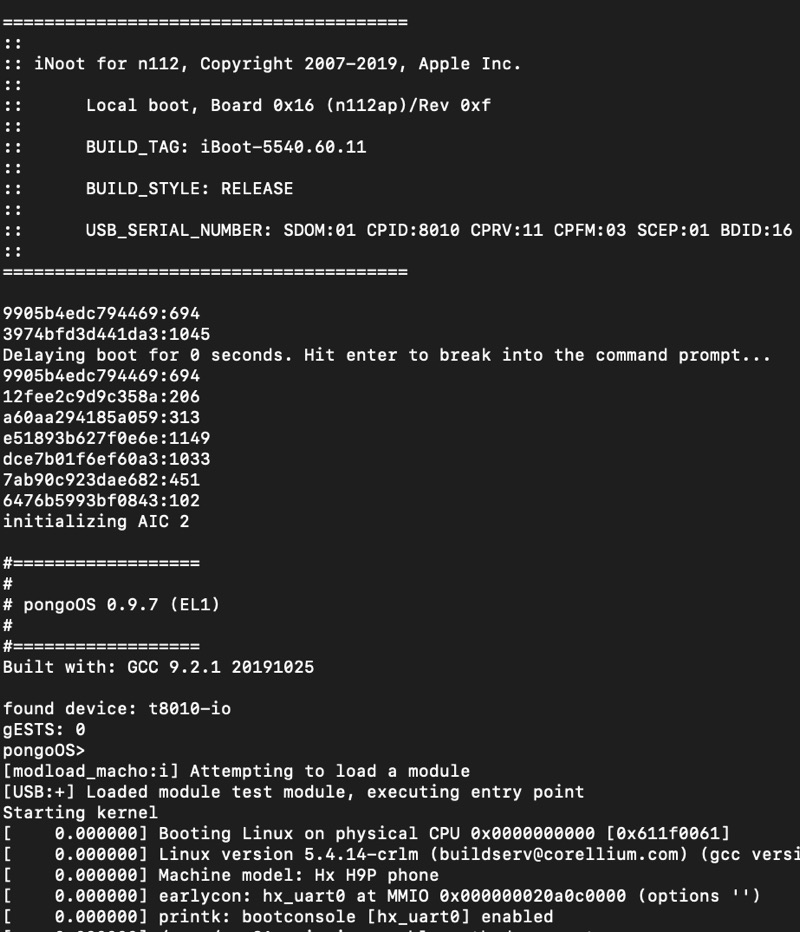 The checkm8 bootrom exploit has proven to be a gift that keeps on giving. After allowing checkra1n developers to successfully jailbreak iOS 13 and offering lifetime jailbreaks for affected devices, the next steps for checkm8 appear to be way beyond just plain old jailbreaking.
The team behind the checkra1n jailbreak has announced the release of PongoKit, which is a checkm8 based developer-only SDK that can be used to achieve deployment of non-iOS software on Apple's iOS device. Since PongoKit is based on the checkm8 exploit, it supports all devices that are affected by this exploit including all iPhones released prior to iPhone X.
initial release of PongoKit: https://t.co/J2M8iltIzz – more exported APIs coming soon!

— checkra1n (@checkra1n) February 6, 2020
PongoKit has been launched on experimental basis. Right now it can run PongoOS, which is a version of Linux that can run on a pwned iPhone. The images of PongoOS running on a pwned iPhone were shared by developer Luca Todesco, who later also shared photos of his iPhone running Facebook's simplefb API.
Linux on T8010 via PongoOS 🙂 /cc @CorelliumHQ @never_released pic.twitter.com/YnGvdYDik6

— qwertyoruiop (@qwertyoruiopz) January 29, 2020
Linux is perhaps the easier operating system to port on an iPhone, however as PongoKit matures it can allow developers to port other operating systems to iPhone and iPad. For example, in the future we could be able to install Android on iPhone or iPad and run it along side iOS on a dual-boot setup.
Alongside PongoKit's release developers behind checkra1n have warned that this release is meant for developers only and is at a primitive stage. Only those who know what they are doing should use it on their devices.
This is a developers-only release, and quite primitive at this stage, but we're interested to see what modules people come up with!
The release of PongoKit SDK and the possibility of running non-iOS operating systems, especially Android is exciting to say the least. Now we will have to wait to see what becomes of the PongoKit SDK and whether a dual-boot installation tool suitable for public consumption is released for everyone.
We will update you about the development of PongoKit SDK in as more details become available. What do you think about this development? Share your thoughts in the comments section below. (Source)
Disclosure: iOSHacker may receive a commission if you purchase products through our affiliate links. For more visit our privacy policy page.