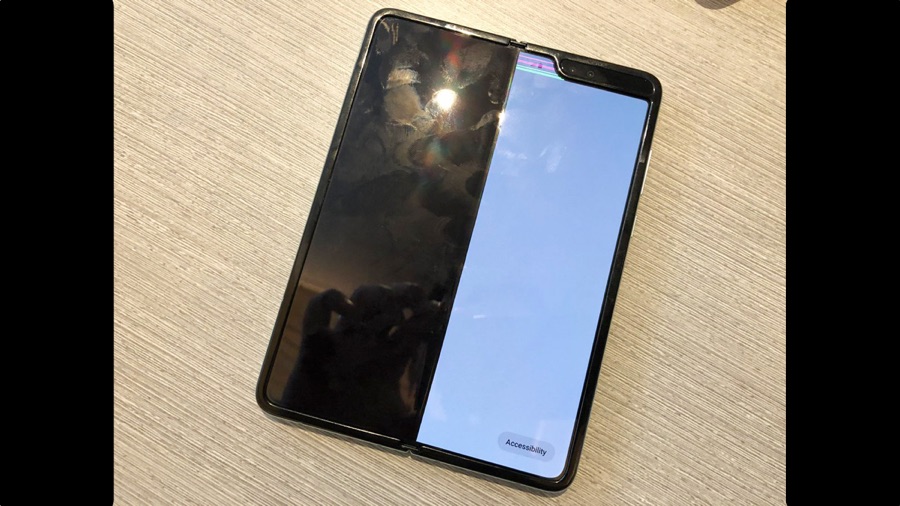 Samsung has finally launched its highly anticipated Galaxy Fold smartphone, however it looks like things are not going according to plan for the tech giant. Samsung had sent Galaxy Fold to a number of tech outlets and reviewers so they could get their hands on the device and share their thoughts on it, before it goes on sale on April 26th. Now there are reports coming from these tech reviewers that claim the device is having major display issues with the review devices breaking just within 2 days of usage.
The displays issues are not minor and have resulted in devices fully breaking down and becoming non-functional, something you would not expect from a device that is going to be sold to consumers in less than 2 weeks. TheVerge writer Dieter Bohn reports that his particular review device broke after it showed a random bulge on the display. The bulge according to Bohn could have been caused by the debris that may have gotten into the hinge.
CNBC reviewer Steve Kovach experienced a Galaxy Fold failure too as his review unit's display started flickering after just one day of use.
https://twitter.com/stevekovach/status/1118571414934753280
Similarly Bloomberg reporter Mark Gurman saw his Galaxy Fold review unit becoming unusable and broken after he peeled of what he thought was a removable screen protector. Turns out it wasn't a screen protector after all and caused his device to break.
The screen on my Galaxy Fold review unit is completely broken and unusable just two days in. Hard to know if this is widespread or not. pic.twitter.com/G0OHj3DQHw

— Mark Gurman (@markgurman) April 17, 2019
The phone comes with this protective layer/film. Samsung says you are not supposed to remove it. I removed it, not knowing you're not supposed to (consumers won't know either). It appeared removable in the left corner, so I took it off. I believe this contributed to the problem. pic.twitter.com/fU646D2zpY

— Mark Gurman (@markgurman) April 17, 2019
YouTuber Marques Brownlee tweeted that users are not supposed to remove the inside layer and said Samsung should make it clear on the box.
100% did the same exact thing and the inside screen spazzed. There should be a PSA or writing in the box.

— Marques Brownlee (@MKBHD) April 17, 2019
Steve Kovach however clarified that their device started having the flickering issue even though they hadn't removed the said protective layer. This suggests the issue is not limited to users removing the protective layer either.
https://twitter.com/stevekovach/status/1118576231379865601
No matter how groundbreaking Samsung Galaxy Fold may be, it is now a consumer device and not a prototype in a lab. Consumers spending $1,980 are not expecting a device that is so fragile and has a potential of breaking down in just a few days.
Disclosure: iOSHacker may receive a commission if you purchase products through our affiliate links. For more visit our privacy policy page.