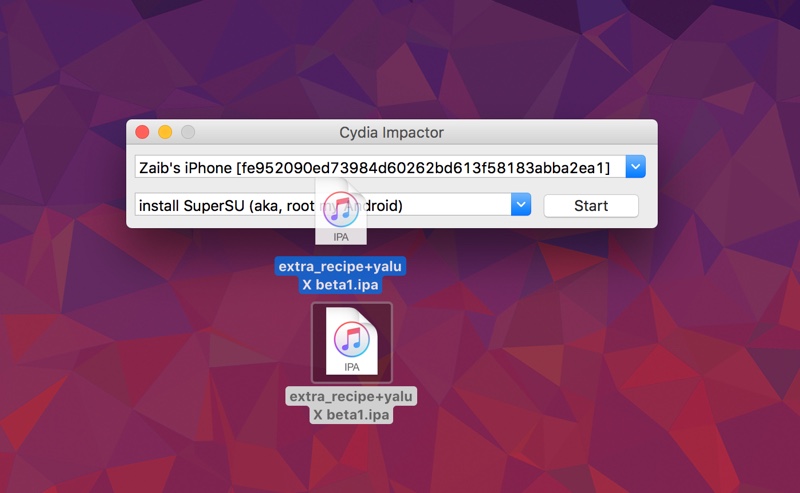 For those of you who have a jailbroken iPhone 7 or iPhone 7 Plus on iOS 10.1.1, we have got some great news. Following the release of of 'extra_recipe' by developer xerub, which is an updated version of Ian Beer's mach_portal exploit you will be able to enjoy a more stable jailbreak on your device. After the release of extra_recipe, Yalu jailbreak developer Luca Todesco has also released an updated version of his jailbreak tool.
The new version dubbed as extra_recipe+yaluX replaces the old implementation of yalu and mach_portal with the new and improved implementation from xerub. This version is meant for iPhone 7 and iPhone 7 Plus users only, as users of other devices already had the much stable yalu102 jailbreak. Now with extra_recipe+yaluX iPhone 7 users will also see a much stable jailbreak, which will also render the Substrate without having to use the Substrate fix tweaks. Other issues such as backboardd fixes for Order 65, Order 66 etc have also rendered obsolete with this release.
So should you use the updated tool now? We would advise you to wait until the dust settles. Luca Todesco has already posted the ipa for extra_recipe+yaluX on his official website, which can be used with Cydia Impactor to jailbreak an iPhone 7 or 7 Plus, however the tool is currently released as beta 1. This means it is very likely for your device to run into problems during and after the jailbreak process. Another reason to wait for a stable release is that the beta one of extra_recipe+yaluX does not install Cydia. It also does not run Substrate or remount file system as read-write. This means anyone looking for a 'normal' jailbreak with the ability to install tweaks etc will be disappointed for now.
xerub, the developer behind the new hack has just tweeted that extra_receipt+yalu with Cydia might release tonight or tomorrow. The iPhone 7 Plus support will be added by weekend according to the developer.
Cydia version of extra_recipe+yalu will come later tonight or tomorrow. Support for earlier i7(+) probably by weekend

— ~ (@xerub) May 23, 2017
Since Luca was very fast in implementing the extra_recipe exploit on his tool, we expect that he will release the subsequent betas and a stable version sooner than later.
You can look at the extra_recipe code here. If you are interested in beta testing extra_recipe+yaluX, then head to Luca's website here.