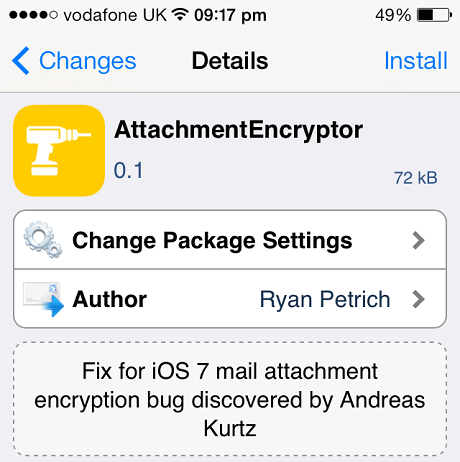 The release of iOS 7 has been a bumpy ride for Apple and it continues to be so to this day. A new bug has been discovered in iOS 7.1.1 that puts user's email attachments at risk as the mobile operating system fails to protect them with encryption. The bug became public a few days ago and Apple has already promised to release a fix as soon as possible. The bug also not limited to iOS 7.1.1 as it has also been found in iOS 7.1 as well as iOS 7.0.4.
While Apple's fix is on the way for those of you who want to stay on the safe side a new tweak called AttachmentEncryptor has been released and is now available in Cydia for download. The tweak has been developed by Ryan Petrich, who is noted for his work in the jailbreak community. The tweak does not require any effort from user's end apart from downloading it from Cydia.
This is not the first time a fix for iOS 7's bug has been fixed by the jailbreak community. Just almost two months ago the SSL connection bug was also fixed by a jailbreak tweak even before Apple was able to push the fix for its operating system.
AttachmentEncryptor is available in Cydia under Ryan Petrich's repository. It supports all iOS 7 devices including iPhone, iPad and iPod touch.