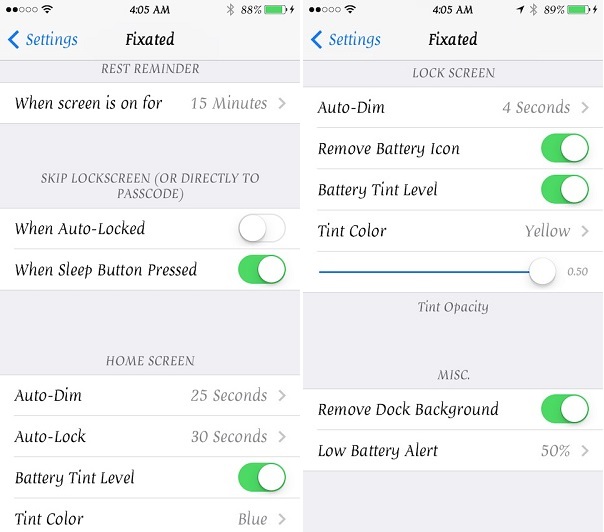 Fixated is a new multi-purpose tweak that lets users control certain aspects of their iOS device while adding some really useful features. The tweak has a number of uses that include allowing users to save battery, disable the lockscreen, add break reminders to the device and more. Fixated fully supports iOS 7 and works on both iPhone and iPad.
The break reminder feature is something many of us desperately need. This feature allows users to make their device display a "Break Reminder" after a user specified period of time. The tweak checks the time your screen is on and based on that time it displays the reminder to the user to take a break from using the device. Fixated also has the feature that gives the user ability to configure the screen dim time for both lockscreen and homescreen separately.
Other notable features of Fixated tweak include ability to display low battery reminders at any percentage of user's choice and add tint to background making it blue to indicate how much battery life is left.
Fixated is a useful hack that packs a number of features that you wouldn't expect to find in a single package. You can download it from Cydia for $1.99, which based on what it offers makes it worth the money.