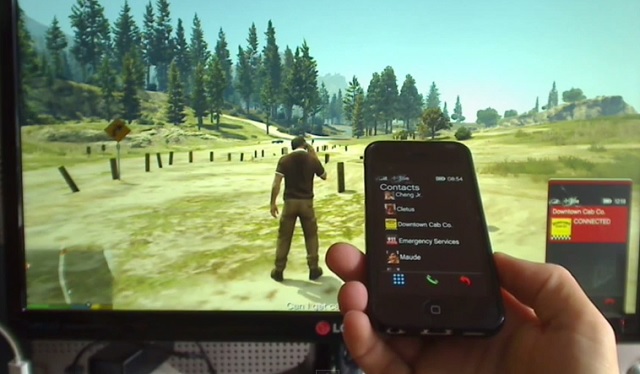 If you have played the new GTA V game for PC then you might have noticed that all three characters have smartphones that are much more advanced than the ones found in previous versions of the games. The virtual smartphones come with a number of apps in addition to messaging and calling capabilities that are crucial to the gameplay. While you have to use normal controls to browse through the smartphone that features an interface that looks suspiciously like Windows Phone, a hacker has created an iPhone app that lets him control the GTA V cellphone using his iOS device.
As demonstrated in the video below the user is able to launch a native app whose interface looks exactly like the UI of the in-game smartphone. Using the iPhone app he is able to read messages, access contacts and make phone calls, view objectives, open camera and take photos in GTA V. As you can see as soon as he launches the app the character pulls out the phone out of his pocket as well. Also, as he performs an action on the iPhone app the change is instantly reflected on the game making it look realistic.
On the Youtube description the developer has not mentioned much about how he managed to make it work. He says he used an Arduino Leonardo with Ethernet shield, connected to the PC. He also writes "Run a webserwer (same as the arduino example, just added more URL)".
We really hope the developer will release the app and write a detailed guide on how he managed to control the in-game GTA V smartphone with his iPhone so the rest of us can enjoy it as well, however until then this video is all we have got. (Engadget)