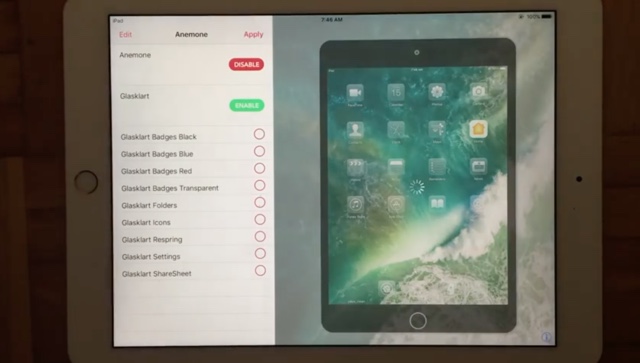 iOS 10 has only been out for a few days, however it seems like hackers have already started to find exploits that would allow jailbreak on it. Well known iOS hacker Luca Todesco has shared a demo video that shows Cydia running on iOS 10 powered iPad. This working iOS 10 jailbreak is dubbed yaluX by Todesco. While not much has been revealed about the jailbreak, the hacker did note that a lot of work had to be done on Cydia Substrate to make it work on iOS 10. He adds that a self-made library was used to replace the SubstrateLauncher.
In the short 2 minute video Luca first opens all the jailbreak apps including Cydia to show they are not working. Then he goes ahead and runs a utility that after performing some operation resprings the device. After the respring the jailbreak is seen working properly with Cydia and other apps running without any issues. This clearly indicates that while iOS 10 has been jailbroken, the jailbreak is still 'semi-untethered' like the one released by PanGu for iOS 9. What this means after every reboot users will have to launch a tool on their iPhone and wait for a few seconds as well as respring before they can use the jailbreak. The apps he ran include Anemone as well as Mobile Terminal.
While we know for a fact that Luca Todesco will not release the iOS 10 jailbreak, as he has previously demoed several different jailbreaks without ever releasing, we at least know semi-untethered jailbreak is possible on iOS 10. Now we can only hope PanGu, TaiG or some other team can release a fully working iOS 10 jailbreak for all of us to use. We already know PanGu is working on iOS 10 jailbreak, however when they are going to release it is anyone's guess.
Check out our iOS 10 coverage to see cool tips, features and how to's.
Disclosure: iOSHacker may receive a commission if you purchase products through our affiliate links. For more visit our privacy policy page.