Today on behalf of the iOSHacker team, I am thrilled to announce the official release of the iOSHacker Cydia repo! In this post, we will be explaining a little bit about the repo, and also the exciting opportunities for developers and designers. Firstly why would you want to add our repo? Well, if you are an active user of Cydia, you probably have seen something like this: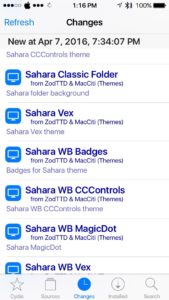 Since the default repos are included with Cydia, lots of designers and developers want their package on one of them. Unfortunately, this can lead to many poor qualities and spam. Our repo carefully examines each package and sees if it meets our quality standards. If it doesn't, we might make a few suggestions so that hopefully we can put the revised package up. We also won't post too many packages a day, to prevent filling up the "Changes" tab, and also to allow great packages to be discovered.
If you would like to add our repo, please enter in the repo URL into your sources in Cydia:
Why use GitHub? They offer unlimited storage, their servers are always up, and they offer easy tools for uploading. This allows packages to go up as soon as possible.
If you are a developer or designer, why would you want to host with us? First, our website receives tens of thousands of page views a day. Not only that, but we also would feature packages from our repo, which would allow your package to be seen by thousands of people. Since Cydia does not have support for third-party repos to have paid packages, we have a "Donate" button on the package description, where a user can donate to you for your hard work.
If you are interested in hosting with us, please email us at [email protected].
On behalf of the iOSHacker team, we hope you enjoy this repo and that it allows you to find quality tweaks and themes.
Happy Tweaking!
Disclosure: iOSHacker may receive a commission if you purchase products through our affiliate links. For more visit our privacy policy page.