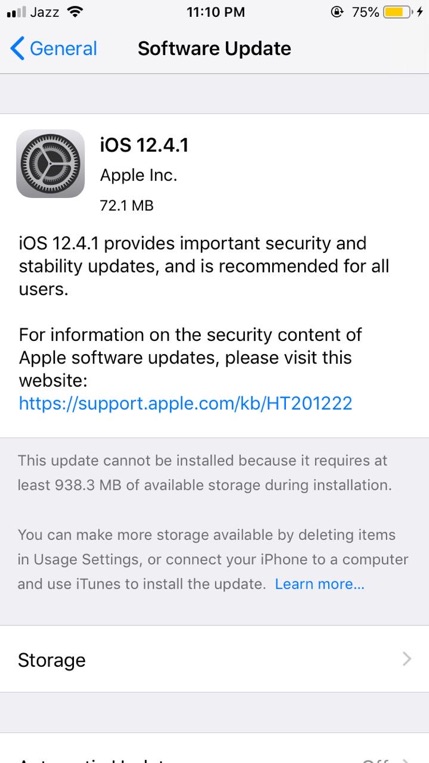 Following last week's jailbreak release it looks like Apple has finally fixed its mistake, as the company has released iOS 12.4.1 software update for all models of iPhone, iPad and iPod touch. The new iOS update, which can be downloaded over-the-air through the Settings app fixes the SockPuppet vulnerability that was used by hackers to jailbreak iOS 12.4. Embarrassingly this is the same vulnerability that Apple had closed in an earlier version of iOS 12 but mistakenly reintroduced in iOS 12.4.
In addition to iOS 12.4.1, Apple has also released new software updates for other devices and users can now download a new build of macOS Mojave 10.14.6, watchOS 5.3.1 and tvOS 12.4.1 on their respective devices.
Jailbreak Users Should Stay Away From iOS 12.4.1
It goes without saying that users who have either jailbroken iOS 12.4 or plan on doing so should stay away from the iOS 12.4.1 software update as it closes the vulnerability used in the jailbreak. If you are currently on an iOS version lower than iOS 12.4, then we also recommend that you update your device to iOS 12.4 as soon as possible to secure your chance of jailbreaking your device. With iOS 12.4.1's release Apple will soon be closing the signing window for iOS 12.4, blocking anyone from restoring their iOS device to this particular iOS version.
Apple has even credited developer of unc0ver jailbreak @pwn20wnd for discovering the vulnerability.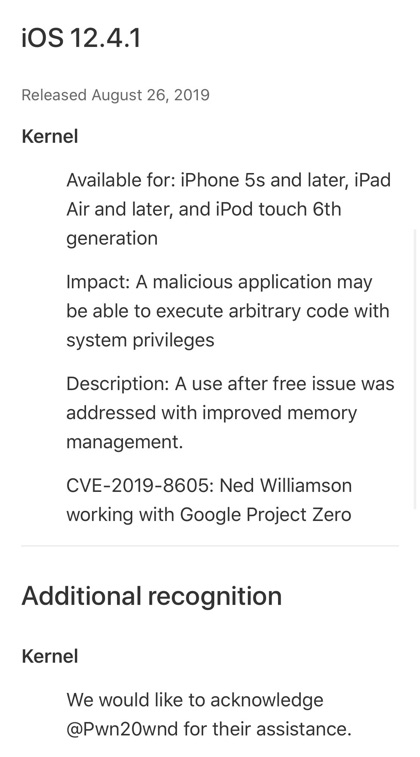 However if you are not interested in jailbreaking your device, then you can also use the iOS 12.4.1 IPSW links to directly download the new update on your computer and use iTunes to upgrade your device.
iOS 12.4.1 IPSW For iPhone
iOS 12.4.1 IPSW For iPad
iOS 12.4.1 IPSW for iPod touch