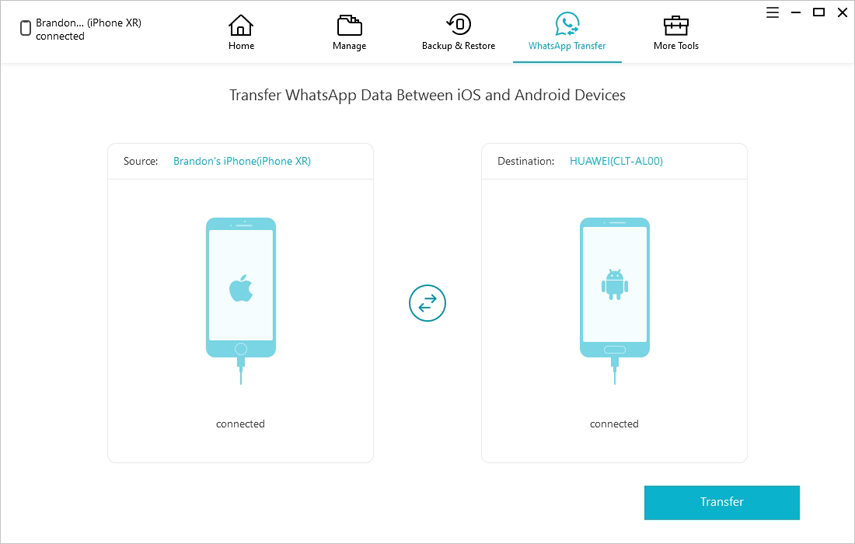 It has been nearly 8 years since the launch of Apple's iCloud service, however there are still a lot of things that are missing from this crucial service. One of the features that Apple offers through iCloud is the ability to backup iOS devices and restore them whenever they like. However the biggest problem with the service is that it lacks many features that users need to effectively backup and restore their data.
Similarly local iOS back ups also don't give users the freedom they deserve. For example, you cannot selectively extract data from an iPhone backup even if all you need is data from a specific application such as WhatsApp. So even if you only need your WhatsApp data, you are forced to first restore a backup onto an iPhone and only then you are able to see your messages, attachments and other WhatsApp data.
If you are tired of Apple's official solutions and are looking for something that gives you more flexibility and power, then iCareFone is the app for you. This multi-purpose app also has a powerful WhatsApp transfer feature, which makes it possible for iPhone users to backup their WhatsApp account on their computer and restore it on their device. However the usefulness of this tool does not stop there as it also gives users more features that you don't get elsewhere, certainly not through Apple's own backup solutions.
In addition to offering smooth and reliable WhatsApp Transfer feature to iPhone users, iCareFone tool also has features like ability to transfer and export data from iPhone to computer, creating backups and restoring them on iOS devices, adding new contacts, books and other data to the iPhone, ability to delete apps from your iOS device and remove files that you no longer need, manage contacts and merge duplicate contacts, troubleshoot iPhone and solve issues like iPhone stuck on Apple logo and disable iPhone issue, import ringtones to iOS devices and more.
Transfer WhatsApp data between devices
One of the features offered by the iCareFone is the ability to transfer WhatsApp data between iPhone and Android. This is a game changing feature since the biggest complain that users who switch from iOS to Android have is that they are unable to transfer WhatsApp from iPhone to Android. Using the 1-Click transfer tool offered by iCareFone users can easily transfer WhatsApp messages, attachments, videos, pictures and other files from their iPhone to Android.
That's not all as the tool also facilitates transfers between iPhone to iPhone, Android to iPhone and Android to Android directly. Here are the simple steps of transferring WhatsApp data with iCareFone. Using this tutorial you can transfer WhatsApp messages from Android to iPhone and vice versa.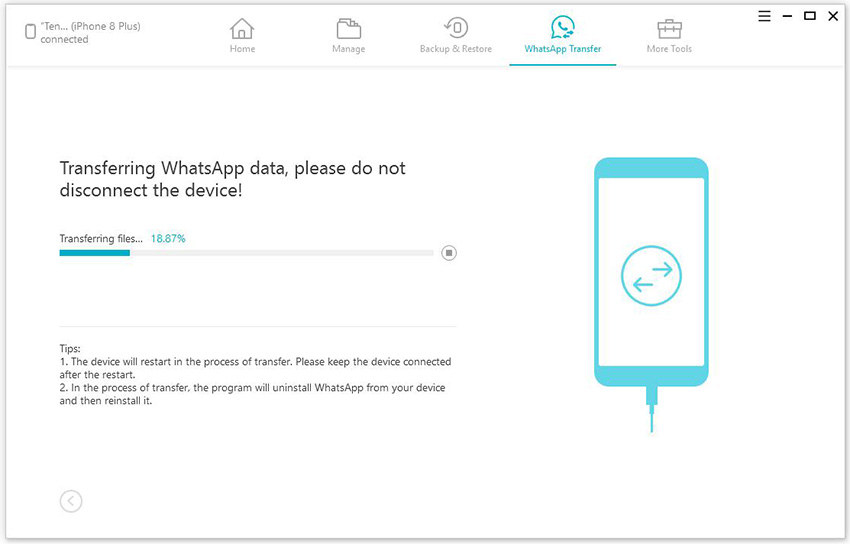 First of all download the iCareFone tool on your Windows or Mac and launch it.
Once the application is running select the 'WhatsApp Transfer' feature from the top navigation bar.
Now connect your old and new devices using USB cables. They should now show up in the tool.
Finally click on the 'Transfer' button and wait for the transfer process to complete.
After the process of transferring WhatsApp data between two devices has completed, you will be able to access your WhatsApp data on your new device. In case you are planning on selling your old device, you can now go on and delete your data from it without any worries.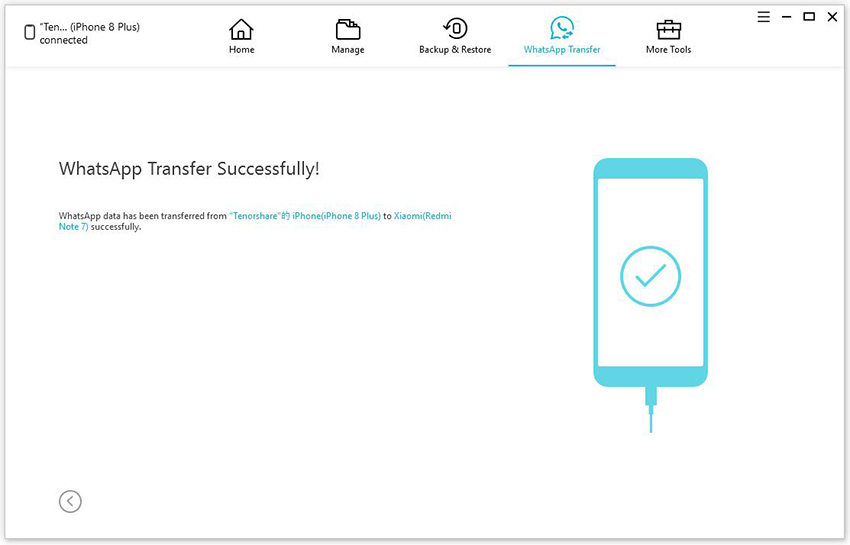 Backup your WhatsApp Data with ease
For most of us our WhatsApp chats, groups and attachments are way important to lose. If you are someone who cannot afford to lose his or her WhatsApp data in a corrupted backup file, then you should use iCareFone's WhatsApp Transfer feature to manage your data. With this tool you can easily create WhatsApp iPhone backup without iCloud and all of your WhatsApp account and its data in a few simple steps. To make sure your data is never lost you can reliably backup WhatsApp messages and files from your iPhone to your computer without any limitations.
Restore your WhatsApp Data without much hassle
While data backup is important, having the chance to restore it to any device is equally important. With iCareFone's WhatsApp Transfer feature you can easily restore your WhatsApp account and all of its data. To do so, simply plug-in your new iPhone or Android device to your computer and select the backup file that you want to restore, and leave the rest to iCareFone. Soon after initiation all of your WhatsApp data will be restored on your device and you will be able to access it just like you could when you created the backup.
The iCareFone application is available on both Windows and Mac platforms. It supports all models of iPhone including iPhone XS, iPhone XS Max, iPhone XR, iPhone X, iPhone 8, iPhone 8 Plus, iPhone 7 and older. It also supports all models of iPhone and over 5,000 models of Android devices. As for the support for new and old iOS versions, iCareFone and its WhatsApp transfer feature have support for iOS 7 all the way up to iOS 13 beta.
Downloading iCareFone on Mac and Windows
You can download and try the iCareFone application on your computer for free as it comes with a free trial. You can use this tool for WhatsApp Transfer, Backup and Restore for free. Once you have tested the application, you can then decide to buy it for $55.95 for one year license or $69.95 for a lifetime license.