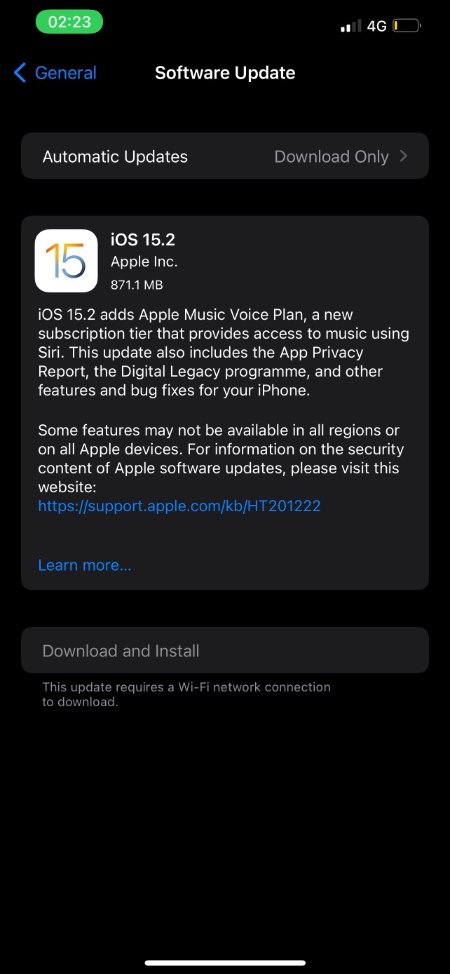 Apple has released iOS 15.2 and iPadOS 15.2 update, which are now available for download on compatible devices. iOS 15.2 has been released over-the-air and can also be downloaded through direct IPSW download links that are shared below.
iOS 15.2 is a major release that brings a range of new features and improvements to iPhones. Likewise iPadOS 15.2 brings major changes to all support iPads.
Along side iOS 15.2 and iPadOS 15.2 Apple has also released macOS 12.1, watchOS 8.3 and tvOS 15.2 all of which can be downloaded on their respective devices.
App Privacy Report
One of the biggest features that have been added in this release is the App Privacy Report feature, which was first announced with iOS 15.0 beta but was delayed. iOS 15.2 finally adds the missing feature that allows iPhone and iPad users to see which apps have accessed their photos, location data, camera, microphone and contacts during the past seven days. The new App Privacy Report can be found under Settings app.
Voice Only Plan for Apple Music
iOS 15.2 and iPadOS 15.2 bring the Apple Music Voice Only plan that costs $4.99. This plan allows Apple users to subscribe to a cheaper version of Apple Music that can only be controlled via Siri. Unlike the normal Apple Music plan that gives users full access through the stock Music app, the Voice Only plan of Apple Music can only be controlled through Siri.
Users can ask Siri to play a song, play a playlist or play a radio station. In addition to iPhone and iPad, users can access their Voice Only Apple Music plan through Siri enabled devices including HomePod, Mac, AirPods etc.
Legacy Contacts feature
Another iOS 15.0 feature that was delayed and has been released with iOS 15.2 is Legacy Contacts feature. This feature allows Apple users to designated loved ones as legacy contacts.
These contacts will gain access to user's personal data such as photos, notes, contacts, calendar and more. Once you have designated a loved one as your legacy contact you will have to give them the key that will give them access to this data.
For privacy reasons the key will not work until the user is alive, and in case of passing the designated legacy contact will have to provide Apple with proof such as a death certificate in order to access account data.
Communication Safety feature for parents
iOS 15.2 and iPadOS 15.2 introduce new Communication Safety feature that blurs sexually explicit photos that are sent or received by a child's device through the Messages app. The feature when enabled will also warn the child and present helpful resources.
Exclusively for iPhone 13 Pro and iPhone 13 Pro Max users iOS 15.2 adds a new Macro button to the Camera app, which allows users to quickly toggle the Macro photography mode right from the Camera app.
Download iOS 15.2 IPSW for iPhone and iPad
You can find the direct IPSW download links for iOS 15.2 and iPadOS 15.2 below. After downloading the IPSW file you can restore it on your iPhone or iPad with Finder on Mac or iTunes for Windows.
Download iOS 15.2 IPSW
Download iPadOS 15.2 IPSW