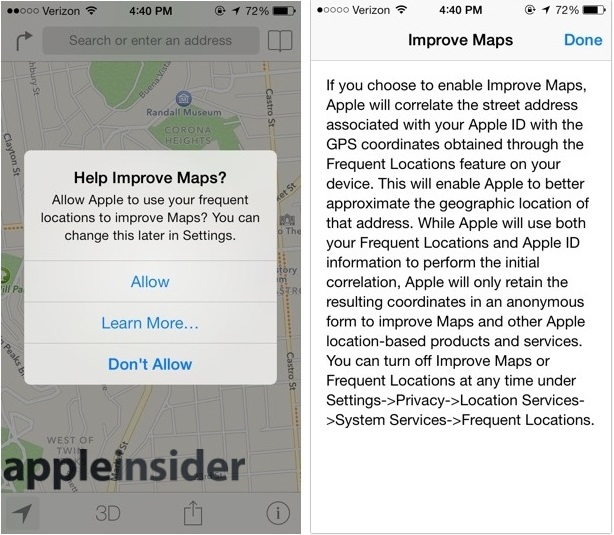 With the release of iOS 7 Apple will allow users to help the company in improving Apple Maps service in their area. When Apple made its Maps service publicly available along with the release of iOS 6 it was met with a lot of justified criticism due to its flaws and inaccuracies. Apple accepted the problems with its new Maps service for iOS and promised to fix it. Since its release the Apple Maps service which will now be offered on the Mac as well with the release of OS X Mavericks has improved a lot. But now it seems like Apple is going to make it even better as it has been revealed that not only the company is hiring people around the world to improve Maps but it will also allow users to improve the Maps with the release of iOS 7.
As Apple notes in the screenshots above users will be asked to improve the Maps service and if they agree then the company will correlate the street address that is registered with their Apple ID to the GPS coordinates, which have been obtained through the 'Frequent Locations' feature on their iOS device. Using that information Apple will be able to mark the location of the places the user visits on the Maps.
Just like location services users will be able to turn off the Improve Maps or Frequent Locations feature any time by going to Settings > Privacy > Location Services > System Services > Frequent Locations.
The feature will be launched with the release of iOS 7 and soon millions of iPhone, iPad and iPod touch users will be able to help Apple in improving Maps in their area. This is a logical step that should have been taken a year ago as crowd sourcing is the way to go for a service like this. Google has been doing it for years. Still better late than never, Apple!.