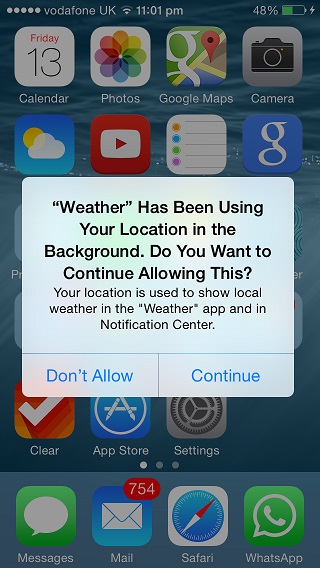 iOS 8 is packed with many new big and small features however the software update also brings small enhancements that aim to polish the existing features of the operating system. Apple has also boosted the privacy features in the software update giving more control to the users. On iOS 8 beta 1 we have discovered that Apple has beefed up the privacy settings of iOS as it now notifies the users about whenever an app is using location data in the background.
iOS not only notifies the user but also asks if he or she wants to continue allowing this personal information to the app or want to halt access. We got the location services prompt for the stock apps that includes Weather and the App Store, both of which use user's location data to serve relevant content. This is the first time Apple has added the location services prompt when app is using this data in background as previously the operating system only asked about whether user wants to grant an app access to his or her location data when the app was launched for the first time.
As of right now it is unclear whether iOS 8 will notify users when a third-party app is using the location data in the background or this notification is only limited to stock apps although the first scenario seems more likely.
It is a good thing that Apple is sharing more information about background processes with the users as most of the time users are unaware of the data different apps are taking from them in the background without even telling them.