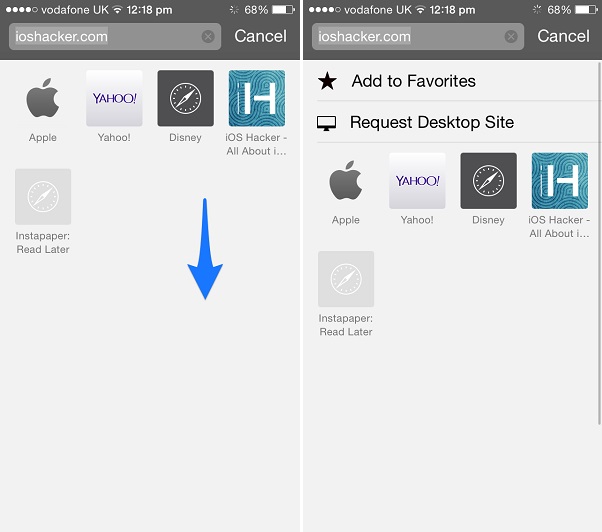 When you are browsing the web on your iPhone or iPad you come across websites that offer a different version for mobile users. The mobile website is usually a stripped down version of the desktop site. While most of these mobile websites offer same amount of information and functionality as their desktop counterparts there are many instances when they are simply not good enough or don't have the stuff you are actually looking for.
To solve this problem in iOS 8 Apple has added a new feature in mobile Safari browser called 'Request Desktop Site'. This as its name clearly suggests forces the website to open the full version of the website on your iOS device. This feature is very similar to what was already part of the mobile Chrome browser for iOS.
In addition to this Apple has also made it easier for users to add a website to their favorites.
So how do you access these features? Well its dead simple once you know it. All you have to do when any website is opened is tap on the address bar, which will reveal the favorites section of Safari and then simply pull down as indicated in first screenshot above. Upon doing this you will see two new options.
Add to Favorites
Request Desktop Site
Tap on the first one to quickly add the website to favorites or tap on 'Request Desktop Site' to access the full version of the webpage.
Disclosure: iOSHacker may receive a commission if you purchase products through our affiliate links. For more visit our privacy policy page.