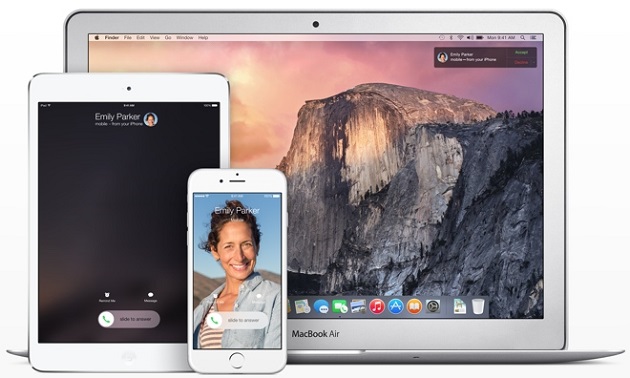 iOS 9 has an awesome new feature called Cellular Continuity, which allows iPhone users to answer phone calls through their iPad or Mac even when they are away from their smartphone. It takes the Continuity feature of iOS 8 to the next level as unlike before it does not require the devices to be connected on the same WiFi network. How this works is pretty simple, imagine that you forgot your iPhone at home and are sitting at a coffee shop with your Mac or iPad. You will be able to receive the call coming to your iPhone with your other Apple devices as long as they are connected to the Internet.
The secondary device that can be an iPad or a Mac can be connected to any WiFi network or cellular internet. The only condition for this to work is that they must be connected to the same iCloud account as the iPhone.
Perhaps the most interesting aspect of the Cellular Continuity feature of iOS 9 is that it does not require the iPhone to be turned on as calls can also be received on secondary devices even when the iPhone is off. This means that the transfer is happening at the cellular network level, which sends the call to Apple's iCloud service which then transfers it to the connected secondary device. This is great for situations when your iPhone has run out of battery or you have lost it, and you still want to answer incoming calls.
Right now the feature is supported by T-Mobile in the US, but we expect more carriers will support it as iOS 9 is rolled out later this year. Another thing to note here is that even though the iPhone should be on the supported network in order for the Cellular Continuity to work, the secondary device can be using any internet connection. So if you have a cellular iPad on another network you will still be able to receive iPhone calls.
To enable or disable Cellular Continuity on your iOS 9 powered iPhone follow the steps below.
1. On your iPhone open Settings and tap on the 'Phone' option.
2. Tap on the 'Calls on Other Devices' option and enable the 'Allow Calls on Other Devices' button.
3. Finally tap on the 'Add Wi-Fi Calling for Other Devices'. That's it.
You will also need to enable the Cellular Connectivity on your iOS 9 running iPad.
1. Open the Settings app and tap on the 'FaceTime' option.
2. Tap on the 'Calls from iPhone' option and enable the switch.
3. Now enable the 'Upgrade to Wi-Fi' calling option.
4. The device will now give you a code that you will need to enter on your iPhone to activate the Wi-Fi calling feature. Once you have done that the feature will be activated on the iPad.