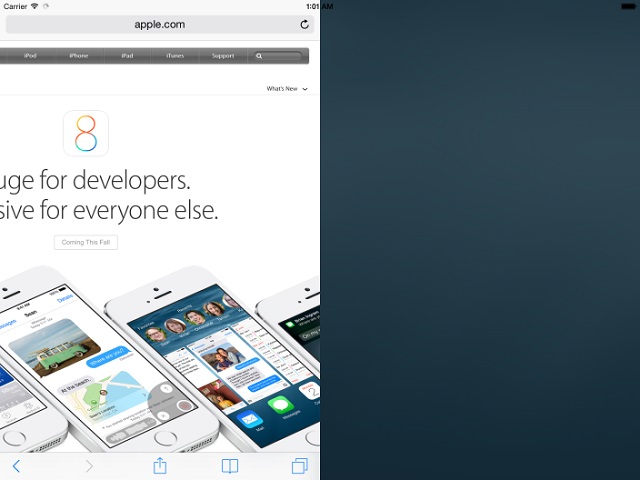 Even before the public announcement of iOS 8 at WWDC we have been hearing reports regarding Apple adding what has been dubbed as the 'Split-screen' feature of iPad. This feature as the name suggests will enable users to use two apps at one time by dividing the screen real estate between them. Until now the reports were based on rumors however it seems like those rumors have finally been backed up by solid evidence as not only traces of this feature have been seen in iOS 8 code but a developer Steven Troughton-Smith has also been able to make it partially work in the simulator.
The video above shows the split-screen feature being demonstrated on the simulator. This has been made possible by using the internal code found in iOS 8 as well as by hacking the iOS simulator. Although the code found in the iOS 8 beta for iPad could be from very early stages of development it does gives us an overview of how the feature may work and look like when or if it is released. As seen in the video users will be able to split the screen by swiping with two fingers.
The feature is not only capable of splitting the screen in half but can also split it in 1/4 and 3/4 depending on user's needs. So if you are running an app that requires more space than the other then you can simply do it by swiping. Of course app developers will be required to make certain changes to their apps as well in order for this to work properly.
By the looks of it the split-screen feature of iPad looks pretty impressive and could really help in boosting iPad's multitasking capabilities, which are limited to one app at a time right now. The implementation of the feature looks slick as well and it is only in its early testing states within Apple and we expect it to be much more polished once its released.
While Apple did not even mention this feature at its WWDC keynote we suspect that if the company is able to complete work on it this year, it may debut with the new iPad that is expected to make a debut later this year. This exclusive feature for the new iPad Air and iPad mini 3rd generation could be a big selling point for the company and give a major boost to iPad, whose sales have reportedly slowed growing.
[
9to5Mac
]
Disclosure: iOSHacker may receive a commission if you purchase products through our affiliate links. For more visit our privacy policy page.