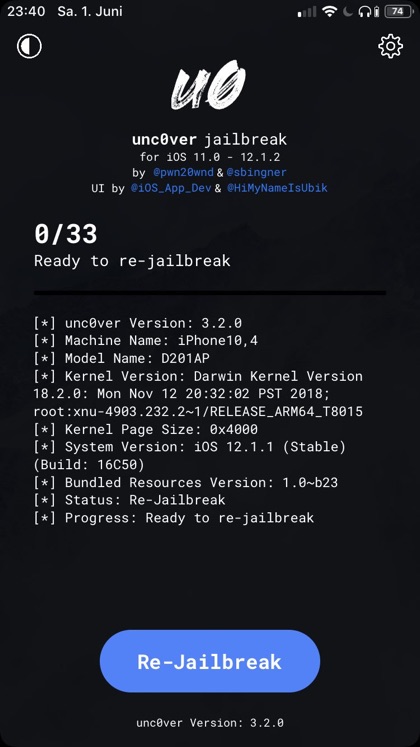 Anyone who follows the jailbreak scene closely knows that current jailbreak tools work with iOS 12.1.2 or earlier. This means an iOS device that is running any iOS version that came after iOS 12.1.2 cannot be jailbroken using either unc0ver or Chimera jailbreak tools. That changes now as unc0ver's developer Pwn20wnd has released unc0ver v3.3.0 beta. This new beta comes with full support for iOS 12.2, enabling jailbreak fans to jailbreak iOS 12.2 and install Cydia on their devices.
While unc0ver's previous support was limited to iOS 12.1.2, now the tool is also capable of jailbreaking iOS 12.1.3, iOS 12.1.4 and iOS 12.2. The new unc0ver beta uses the 'Sock Puppet' exploit, which is a tfp0 exploit published by developer Ned Williamson.
No iOS 12.2 Jailbreak For A12(X) devices
Before you get too excited about the prospects of jailbreaking your iOS 12.2 powered iPhone or iPad, do note that currently unc0ver only supports iOS 12.2 jailbreak on A7 to A11 devices. The jailbreak tool currently does not support A12(X) devices, which includes the latest iPhone models such as iPhone XS, iPhone XS Max and iPhone XR as well as latest iPad Pros. Pwn20wnd has also announced that the exploit is also broken on 4K devices that includes A7 and A8 Chip equipped devices, however he is working on a fix.
Download Jailbreak tool for iOS 12.1.3, iOS 12.1.4 and iOS 12.2
If you are lucky enough to have iOS 12.1.3, iOS 12.1.4 or iOS 12.2 running on one of your devices, then you can head over to unc0ver's official GitHub page to download version 3.3.0 for your device. You can find the full guide for how to jailbreak iOS 12 using unc0ver here.
Is Chimera jailbreak also compatible with iOS 12.2
If you are a fan of Electra Team's Chimera jailbreak and would rather use Sileo over Cydia, then we also have good news for you too. Electra Team has announced on Twitter that they are working on adding iOS 12.2 support to the Chimera tool for A7-A11 devices and will release the updated version shortly. They have already started testing Chimera with iOS 12.2. Just as unc0ver, Chimera will also lack support for A12(X) devices, however their tweet does note that support for A12(X) devices may be added in the future. They have advised A12 users to stay on pre-iOS 12.2 software.
iOS 12.1.3 – 12.2 users, expect a Chimera update to land shortly for pre-A12 devices

(A12 users on 12.1.3-12.2 should stay on 12.1.3-12.2 though; they may get support at a later date)

— Electra Team (@electra_team) July 11, 2019
Staying on the lowest iOS version is always fruitful
Over the past few months we have advised users who are interested in jailbreaking their devices to stay on the lowest possible iOS version even though a jailbreak is not available for that particular version. The release of iOS 12.2 serves as the perfect example of why staying on a lower iOS version is important and waiting patiently can be rewarding.
Disclosure: iOSHacker may receive a commission if you purchase products through our affiliate links. For more visit our privacy policy page.