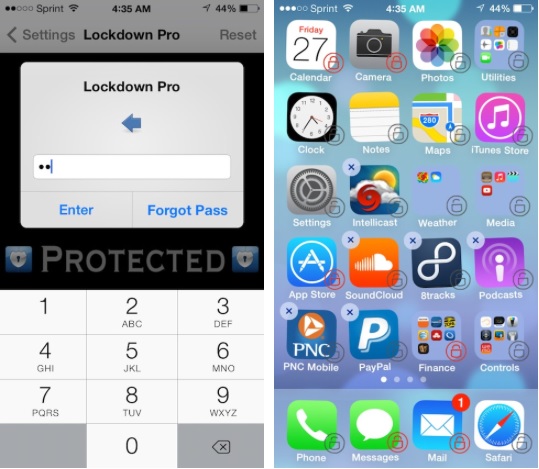 If you are someone who remains concerned about his or her privacy all the time then Lockdown Pro iOS 7 tweak is for you. This popular tweak recently got updated for iOS 7 and iPhone 5s enabling users to password protect their apps. Lockdown Pro has always been a favorite tweak for iOS jailbreakers and with its support for latest version its popularity is going to grow even more.
Lockdown Pro iOS 7 not only password protects any app but users can also activate password for any folder of their choice. It provides complete security with 256 bit encryption that is impossible to crack for average users.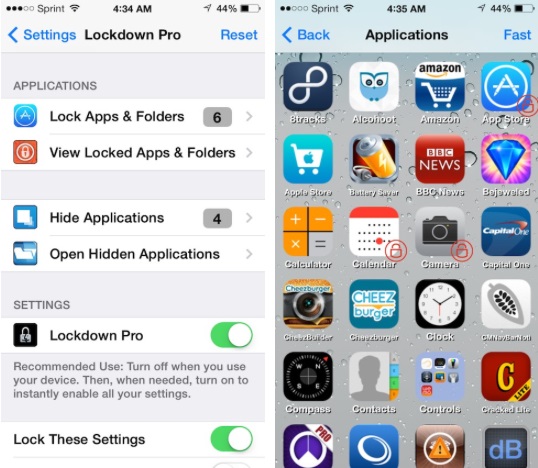 One of the best features of this tweak is that it allows users to have different passwords for different apps and folders. This means you can share a password for a 'Games' folder with your friend without compromising the password of other more important apps or folders. There are tons of features of this tweak, which can be configured from settings that give full control to the users.
Apart from setting up a password users can also hide applications preventing them from appearing on the homescreen at all.
Other feature of this tweak include
Ability to block notifications from locked apps
Delay lock feature
Activator support for remote features
Choice for users to choose between alphabetic or numeric passwords
Lock any application from being deleted
and more…
You can download Lockdown Pro iOS 7 on your iPhone, iPad or iPod touch for $0.99 right now. It is available under the Bigboss repo.