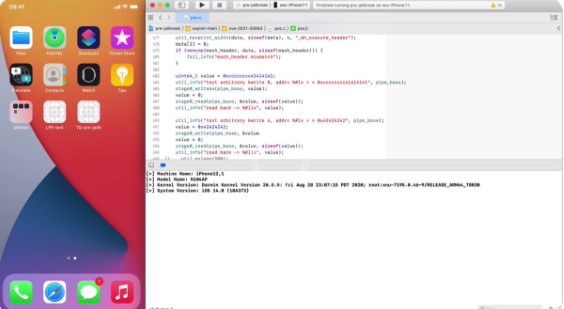 A few days ago we reported about an iOS 15.0.1 vulnerability and a writeup by researcher Saar Amar. The exploit could potentially be used to develop a jailbreak with support for iOS 14.3 up to iOS 15.0.1. Since the vulnerability has been fixed in iOS 15.0.2 chances of a jailbreak release for pre-iOS 15.0.2 versions seemed like a possibility.
Now well known security researcher @pattern_F_ has shared a jailbreak demo using the same kernel vulnerability showing a successful jailbreak attempt on iOS 14.0.
A jailbreak attempt on iOS 14.0, which can already be jailbroken using publicly available unc0ver and Taurine tools might seem unimpressive at first. However what makes this interesting is that pattern-f used the CVE-2021-30883 vulnerability that is found in iOS 15.0.1 and earlier to achieve this feat.
Researcher pattern-f says he performed the jailbreak on iOS 14.0 because he wanted to verify if the vulnerability is exploitable, which according to his finding is true.
He used the code from ipc_kmsg hack to achieve this jailbreak. He also notes that this new exploit offers better speed than cicuta_virosa exploit that has been used in development of previous iOS 14 jailbreaks.
The jailbreak attempt using the CVE-2021-30883 vulnerability was performed on an iPhone 11 running iOS 14.0. On newer devices however the vulnerability may not be readily viable so devices with A14 and A15 chip will require more work from developers before the vulnerability can be made useful.
pattern-f has further said that ipc_kmsg hack does not work on iOS versions iOS 14.2 or later in its current state. Again more work will be required from jailbreak developers to make the code work newer versions of iOS.
Good news and the biggest takeaway from this video demonstration from pattern-f is that the CVE-2021-30883 is exploitable and comes as a second confirmation that a jailbreak is possible with this vulnerability following Saar Amar's confirmation last week.
Needless to say those who are interested in jailbreaking their iOS or iPadOS device need to stay at iOS 15.0.1 and iPadOS 15.0.1 and wait for news on the release of jailbreak.