Smart Search is a newly released Cydia tweak that takes iOS 7's Spotlight search to a whole new level, making it a lot more powerful in the process. The tweak is inspired from Spotlight search of iOS 8 but the support for plugins makes it even better than Apple's implementation in upcoming software update. Spotlight was introduced for the first time with the debut of iOS 3 (then iPhone OS) back in 2009. And it has remained almost the same since that day limiting your search to contacts, mail, calendar events, music, and other media stored on your iOS device.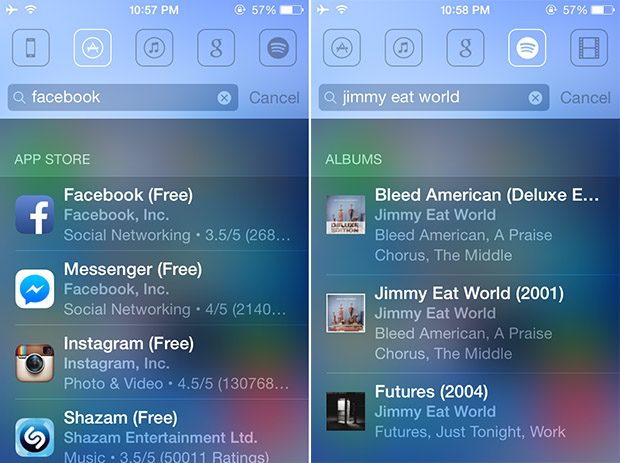 After 5 years Apple finally decided to make it more powerful adding the ability to search Wikipedia, News, nearby places, iTunes Store, App Store, iBooks Store and more. However this powerful version of Spotlight will be released with iOS 8 in the fall of this year.
Once you install Smart Search tweak simply swipe down on the homescreen to access the Spotlight, there you will notice some icons at the top bar allowing you to search through specific apps like App Store, iTunes, Spotify, YouTube and more. Let's say you want to search any app in App Store, tap the App Store icon and enter your keyword for search, it will list all the apps available at the store under that name.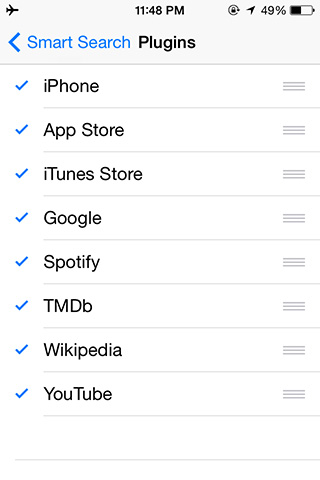 Now the thing that makes Smart Search different from iOS 8's Spotlight is its support for plugins. The developer has provided an API that will allow other developers to make plugins for any app they want. For example if a developer makes a plugin for Facebook or Twitter then you will be able to search these apps directly from the spotlight.
Smart Screen is compatible with iPhone and iPod touch running iOS 7+. You can get it from Cydia for $2.49.