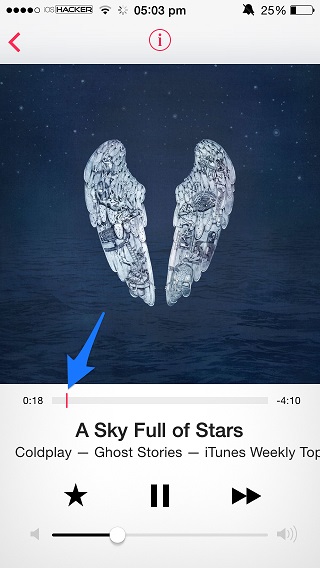 iTunes Radio is a great free service that allows users to listen to and discover music, however if you are not paying the premium fee for the service then you are left with limitations and annoyances. A new tweak called Scrub Radio fixes these problems by adding the much needed features to Apple's music streaming service. With this free tweak you get the most wanted feature, which is the ability to scrub through songs while listening.
iTunes Radio does not allow users to scrub through songs, which is annoying as you have to listen to the whole thing. Scrub Radio tweak changes that by allowing users to scrub forward and backward on the song they are listening. Scrubbing works same as it does on the normal now playing screen, as you can move the slider to get a certain point of the song you are listening to.
While adding the ability to scrub through music is enough to make this tweak a must have to iTunes Radio listeners, this hack also enables unlimited skipping to iTunes Radio. Something that was previously possible with iTunes Radio Unlimited tweak. Scrub Radio also claims to make the loading of songs faster.
You can download Scrub Radio from Cydia's BigBoss repo for free.