Cydia tweaks serve one purpose and that is making the experience of using iOS better and more fun. Many tweaks are released in Cydia for jailbroken devices on daily basis and some of them truly take the features of iPhone, iPad and iPod touch to the next level. Today is no different as several notable hacks were made available for download. These include HiddenCallLog7, FullLockCamera7, nonosim, SleekPhone and HomeKey Hangup. Majority of tweaks featured here focus on the Phone app. Here we have briefly explained what these tweaks do and how you can get them on your devices.

HiddenCallLog7 tweak as its name suggests hides the 'Recents' call log in the phone app. The call log is hidden and can be accessed by tapping on the 'Edit' button, which now shows Toggle Hidden option in addition to 'Clear All Recents'. It is a handy tweak that boosts privacy on your iPhone while still allowing you to keep a record of your missed and dialed calls. You can get it from BigBoss repo for free.
FullLockCamera7
FullLockCamera7 enables users to get full functionality of Camera app right from the lockscreen. Just swipe up on the camera grabber and access features like share menu and your photos library. Although this tweak will have a negative affect on your privacy as anyone can access your photos and share them on social networks without even entering the passcode, it is convenient for those who don't care about it. FullLockCamera7 is available for free.
nonosim
Using an iPhone without a SIM card? Want to get rid of the annoying 'No Sim' message found on the status bar and the lockscreen? Then download nonosim tweak from Cydia. It is available for free.
SleekPhone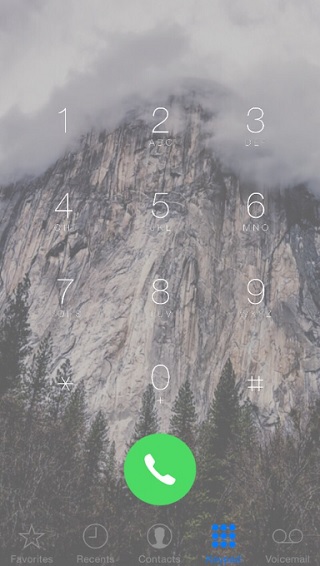 The SleekPhone tweak tries to make the dialer view of the stock phone app sleeker by replacing the stock white look with a transparent one, putting the dial buttons over whatever wallpaper you are using on your device. It is a nice tweak that gives the dialer view a refreshing look. SleekPhone is available for free.
HomeKey Hangup
HomeKey Hangup is another Phone app related tweak. It allows users to hang up on any call by simply tapping on the home button. Normally you would have to tap on the on-screen button to perform this operation. While this tweak works when you are using your phone normally, it does not work when your device is in speaker mode or headphones are connected to it. It is available for $0.99.