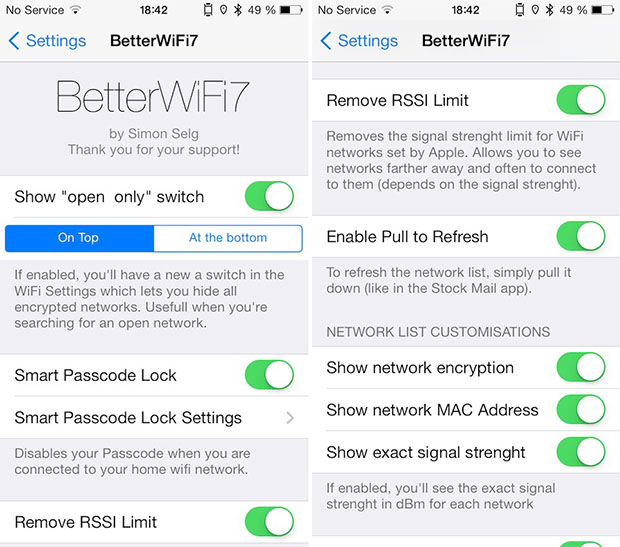 BetterWiFi7 is a newly released tweak that brings a bunch of useful enhancements to the Wi-Fi functionality of your iPhone, iPod touch and iPad. It allows users to filter the available networks based on whether they are open or protected with a password. This option is quite useful especially when you are out of home and want to search for a free Wi-Fi. You can also configure the tweak to show only the 'Known Networks', this will list all the connections you have ever connected your iOS device to. You will also be able to access the passwords of these known networks, which is something not possible by default.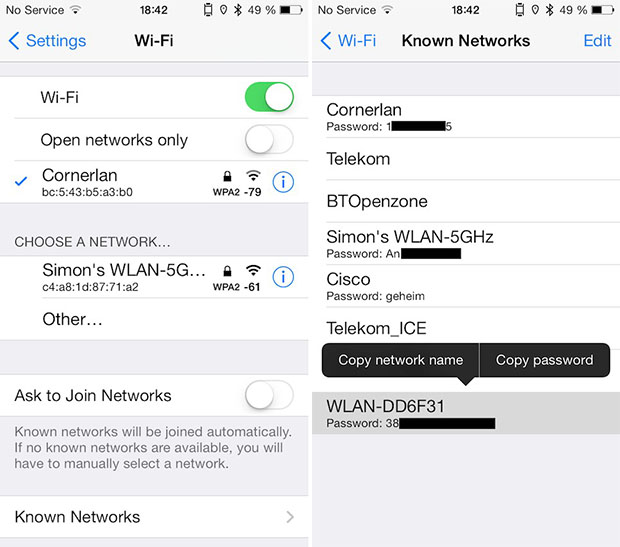 The tweak adds the missing option to refresh the list of available networks by adding the "Pull To Refresh" gesture, similar to the one in Mail app. Another useful feature of BetterWiFi7 removes the signal strength limit, allowing you to connect to far away Wi-Fi networks. Other features include ability to see the encryption type of a protected network, seeing the MAC address, and the exact signal strength.
'Smart Passcode Lock' is yet another great feature of the tweak, which when enabled will disable the Lockscreen passcode when you're connected to a specific Wi-Fi. This comes very handy when you're at home or any safe place and don't want to enter the passcode every time you have to unlock your device. This functionality is similar to CleverPin tweak.
BetterWiFi7 is compatible with all iOS devices running iOS 7.x. You can get the tweak for $1.50 from Cydia. If you already own a copy of BetterWiFi for iOS 6, you will get a $0.5 discount on the new purchase.
Disclosure: iOSHacker may receive a commission if you purchase products through our affiliate links. For more visit our privacy policy page.