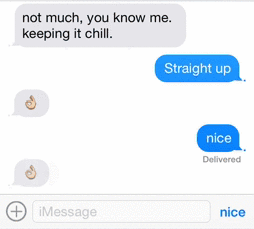 When we are texting with our friends using iMessage there are certain responses that we tend to use again and again. These responses are different for different people or languages, however some of the most common ones include 'Okay', 'Lol' or even an emoji that you use (or overuse) in certain situation etc. If you too have a quick response then a new Messages app tweak called Brevity is here to make your life a lot more easier.
With Brevity you can set up a custom quick response from Settings and send it by simply tapping on the 'Send' button. Brevity replaces the 'Send' button with text of your choice, which is essentially sent as your quick response when you hit the button. If the text is longer than the space available then you will see 3 dots and the text will appear in the type field. You can simply hit the button to send the quick response to the person you are texting with. When you type something in the message field the normal 'Send' button appears allowing you to write and send any message just like you normally would, instead of sending the quick response you have set up.
You can set a single word, a phrase, emoji or even unicode characters as your quick message using Brevity. To add a custom message simply go to Settings and into Brevity's preference page. There you can type in your message and it will instantly become available in Messages app. The tweak does not require any resprings to be  able to make changes, which is convenient for users.
You can download Brevity tweak from Cydia for $0.99. It requires at least iOS 7 and works on all versions.
Disclosure: iOSHacker may receive a commission if you purchase products through our affiliate links. For more visit our privacy policy page.