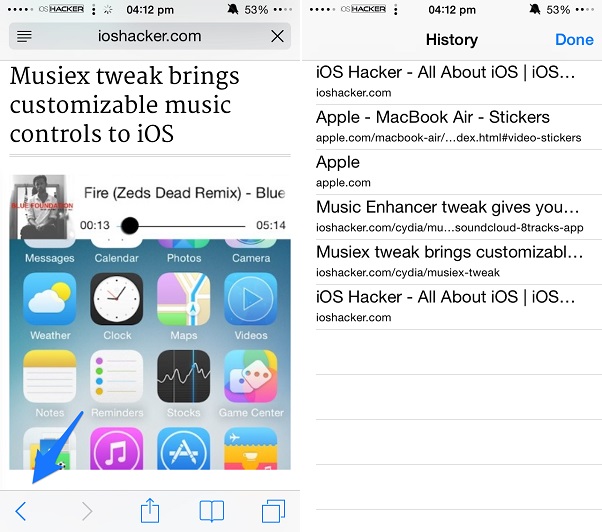 When you are browsing the web on your iPhone or iPad you visit tens of pages using a single Safari tab. Just like any other web browser iOS Safari allows you to go back to the previous web pages you visited by tapping on the back button. You can tap the back button as many times as you want to access the page you are looking for, however this is not a very convenient way of doing this simple task. Luckily iOS is full of useful gestures and actions that make the life of the users easier.
One little known feature of mobile Safari browser is that it allows users to get a full list of web pages they visited in any given tab. All you have to do is tap and hold on the 'back' button from the button bar of Safari. You can not only view the history of a Safari tab but you can also jump to any link by simply tapping on it. This method is much faster than repeatedly tapping the back button to get to your desired page, which in some cases can be 10 or more pages away.
This simple method will not only save your time but will also allow you to save some of that precious bandwidth in case you are using the cellular network with limited allowance. Each tab has its own history, which can be accessed by the tap and hold method.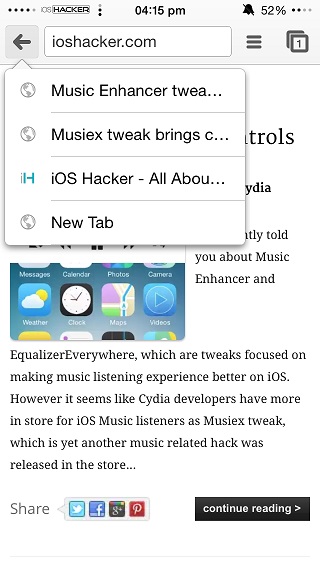 Bonus: For those of you who use Chrome for iOS, this feature is available on Google's browser as well. Just tap and hold on the back button located on top left side of your screen.
Also read: Get the most out of Safari browser on iPhone or iPad with these tips
Disclosure: iOSHacker may receive a commission if you purchase products through our affiliate links. For more visit our privacy policy page.