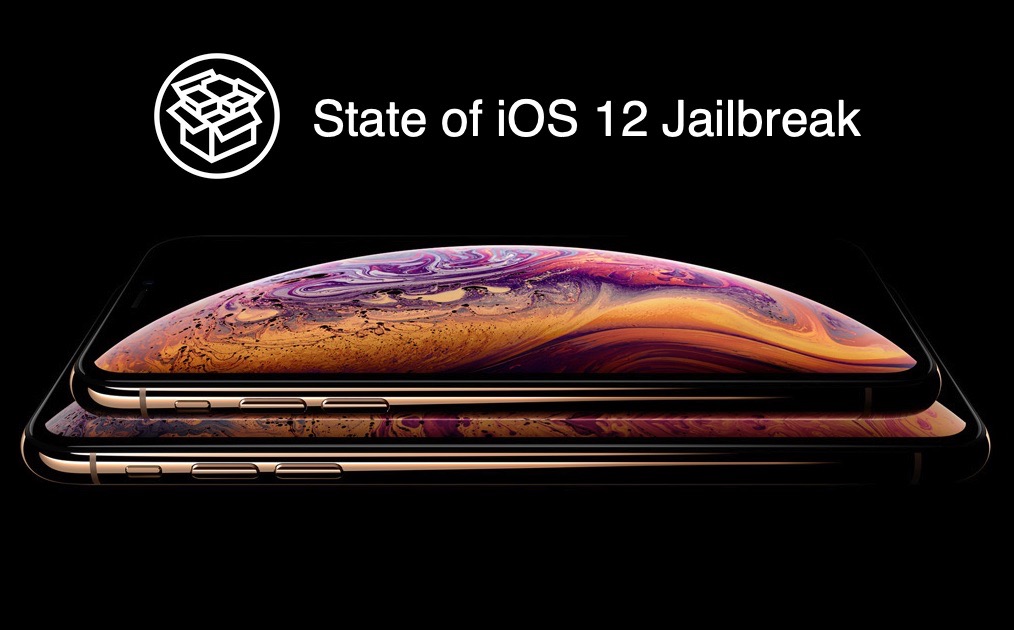 iOS 12 has been out for public for the past few weeks, so naturally those who like to jailbreak their iPhone, iPad or iPod touch are wondering if and when an iOS 12 jailbreak will be available for public consumption. If you are someone who is waiting for an iOS 12 jailbreak, then you have come to the right place. In this article we will take a look at all of the recent developments concerning the jailbreak and explore the chances of the iOS 12.0 or iOS 12.1 jailbreak getting released for everyone.
As of 3rd October there's no jailbreak available for iOS 12 regardless of the iOS device model. However that does not mean a jailbreak has not been created or will not be available in the future. In fact a jailbreak for iOS 12 beta was created within a few weeks of first betas release.
Ali Security's Untethered iOS 12 Jailbreak
Just a few weeks ago Alibaba's Ali Security team demonstrated a working iOS 12 jailbreak. The special thing about this particular jailbreak was that it was an untethered iOS 12 jailbreak. This demonstration showed their Pandora jailbreak running on an iPhone X with iOS 12 installed. In the video we saw them running the Pandora jailbreak app to jailbreak the device, after which Cydia appeared on the home screen. Then to prove the jailbreak is indeed untethered, they rebooted the device after which the device displayed a popup, something that could only be possible on a jailbroken device. Plus Pandora and Cydia icons were still present on the home screen to further prove untethered nature of their jailbreak.
Although this is an impressive feat by Ali Security, the fact remains that they are never going to release it for public. Ali Security finds vulnerabilities and jailbreaks iOS for research purposes, and while they love to brag about their achievements online they never plan on sharing them with others. The biggest takeaway from this development is that an untethered jailbreak for iOS 12 is possible. Now all we need is a dedicated developer or team of developers who could work on achieving a jailbreak for general public.
Team PanGu, iPhone XS and their iOS 12 jailbreak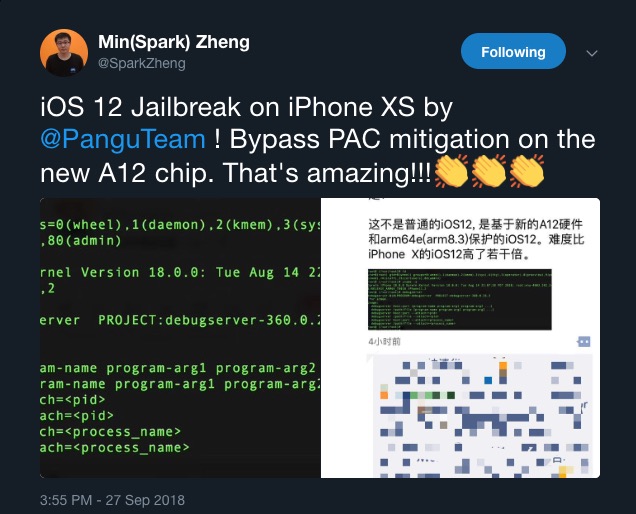 Chinese jailbreak team PanGu, which rose to popularity due to their iOS 9 jailbreak has also been able to jailbreak iOS 12. Unlike Ali Security, which was able to jailbreak the latest software on last year's iPhone X, PanGu's jailbreak was demonstrated on iPhone XS. This essentially means the jailbreak team has been able to hack iOS 12 on the new A12 Bionic chip, which is big news for those with iPhone XS, iPhone XS Max and upcoming iPhone XR.
Although team PanGu has not announced any plans of releasing this jailbreak for public, the fact that a team that has been active in the jailbreak community with a popular jailbreak and has a proven record is working on iOS 12 jailbreak is enough to get us excited about the possibilities. Now whether its PanGu that ends up releasing the jailbreak for public or any other team/developer is remained to be seen.
Conclusion
We would be lying if we claimed a jailbreak for iOS 12 is coming soon, however we are hopeful that it will be released sooner than later. With Apple already beta testing iOS 12.1 it is very likely that anyone working on an iOS 12 jailbreak would want to hold off until iOS 12.1 is release for public to avoid losing their exploit on just one version. It is also possible that if Apple ends up closing a major iOS 12.0 vulnerability with the release of iOS 12.1, it could prompt developers to release their jailbreak for public. As always we will keep you in the loop and report on any new developments here, so stay tuned.