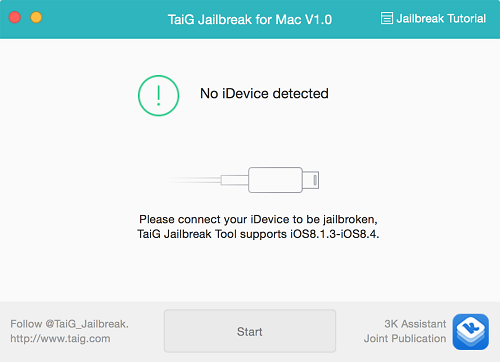 The moment many Mac users have been waiting for has finally arrived as TaiG team has released their popular TaiG tool for Mac and it is now available for download. The tool just as its Windows counterpart, which was released more than a month ago allows users to untethered jailbreak iOS 8.4 and earlier versions of the mobile OS. Its not like Mac users were unable to jailbreak their iOS devices as they had an option of running the Windows version in a virtual machine or use the Mac version of PP Assistant tool that was released weeks ago.
Using the TaiG jailbreak tool is simple and quite similar to how Windows version works. We will be posting a step by step guide shortly to help you with the process.
You can download the Mac version of TaiG v1.0.0 from our Downloads page using the link below. It can jailbreak iOS 8.1.3 up to iOS 8.4 running on any model iPhone, iPad or iPod touch.
Once you have jailbroken your device be sure to check out our coverage of latest Cydia tweaks or our collection of best Cydia tweaks of 2015.