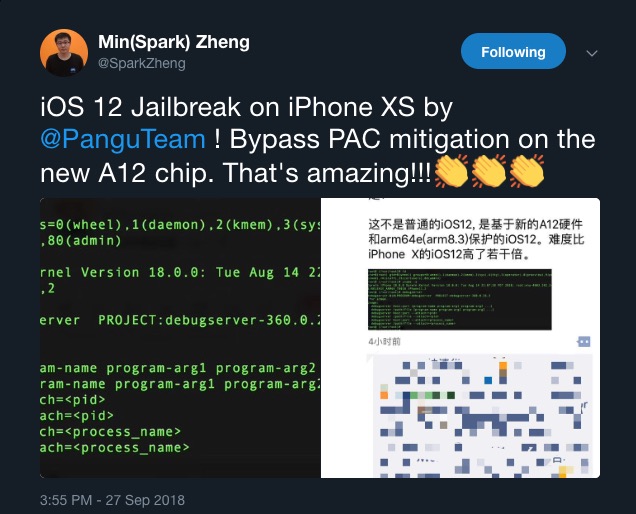 Chinese jailbreak team Pangu has announced that it has been able to successfully jailbreak iOS 12 running on the brand new iPhone XS. This is a major news for the jailbreak community for a number of reasons including the fact that the jailbreak is shown working on the XS, which has a new A12 Bionic chip.
This is not the first time iOS 12.0 has been jailbroken, as previously Alibaba's Ali Security team has also shown off jailbroken iOS 12.0 running on iPhone X. However the more important reason why you should be excited about this development is that Pangu has track record of actually releasing the jailbreaks for public consumption, unlike many other developer teams that simply jailbreak iOS for research purposes and never release a public jailbreak.

While the jailbreak is shown running on the smaller iPhone XS, we can rest assured that it will be supported by the larger iPhone XS Max and most probably the upcoming iPhone XR, as both these devices have the same internals as the 5.8-inch iPhone XS.
According to the tweet by well known iOS security researcher Min(Spark) Zheng the jailbreak has been made possible by bypassing the PAC mitigation, which is a big deal.
Despite Pangu being involved in the development of this iPhone XS and iOS 12 jailbreak, we are still not sure if this particular jailbreak will see the light of day, however we certainly hope it does.