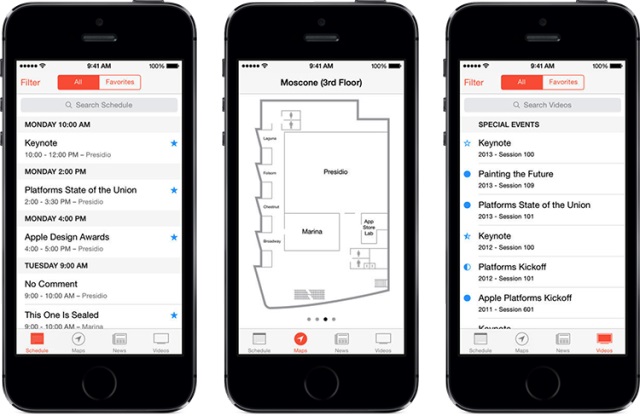 Apple's coveted developer's conference is fast approaching, and many people are wondering what updates and devices will make their debut. Apple's update to the WWDC app gives hints into what Apple could unveil this year. The screenshots taken from the app hint at possible new hardware and update to both iOS and Mac OS.
Placed under "Platforms State of the Union," it appears that the company could be releasing some new pieces of hardware for the public. Now, rumors of the infamous iWatch, an Apple HDTV, or even the long-awaited iPhone 6 could come to light when Apple addresses this event.  Judging by the title's name, one can expect Apple to enter into a new platform that they have neglected for some time.  Again, there are no certainties as to what Apple will display, but one could guess the iWatch might be shown to everyone at the conference.
As for updates to iOS and Mac OS, one can expect iOS 8 with its prized Healthbook app being heavily explained to its developers (and how it could be integrated with the iWatch). iOS 8 will allow early developers to experiment with the new apps and features, while also examining a possible way to jailbreak this new operating system. The Mac OS could see a slight update to its beautiful Mavericks.  It's hard to say if they will make an important build for Mac users or if they will usher in a new Mac OS version for developers.
Other than the important updates to Apple's ecosystem, there are some cool events, such as Women in Technology and Best Practices for Great iOS UI Design, that many people will benefit from attending.  These events will not only bring in some new developers for the beloved company, but also improve how apps are developed for its various platforms.  Nonetheless, this year's conference could truly boost Apple's "innovation" and profits side.