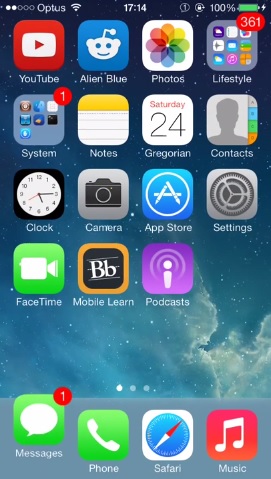 Everyone loves the bouncy effect found in OS X's dock that appears whenever you click on an app's icon. If you have been looking for a way to add a similar effect to your iOS device then give BounceNotify tweak a try. This simple hack brings the same effect to iOS however the way it works is different from the desktop operating system.
Instead of making the icon bounce when an app is launched the effect only works when a notification arrives. So if you have kept the Messages app in the homescreen dock then its icon will bounce whenever a new message is received. BounceNotify only shows this effect on icons that are placed in the dock so if you place the same icon elsewhere it won't have the same effect, which makes sense since you don't want all of your homescreen icons bouncing.
The best thing about this tweak is that it is not affected by whether you have notification badges turned on or off and works the same way regardless of your settings. You can also configure the interval speed and bounce strength from tweak's settings.
BounceNotify is available in Cydia right now and supports all iOS 7 versions. You can get it for free.