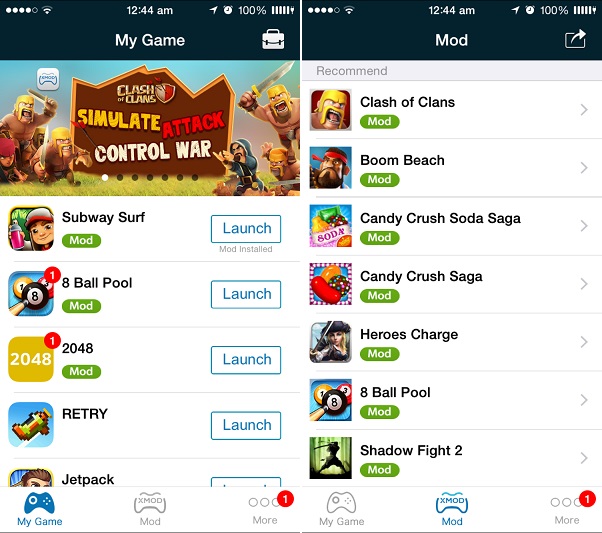 For many casual gamers iPhone, iPad or iPod touch is their favorite gaming device. Thanks to a huge collection of games available in the App Store, iOS devices have now become top gaming devices and have already beaten many handheld gaming consoles in terms of sales and performance. Playing games on iPhone or iPad is fun and to make the experience even more enjoyable a tool called XModGames is here to help. With this assistant tool you can apply different mods to your favorite games, making them more efficient and amusing to play.
Before XModGames tool adding mods and hacks to games was a nightmare, as you had to follow complicated guides and download files from the internet, that often turned out to be malicious. With XModGames all you have to do is launch the app from the homescreen and look for the game you want to add mods to. If your favorite game is supported it will appear in the 'My Game' section of the application. Once you find it you simply have to tap on the game and from the next screen hit the 'Install' button. From this page you can also find the mod's description, which tells you what it does in the game. You can even launch the game directly from the XModGames application by tapping on the 'Launch' button.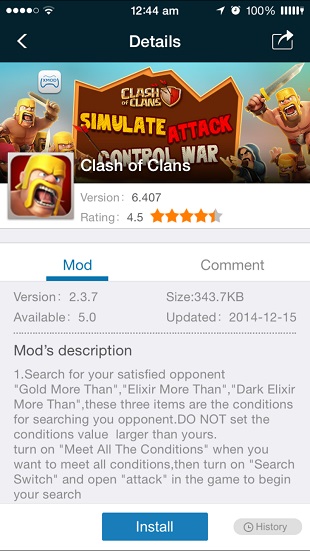 Apart from seeing the games that are installed on your device and have existing mods, you can also browse the library of games that have mods available in the 'Mod' section of the app. From there you can discover the apps you can download mods for and then go to App Store and install those games on your device.
Some of the popular games supported by XModGames include Subway Surfer, 2048, 8 Ball Poll, The Simpsons: Tapped out, Clash of Clans, Candy Crush Saga, Minecraft PE, Real Racing 3, Plants vs. Zombies 2 and more.
To give you an idea of what you can achieve with this tool, in Minecraft PE you can add item multiplier to the game. In Real Racing 3 you can get unlimited coins to buy cars and in-game stuff. In Plants vs. Zombies, you can have initial sun value of 2000 and add a multiplier for coins.
The best thing about this modding tool is that it is completely safe to download for your device and your games as all mods are tested before they get released. The app is updated frequently to add new games, features and bug fixes.
You can download the XModGames app on your jailbroken iPhone, iPad or iPod touch by adding "apt.xmodgames.com" to your Cydia sources. The app and all the mods available in it are free to download.
Learn more about XModGames tool at this link.
Disclosure: iOSHacker may receive a commission if you purchase products through our affiliate links. For more visit our privacy policy page.