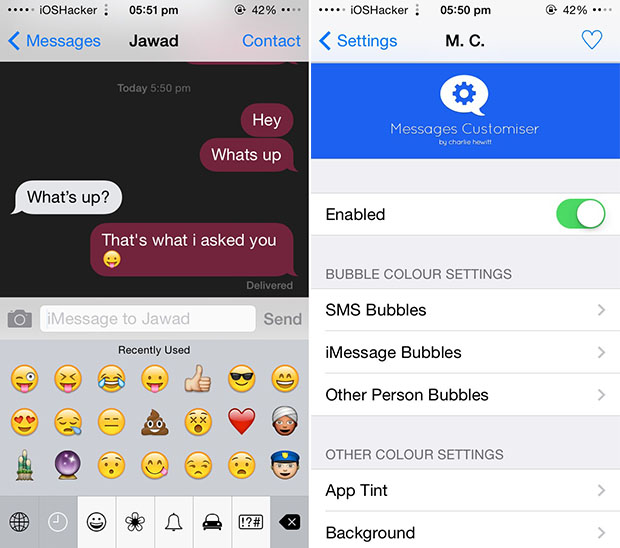 For many users the Messages app is one of the most used iOS application on their iPhone or iPad. The app got major new features with the release of iOS 8 that includes new audio messages, location sharing and more. While these features are great users still didn't get the customization options they were hoping to receive. However, if your device is jailbroken the Messages Customiser tweak can do wonders for you including changing colors of bubbles, adding a tint to the app and changing the background of the conversation screen.
Messages Customiser is not a new tweak and has been around since the days of iOS 7. Now the developer has released the iOS 8 beta that enables users of the latest iOS version to install the hack on their devices. After downloading the tweak you can head to its preference page in Settings and change the colors for SMS bubbles and iMessage bubbles separately. Choosing different colors for both will make it easier for you to distinguish between the two. From there you can also choose a different color for other person's message bubbles.
From settings you can change the app tint, which affects the navigation bar of the Messages application. Background color can also be chosen by the user. You can choose a color or apply the current wallpaper or custom image as the background. To do that tap on the 'Preset' option and from the list select image. Go back and you will be able to choose an image from your photos library. Lastly, you can also change the color of the info text, which includes timestamps and read reports.
Must read: Best Cydia tweaks to improve Messages app on iOS
You can download the Message Customiser tweak on your iOS 8 powered device for free from developer's private repo. Just add chewitt.me/repo to your sources. Since the tweak is still in beta you may face bugs, however it worked without any problems when we tested it.