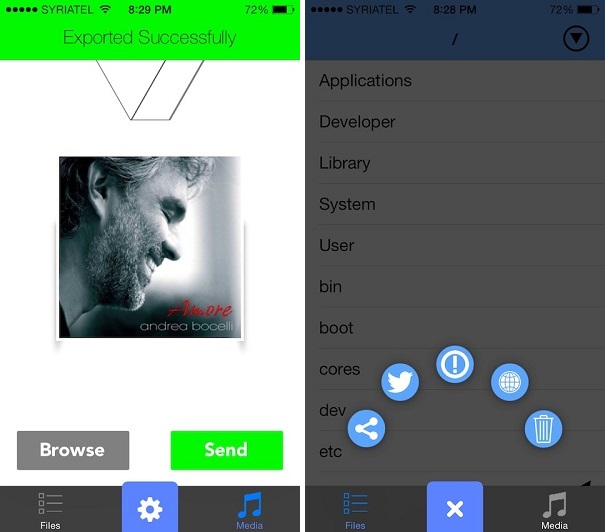 When it comes to Bluetooth sharing iOS devices have always lagged behind the competition. Apple tried to change that by introducing the AirDrop feature in iOS 7, which allows users to share files such as photos, contacts, notes etc. with fellow iPhone and iPad users. While AirDrop is a cool feature it is nowhere as powerful as users would have liked it to be. iOS 8 hasn't changed this situation as we saw no improvement in AirDrop's functionality. If you have been looking for a superior Bluetooth sharing experience than AirDrop then you should check out the AnyDrop 3 tweak. AnyDrop has recently been updated to add iOS 8 support and it aims to take AirDrop to the next level.
This tweak allows users to browse through their device's file system and share any file they like with other users. The best thing about this tweak is that it does not require the receiving device to have AnyDrop 3 installed on it. In addition to giving root level access and sharing capability this Bluetooth tweak for iOS also lets users share files from different apps. It takes advantage of iOS's 'Open In' feature, which is used to open any file into a different app. With integration of this feature into Bluetooth sharing AnyDrop 3 sends the file to another device.
AnyDrop 3 also has a number of extensions that make the life of an iOS user easier, such as Youtube extension lets users download videos from the video sharing website through the official Youtube app. Whereas Music extension lets you share DRM free songs from Music library with other users. In order to share all you have to do is tap and hold on any song in Music application. The transfers with this app are quite fast and it offers sending speeds of up to 20mbps.
You can download AnyDrop 3 on your jailbroken iPhone or iPod touch for $2.49. It works on both iOS 8 and iOS 7 devices. Please note that currently iPad is not supported.