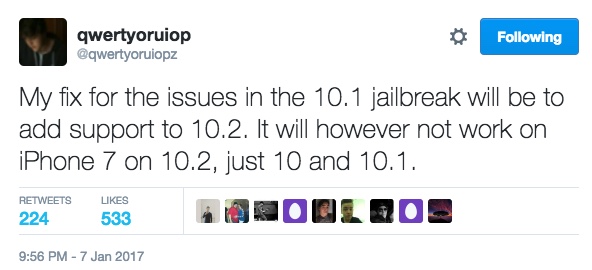 For those of you rightly waiting for a stable iOS 10 jailbreak, we have got an important update coming directly from iOS hacker Luca Todesco. In his recent tweet Luca has announced how he is going to solve some of the issues he is facing with the iOS 10.1 jailbreak, and that just might be the good news many users have been waiting for. In the tweet Luca says that in order to solve issues in the iOS 10 jailbreak he will have to add support for iOS 10.2. While he did not go into detail about what issues he is specifically talking about here, from the tweet we can judge that there are some problems with the yalu jailbreak that can only be solved on iOS 10.2, at least on some devices.
Luca goes further to note that if an iOS 10.2 support is added to the yalu jailbreak, then it will not work for iPhone 7 (and presumably iPhone 7 Plus) devices. For the latest iPhones users need to stay on iOS 10.1 in order to be able to jailbreak with his upcoming tool. This revelation by Luca is a good news for non-iPhone 7 users who failed to downgrade their devices to iOS 10.1 before the signing window was closed by Apple and were stuck on iOS 10.2.
While the tweet would have cheered those already on iOS 10.2, it has also confused many who have their devices sitting on iOS 10.1 waiting for the stable jailbreak's release. Now they need to decide whether they want to upgrade to iOS 10.2 (whose signing window is still open) or stay put on iOS 10.1.
We will update you as soon as more information is available to share. Also, do let us know which iOS version are you currently on in the comments section below.