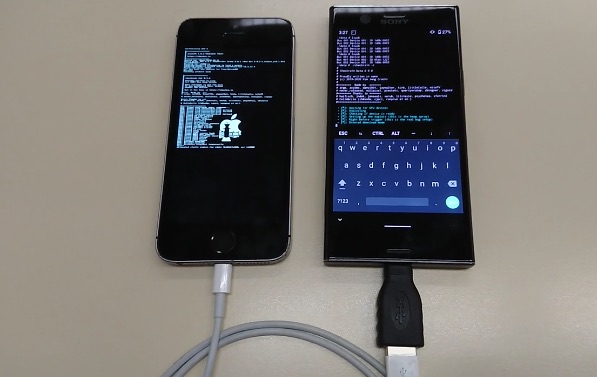 The checkm8 bootrom exploit based checkra1n jailbreak is only officially available on macOS and Linux platforms. But now it has turned out that it is also possible to run on another operating system. Don't get too excited though as that operating system is still not Windows (sorry Windows users).
A Reddit user has discovered that it is possible to run checkra1n jailbreak utility on an Android powered device. The most interesting thing is that checkra1n not only runs on Android but it can also jailbreak a connected iOS device.
The version of checkra1n that works on Android is actually the Linux version. According to the user who ran checkra1n on Android the tool works the best on newer versions of Android and Linux as using the newer versions increases the chances of success.
In fact in the demonstration that showed checkra1n running on Android a Sony Xperia XZ1 Compact running Android 10 was used. The device was running with kernel 4.14, which had been rooted with Magisk 20.3.
If you are interested in running checkra1n iOS jailbreak tool on Android, then there are a few requirements that you need to consider. First of all you need an Android device with root access. The Android device also needs to be running a Terminal app.
Needless to say that you need an iOS device that is supported by the checkra1n tool. Lastly, you need a cable to connect the iOS device with the Android device. You need to use a Lightning to USB-A cable (with a USB-C adapter) in order to connect iOS and Android devices together. A normal USB-C Lightning cable from Apple will not work as it is incapable of putting the device in DFU mode.
You can learn more about checkra1n running on Android and find complete tutorial on this Reddit thread.
While it may not be the most practical way of running checkra1n to jailbreak iOS, it is certainly one of the most fun one. Using an Android 10 device to jailbreak iOS 13? Count us in.