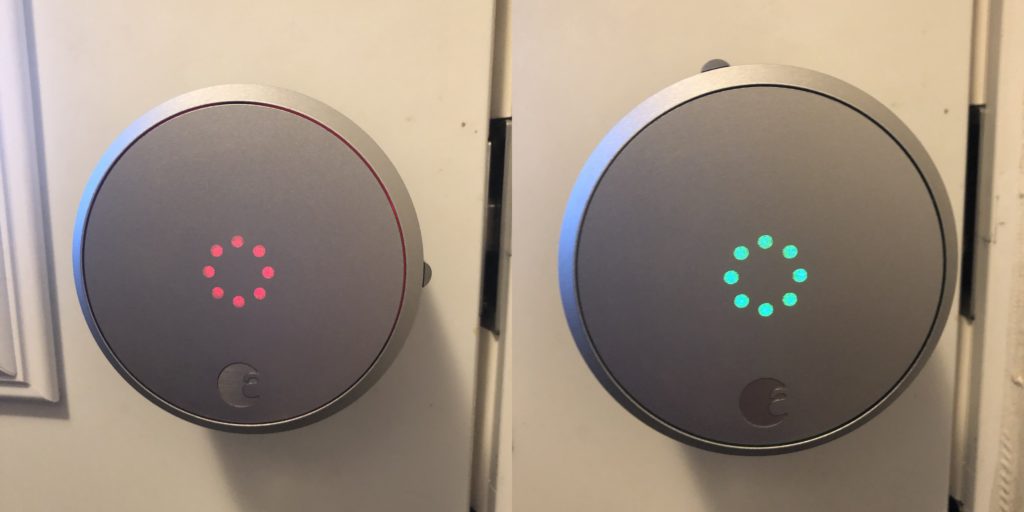 The August Lock Pro is an elegant door lock that works with a variety of smart home platforms, including Apple's HomeKit. What advantages does a smart lock give you, and is it worth your money? Let's find out in our detailed review of the August Lock Pro!
Inside the box, you'll find the lock itself, the DoorSense Sensor, batteries, the Wi-Fi Bridge if you purchased it, along with mounting hardware to install the lock. Now, I'm no handyman, but I found the instructions that August provided to be very straightforward, and I had everything up and running within a half hour. It simply replaces the deadbolt, which means you won't need to get new keys, so it's perfect for renters along with homeowners. There's also a small DoorSense Sensor that you can install, which will tell you if the door is left open.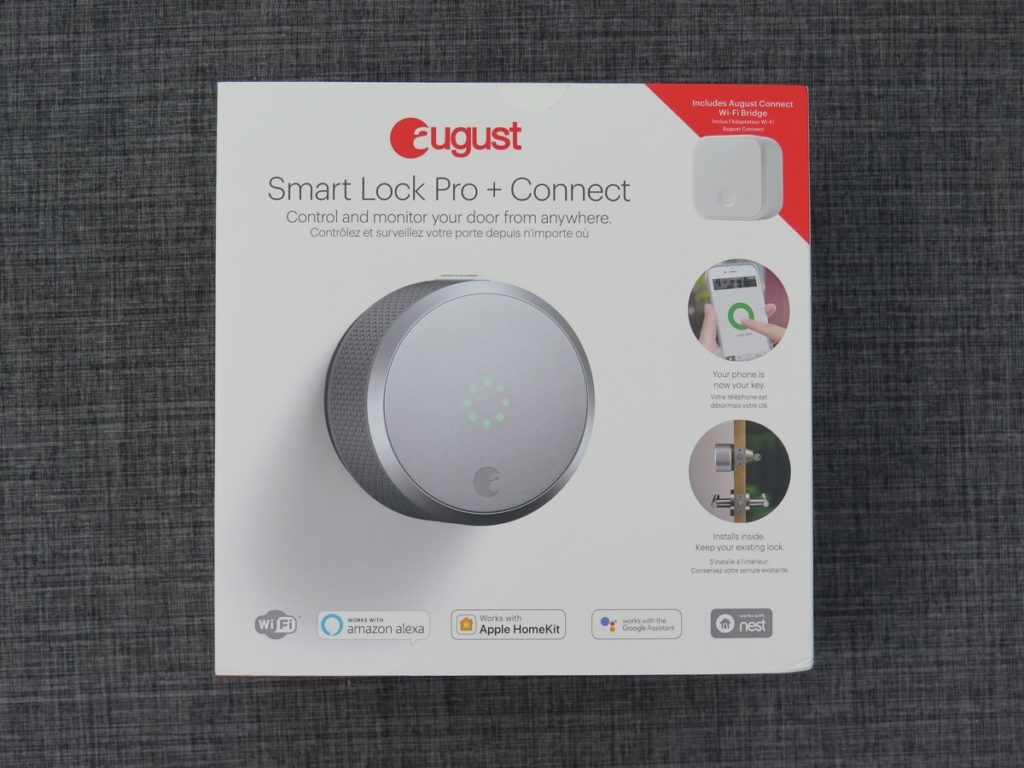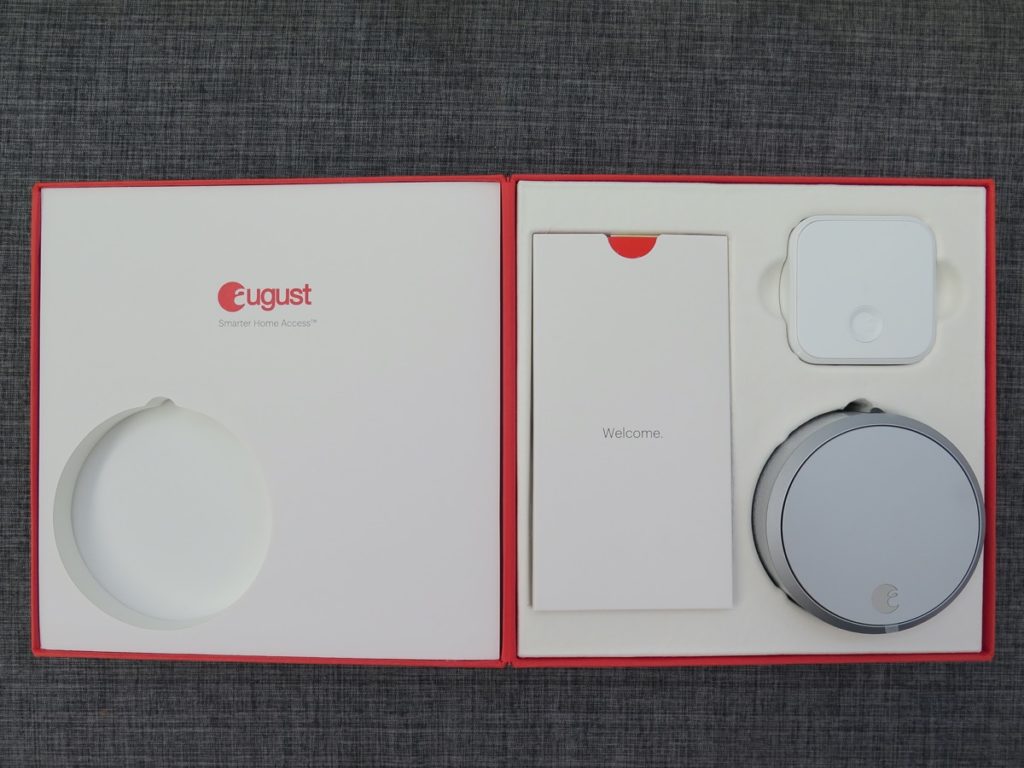 The physical design of the lock is quite simple. To unlock or lock the door, simply turn it, like a Nest Thermostat. There are LEDs on the front of the device that will momentarily turn on and change color depending on the state of the lock. It also plays a confirmation sound, or a different sound if it gets jammed. It does this when you control it digitally. If you physically lock or unlock it, no lights or sounds will activate.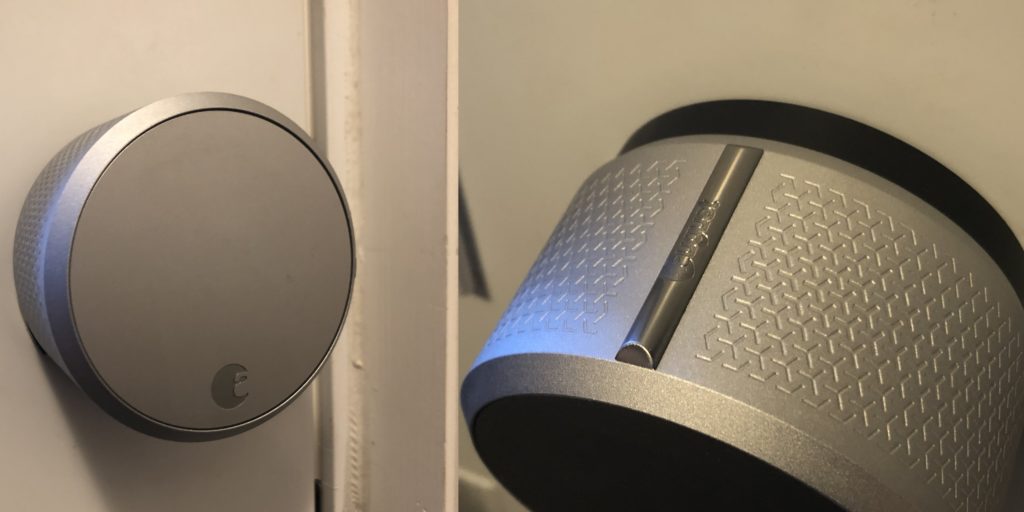 The first menu in the August app is a large circle, colored either green if it's unlocked or red if it's locked. Tapping it will toggle the state of the lock. When you're close to the lock, it will communicate over Bluetooth, otherwise, it will work over Wi-Fi or the Internet. The next tab is the activity tab, which shows you all the times that the door was locked, unlocked, opened, and closed. More on that in a little bit.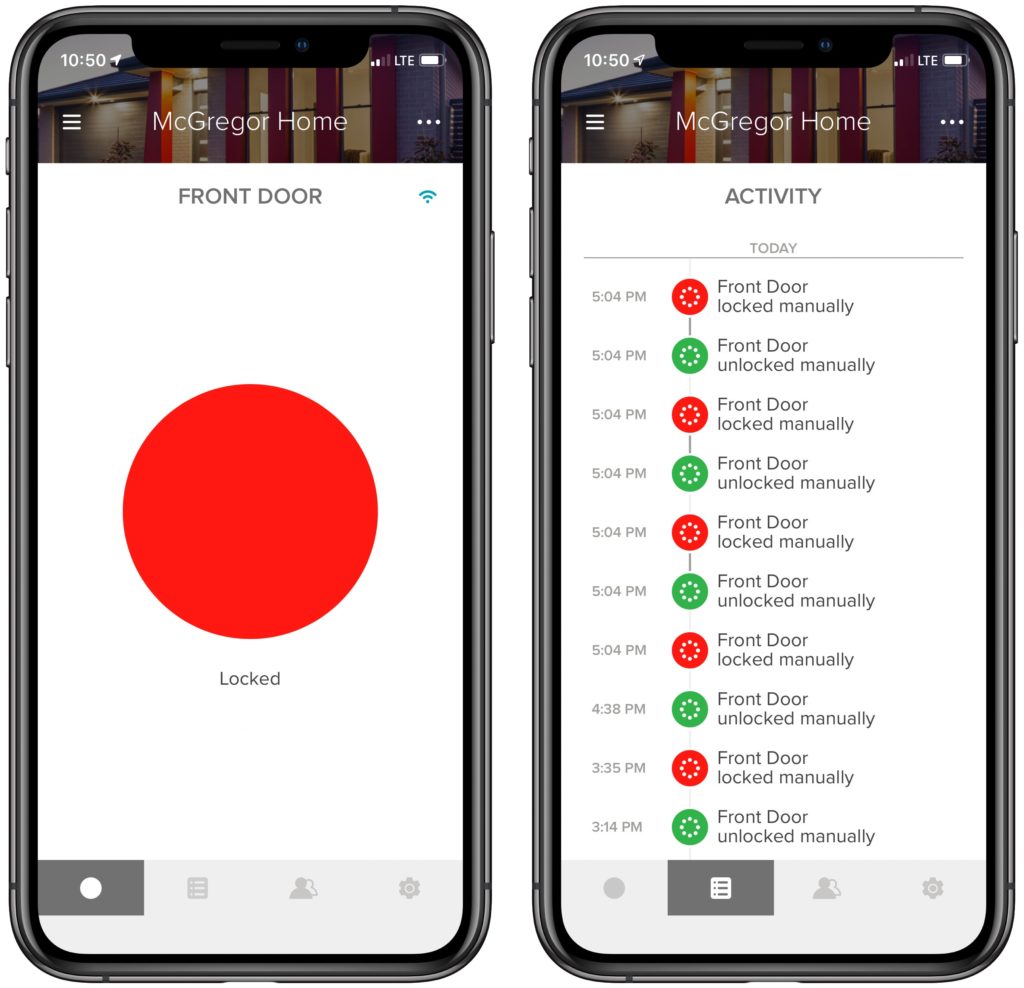 The Guest List is where things start to get interesting and highlight the power of a smart lock. You can add Owners, which ideally would be ones living in the home or caregivers. You can also add guests, such as for visitors, babysitters, or extended family. The guest keys allow you to have great flexibility. You can set certain days and times when they can have access to your lock. For example, maybe you'd only want someone to be able to open your home during the afternoon on the weekend. You can do that. Or, perhaps you have someone looking after your place while you are gone until Monday. You can give them a virtual key that'll work while you are gone, then will automatically be removed when you come back home on Monday.
This feature alone may be worth the purchase of the August Smart Lock. If you seem to constantly be swapping keys for different people, the August Smart Lock is a no brainer. No more worries about having to cut more keys or them getting lost.
Giving keys are great for people who will be constantly coming and going from your home, but what about those times when you just need to let someone in when you're not around? With the Wi-Fi Bridge, you can easily unlock the door for someone remotely, or lock it if you forgot to when you left. If your internet or power goes out, the app will send you a notification if it lost the connection, and it'll even send an email if it's been out for a while, a nice touch.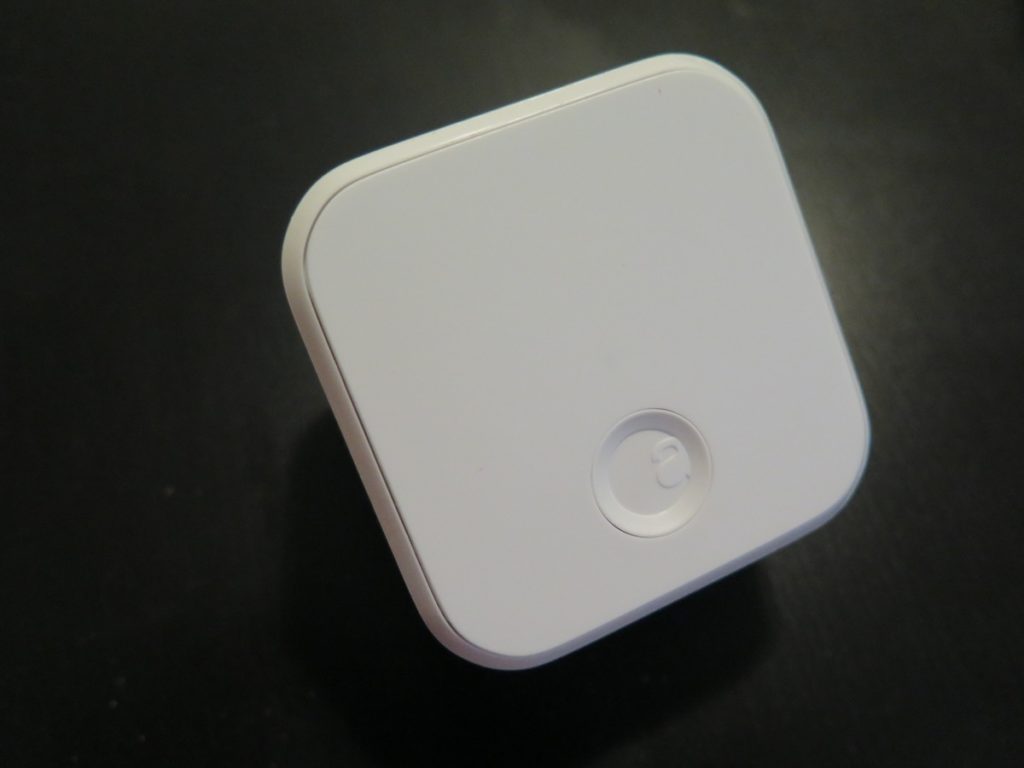 The bridge also allows you to control the lock with Amazon Alexa and Google Assistant. You can check the status of the lock and lock the door with both assistants. I tried both, and they worked great. Amazon Alexa doesn't let you unlock the door for security reasons, while Google has it as an option. I disabled it. I found it particularly handy at night. I could simply say "Good Night" to my Google Home Mini and it would let me know if I forgot to lock the door.
Forgetting to lock your door should be a thing of the past though. August has some great features that make locking and unlocking your door effortless. The first great feature is Auto-Unlock. While you could use something like a HomeKit automation to unlock your door when you arrive home, most just rely on location services. The August Auto-Unlock utilizes both Location Services and Bluetooth, so it unlocks as you walk up to the door. This is one of my favorite features. If you're walking up to the door, no longer do you need to juggle everything trying to pull your keys out of your pocket and unlock the door. Just turn the knob and enter.
There's also an Auto-Lock feature, which locks the door shortly after you leave, but I decided to leave it disabled. For one, sometimes I need to shift my door a bit for it to lock properly, and second, I'd like to personally ensure that the door is indeed locked before I head out. Thanks to its integration with Apple HomeKit, I was able to make a setup that fit my needs perfectly.
I have a Logi POP button, which also supports HomeKit, right beside my door. Giving it a quick press gives me enough time to walk out the door and pull, ensuring the door locked properly. Giving the button a double press can also turn off all of my lights along with locking the door. I love no longer having to pull out my keys to lock the door. Just give the button a push on the way out and I'm good to go.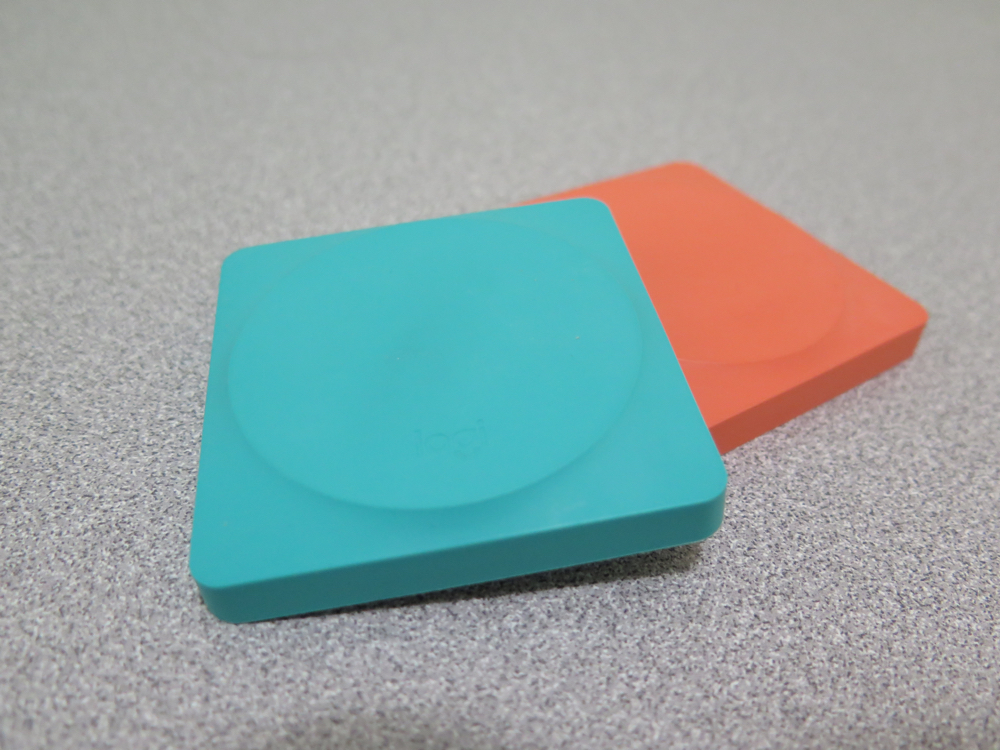 While the August Lock is great, it isn't perfect. For one, while the activity log is great for seeing who is coming in and out, it only shows which individual controlled the door if they used the August app. If they used another method, such as with HomeKit, or just manually, it will show that the lock was controlled at the time and how, but it will not show who. Also, while I believe HomeKit supports a jammed state for locks, it doesn't seem that August shows that in the Home app, so if the lock gets jammed, it's a bit of a pain trying to lock/unlock the door to get it free with the Home app. The design of the lock, while beautiful, does make it more difficult to see if it's locked or not from a short distance when compared to a traditional lock.
I think the biggest concern though, is that your "keys" are now electronic devices, which means that if the battery runs out, they're useless. A couple of times my phone died, preventing Auto-Unlock from working. I was able to use my Watch to unlock it, but it took a little while, and it would have been easier simply to pull out my key. If for some reason my watch died, or if it wouldn't connect, then I'd be in much more trouble. So for most of my time with the lock, while I have been able to use it without having my house key on me, I think I'll keep it just in case.
So, should you buy the August Lock? It makes the perfect addition to a smart home, but it's also great if you constantly are lending out keys to people, or if you just want some added convenience in your life. If that's something that suits your needs, then you won't be disappointed with the August Smart Lock Pro. You can purchase it for $229, or with the Connect Hub for $279, although I have found that sometimes you can snag a good deal on one. You can currently save $80 off the Lock + Connect set from August's website.
So this was our August Smart Lock review. What do you think of the August Smart Lock? Do you like the idea of your phone being a key, or do you prefer the old fashioned way? Let us know in the comments down below!
Disclosure: iOSHacker may receive a commission if you purchase products through our affiliate links. For more visit our privacy policy page.