I have been an Apple Watch user for the past 5 years, and in these 5 years I have worn Apple's Sports Band 99 percent of the time. I love the affordable Sports Band because it is easy to wear and works in almost every situation. I also like to switch between different colors and get a totally different look to match the outfit I am rocking that day.
So when I had the opportunity to try out the premium metal Apple Watch band from JUUK, I was not sure whether I would like it enough to wear it every day. Despite my initial hesitation I did want to give JUUK bands a try as my colleague Logan has been a fan of their bands for many years and has reviewed several of them here on iOSHacker.
In the end I finally went ahead and got myself the newly released JUUK Qrono Silver Apple Watch band and this is the Apple Watch strap that I am going to review today.
About JUUK Qrono Silver Band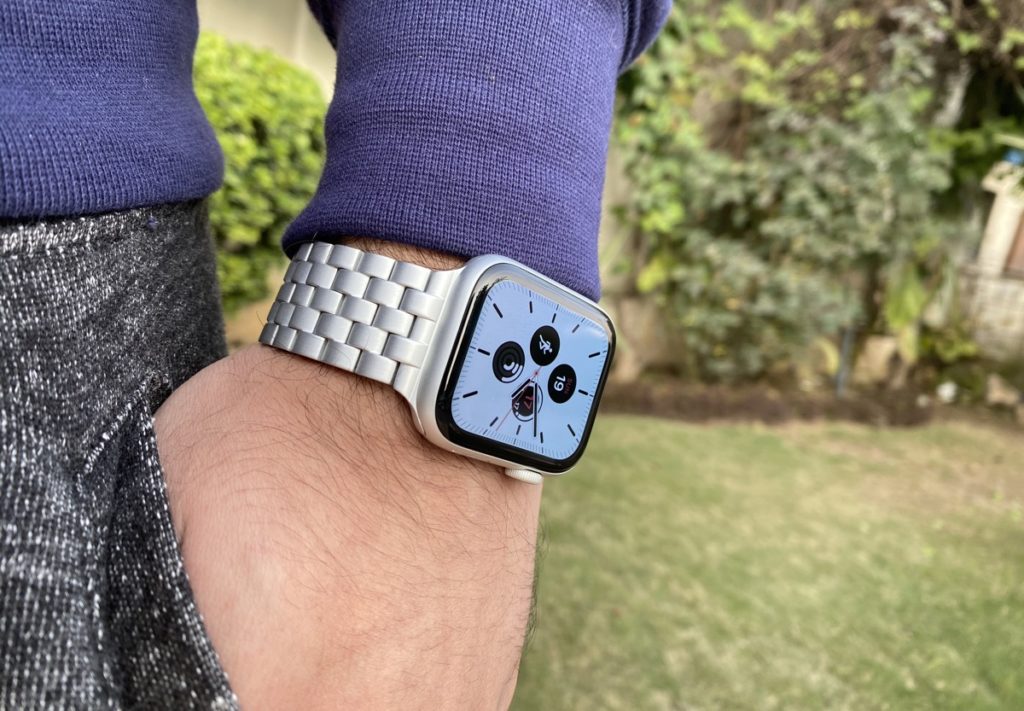 Before we get into my thoughts and experience about using this band, let's get the introduction out of the way. JUUK Qrono Silver is made up of 6000 series hard anodized aluminium due to which it is both light and durable at the same time. It is capable of fitting all generations of Apple Watch and supports Apple Watch Series 0, Series 1, 2, 3, 4 and the latest Apple Watch Series 5.
The Watch band features the double push button butterfly deployment buckle that is made up of 316L stainless steel. The watch can fit wrists up to 212mm or 8.35 inches however you can resize it easily using the included easy link removal tool. The band weights 55 grams. It comes in four finishes including Silver, Cosmic Grey, Onyx and Brun.
My review of the JUUK Qrono Silver Band For Apple Watch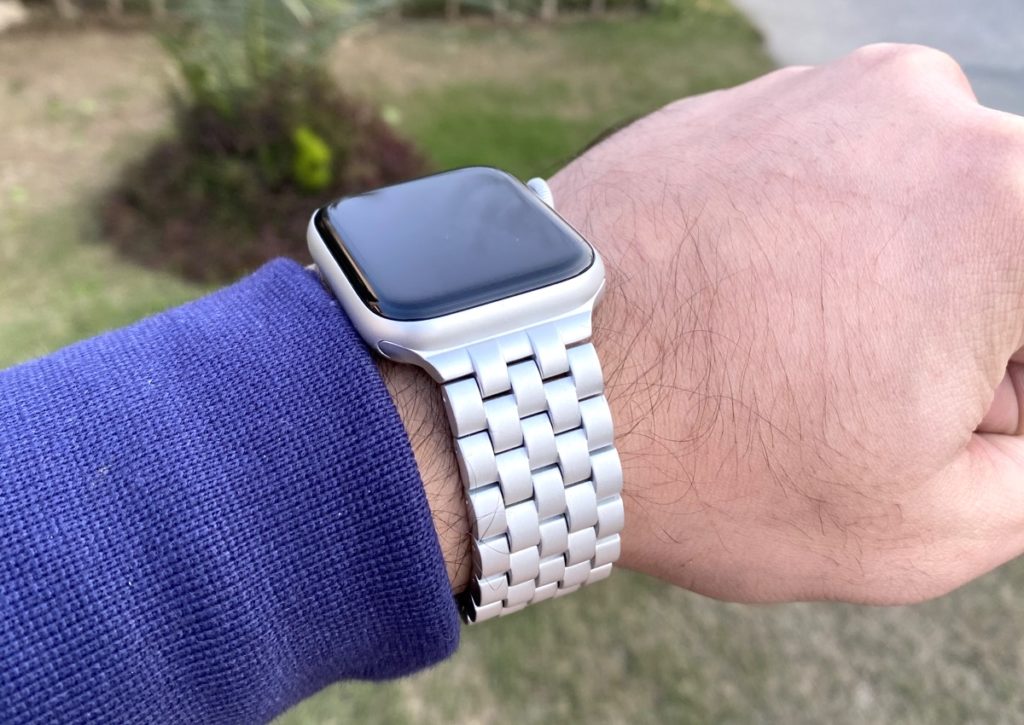 Now that you are up to date with the specs and features available with JUUK Qrono Silver Apple Watch band, let's talk about how it performs in the real world. As I have said I am a big fan of the look and feel offered by the Apple Sport Band and have used that band for more than 5 years. So I was hesitant when switching to metal based JUUK Qrono, even if it was only for the sake of this review. However I am glad that I took the risk, as I am thoroughly impressed by the band and what it has to offer.
The Design
It was first time in 5 years that my Apple Watch felt like an actual watch that I could wear anywhere I like. If it wasn't for the all screen design of the Apple Watch it would be hard to tell if you are wearing a smartwatch or a traditional premium watch with a metal strap. The formal look offered by this band meant I could wear my Apple Watch at formal occasions and with a suit, without having to switch to a 'dumb' watch just for the sake of creating the look that feels right.
The JUUK Qrono Silver band looks beautiful with my silver Apple Watch as well and matches the Watch's color in the most perfect way. While I got the silver version for my silver Watch, if you have a space grey Apple Watch, then you also have the option to buy it in cosmic grey color and onyx finishes. Gold Apple Watch owners can get the Brun finish to match their Watch's look. All color options come with lugs that will either match your Apple Watch's color or compliment its look.
I absolutely love the double push button butterfly deployment buckle on this band, as it not only makes it super easy and quick to wear and remove the Apple Watch but it also makes a satisfying click sound as you close it. Pressing the push buttons to release the buckle to remove the Watch is equally satisfying and easy to operate.
The Fit
If you have a small or medium sized wrist, then you will have to remove 2 or more links in order to make the Watch's size suitable for your wrist. I had to remove 2 before the Apple Watch could sit snuggly on my wrist. Good thing is you can easily remove the extra links using the included easy link removal tool. Or you can get professional help by taking your watch band to your nearest watchmaker. It is important to note that the link removal tool is included in the packaging and can easily be confused as part of the packaging itself. When unboxing the strap look for  the silver tool at the bottom of the package.
The only thing that kind of bothers me about this band is the way you put it on the Watch itself. While it is very easy to wear the Watch once the strap is installed on the Watch, the same is unfortunately not true for its installation process. This makes things difficult if you also regularly wear your Watch to the Gym or play sports while wearing your Watch, as you will need to replace the band with a workout-friendly band in order to use your watch in such situations.
Installing JUUK Qrono on Apple Watch can be tricky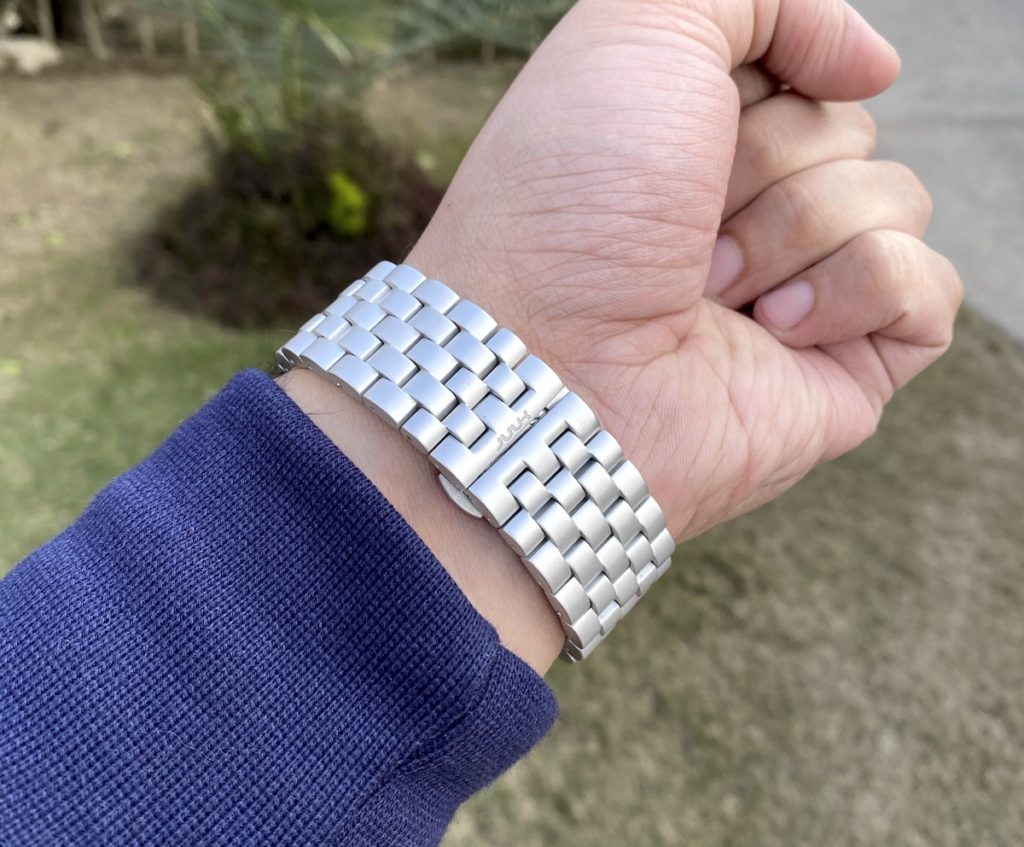 Since there's no manual included in the packaging the user is left to figure out how to put it on by his or herself. The worst part is not knowing how to properly put it on your Watch could result in you damaging your Watch. Thankfully we are here to help! Here's how to put the strap on. You can also watch the video above to see the installation process in action.
Remove any strap that you already have on your Apple Watch.
Now hold the watch in such a way that it is resting on a surface such as a table.
Next carefully start inserting the JUUK Qrono Band on both upper and lower sides of the Apple Watch at the same time.
Once you are almost halfway in, make sure you press the connector button on both upper and lower sides. As you press and hold the silver button continue inserting the Qrono band further inside your Apple Watch.
After the band has been inserted on the Watch from both sides make sure it is inserted properly.
As you can see putting the JUUK Qrono watch band on the Apple Watch is not as simple as a normal Sports strap, however it feels easier once you get used to it.
Update: The back of the packaging mentions a link to JUUKDesign's website where users can find videos on how to adjust and use their new band. We initially overlooked it, however it is good to see its there to help users. Having said that a printed manual inside the packaging would have also been nice.
Places where you can and cannot wear it
This brings us to where you can and cannot wear this Apple Watch strap. Thanks to the comfort and versatile look JUUK Qrono band offers you can wear and it pull it off in most situations. You can easily wear it over casual dressing, at office with formal clothing, while going to out and at home. However you might want to switch your band when doing any kind of workout or intense activity, as it is not designed to be worn during sports or at gym.
You can buy JUUK Qrono Silver Band for the Apple Watch for $139. It comes in multiple color options including Grey, Brun and Onyx finishes. You can buy the JUUK Qrono Watch Band from JUUK's official website here. You can get a 10% discount on your order by using our exclusive promo code 'IOSHACKER' at checkout.
Should you buy it?
The JUUK Qrono band for Apple Watch is a beautiful, durable and comfortable band for Apple Watch. The band gives the Apple Watch a classy and stylish look that is a refreshing change when compared with the Sports bands most people wear these days. However all that comes with a hefty price tag of $139, which can make it a hard pill to swallow for people with low budgets.
So while I wholeheartedly recommend the JUUK Qrono band for its looks and features, I would not recommend it to anyone who has even the slightest trouble affording it. If you have a low budget but want to achieve a classic metallic look on your Apple Watch there are plenty of options that are available at an affordable price.
However if you can afford it, the JUUK Qrono presents itself to be a great option and is available at an even lower price point when compared with Apple's own metal band offerings. And in this case I would say go for it without hesitation.
This slideshow requires JavaScript.
Other JUUK Band reviews: