Out of all the home automation devices on the market, I would say smart lighting is the most popular category, and for good reason. It's relatively affordable, you can expand at your own pace, it saves money, and it's super cool. Most smart lights allow you to control the brightness from your phone, while others allow you to control your lights away from home, and change the color, completely changing the atmosphere of a room. The Playbulb Color by MiPow is a smart light bulb with a twist; it has a Bluetooth speaker onboard.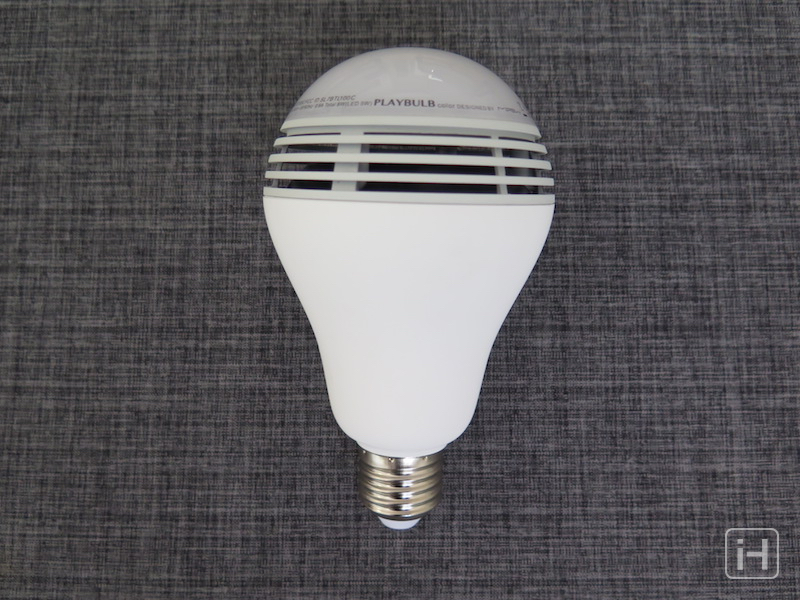 On the packaging, there is a QR on the back that links you to the PLAYBULB X app available on the App Store, so you can quickly get up and running. Once you have the app downloaded and the light is turned on, you can simply open the app and immediately start changing the color. It operates over Bluetooth, so there isn't much of a setup process. MiPow also includes a small insert along with the box if you need help setting it up.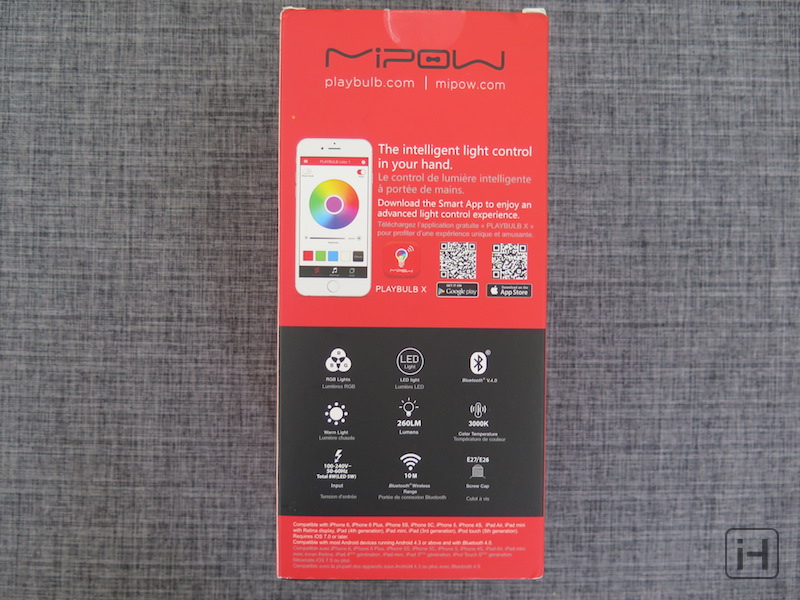 Once you tap on the light that you want to control, you are presented with many options for controlling the color of the light. There are four squares that contain the color white, red, green, and blue. Tapping on one will immediately change the bulb to that color. Above that is a brightness slider, and above that is a color wheel, allowing you to pick any color you please. One of the things that will probably stand out to you is how the Playbulb isn't very bright. It's 260 Lumens, or around the equivalent of a 25W light bulb. To put that into comparison, the 3rd Generation Philips Hue Light is 800 Lumens, and the 3rd Generation LIFX bulb is 1100 Lumens. Needless to say, it doesn't get super bright. It's more suited as a decorative light, or for a very small room.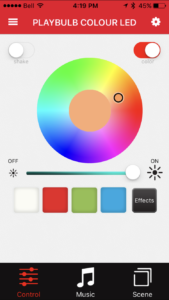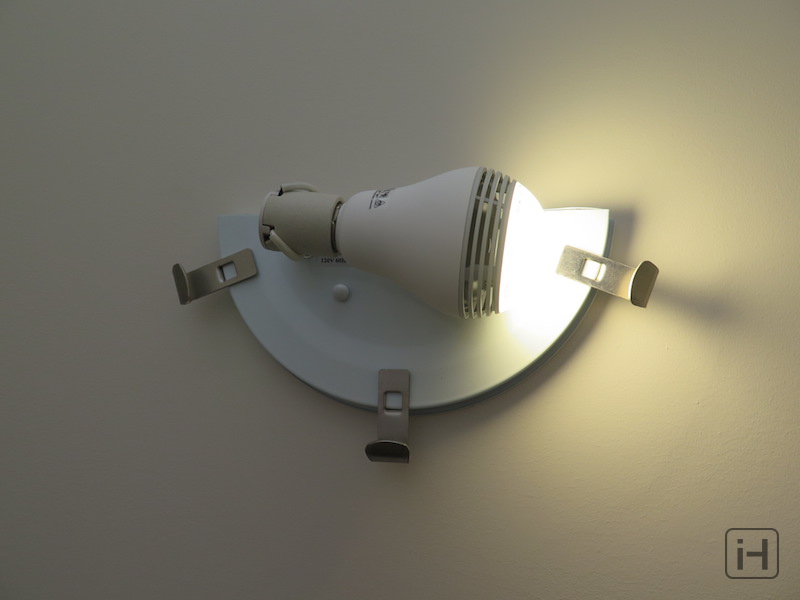 The Playbulb Color has some fun effects that you can play around with. It has a flashing mode, which simply flashes the light in a color of your choosing. It has a pulse mode, where it will increase and decrease the brightness of the light with a selection of seven different colors. The next one, Rainbow, simply flashes through the colors of the rainbow. You can change the speed at which it switches too. The one after that, Rainbow F, (which I'm assuming stands for fade), is quite similar to the previous option, but instead of instantly switching colors, it gradually switches to the next color. You can adjust the speed of that one as well. If you have it on the slowest setting, it has a very subtle fade effect, which I love. I assume the last option, Candle, is supposed to flicker the light like a candle, but it wouldn't work for me, despite being on the latest version of the app and iOS.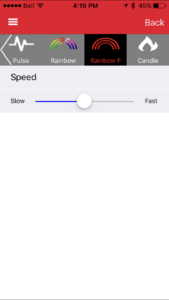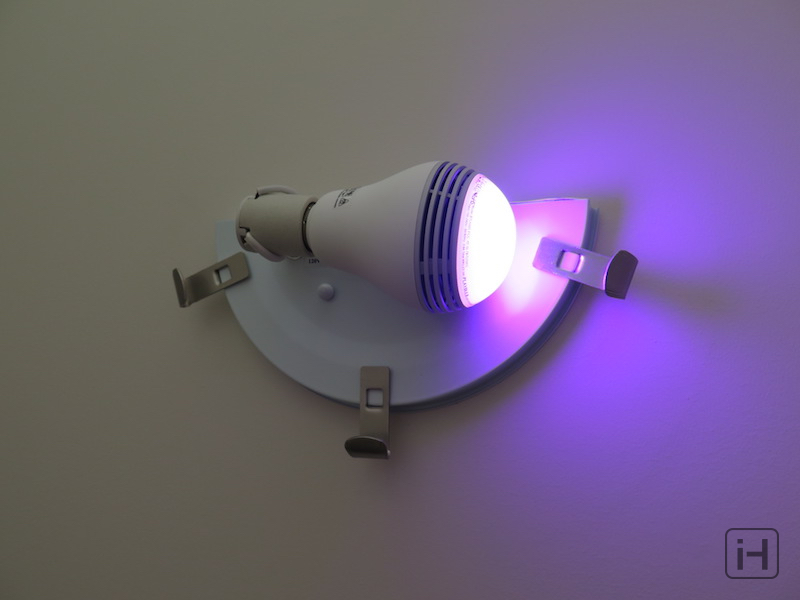 Going back to the main screen, there is a switch near the top right corner of the screen that toggles between white and color. It is important to note that, while you do have white, you cannot adjust the temperature of it. Your best bet is to pick the orange color if you want warm, and the lightest shade of cyan if you want it cool. There is also a "Shake" toggle, which randomly changes the color of the light, or the brightness if you have it on white, whenever you shake your phone. This feature works pretty well, responding with no visible lag.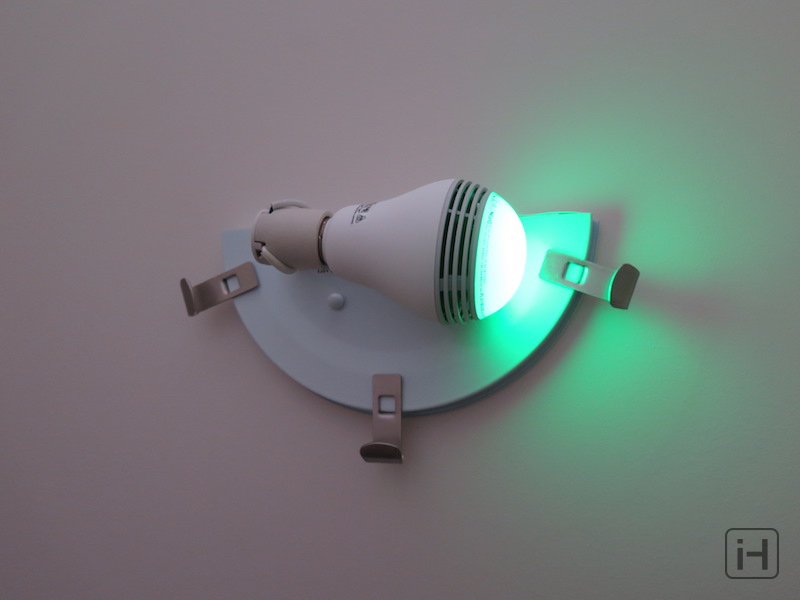 The next tab, the Music tab, is probably the one of most interest and the reason why most people bought this light bulb. To play music from the Playbulb, you have to connect to the speaker in your Bluetooth settings. It connects just like a regular Bluetooth speaker. Once you are connected, you have access to a few different settings. You can choose if you want the light to flash in sync with the music, and you also have an equalizer, along with your standard media controls. I find this menu to be rather confusing as you can't adjust the sensitivity of the light, which is a shame because I found it to flash too quickly to my liking. You can disable it, but you can't tell on the phone if it's enabled or not.
The only way to tell is by looking at the light itself, there's nothing in the app that tells you if it's enabled or disabled. It's the same sort of thing with the equalizer, you can change it, but it doesn't tell you what present your on. You can hear the sound change when you tap it, but you're going to have a hard time remembering what presents you like and how to revert it back to normal. There is also a button labeled "Demo Start," but pushing it doesn't seem to have any effects. I think the best way to interact with the light is to just avoid this menu, and use it as a normal Bluetooth speaker, unless you want it to flash super fast, like at a party.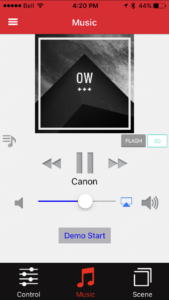 The last menu is scenes. Here, you can upload pictures and have the color of the light match the picture. MiPow doesn't include any scenes, so you are left on your own to make some. This feature is pretty bare bones too. I also had trouble renaming the scene after I created it, so I recommend renaming it before you select the photo you want.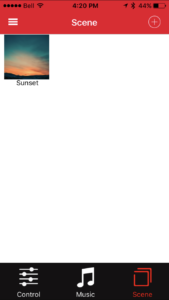 I must say; having a Bluetooth speaker in a light bulb is a genius idea. It's super neat to have sound coming from the center of your ceiling, whether it be for cranking some tunes or just for some simple background music. If you are an audiophile, you probably aren't going to be thrilled, but for the average user, the sound is great. I did notice some distortion at very high volumes, depending on the song, but for the most part, I absolutely loved it! An important thing to note is because this light bulb has a speaker crammed into it, it's rather big. It might not fit in your light socket unless you remove your light fixture.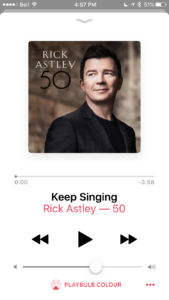 One other important thing to note is that this works over Bluetooth, not Wi-Fi. This means you will not be able to control it away from home. The range on it is 10 Meters, which should be good for when you're around the house, but you won't get the advantages of controlling it from anywhere in the world.
Like many smart bulbs, the Playbulb offers alarms. You can set one for a wake-up, one for going to sleep, and two custom alarms. I really liked how you could play music in combination with the light alarm in the morning. The only problem I had was that it would automatically turn off the alarm once it was used, meaning you would have to re-enable the alarm each day. It would be nice if there was an option to have it repeat.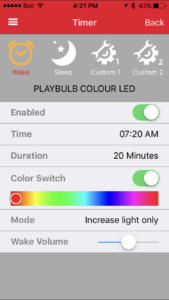 Overall, the Playbulb Color is a very interesting product. Because of the lack of brightness and wonky app, I cannot recommend this for use as a main smart lighting system. However, because of its clever speaker, I can see this being used in a decorative light, or a place where not much light is needed, such as a cabin. If you are interested in buying the Playbulb Color, I would recommend that you buy it from MobileFun. They have great customer service and awesome deals. The Playbulb Color normally retails at $99.99 on MobileFun's website, but at the time of this writing, it is 38% off, bumping the price down to just $62.99!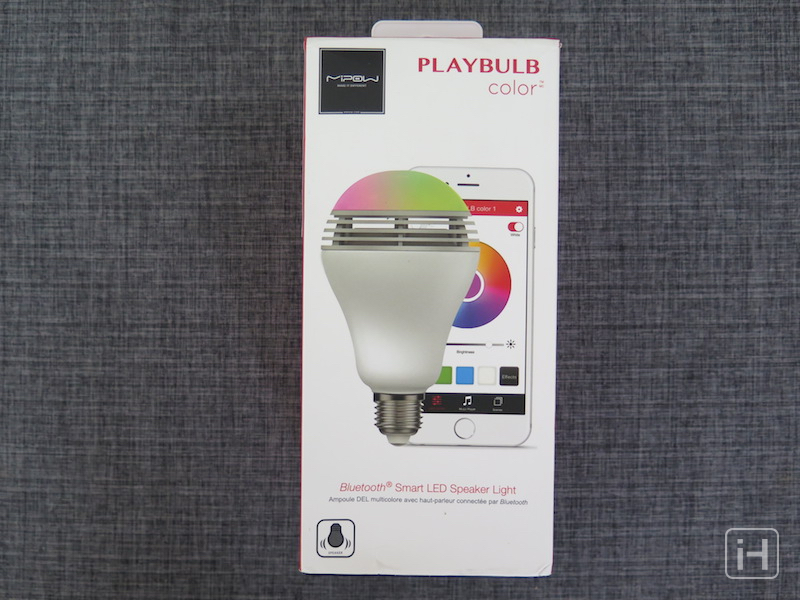 What are your thoughts on the MiPow Playbulb Color speaker? What smart home lighting system do you use? Let us know in the comments down below!