With the introduction of new 9.7-inch iPad Apple has added a budget option to its 9.7-inch tablet lineup. While both iPad Pro and the newly released 'iPad' feature the screen same size and design, they are very different from each other. If you are someone who is about to make an iPad purchase, then there are some things that you need to consider before moving forward. In this article we will outline the difference between budget 9.7-inch iPad and iPad Pro.
Design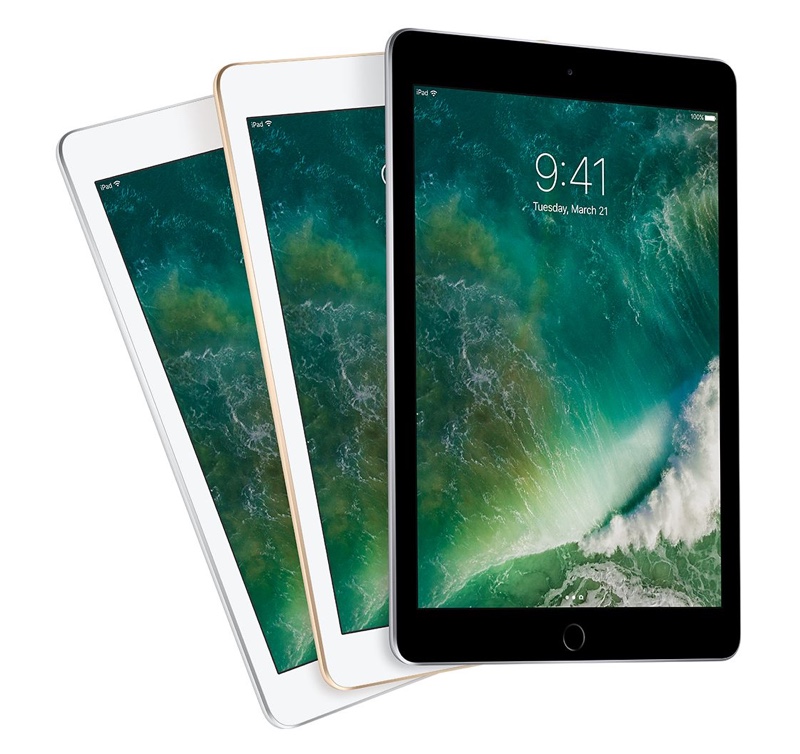 Design is perhaps the most important thing that is on everybody's mind when buying a new gadget. If you are comparing the 9.7-inch iPad and the iPad Pro of the same size, you won't be able to tell the difference. Apple has given the same overall design to its new tablet, keeping the design consistent between its bigger tablet lineup. When compared all three sizes of iPad that includes iPad mini (7.9-inch), iPad and iPad Pro (9.7-inch) and iPad Pro (12.9-inch) look pretty similar.
Things are a bit different when you turn the both iPad and iPad Pro around. On the back you will notice that the iPad Pro has a camera bump as it has a better camera sensor than the budget model (more on this in the camera section below). The budget iPad however has the same old 8-megapixel camera found on older models. While it is not capable of taking as high quality photographs as iPad Pro, having no camera bump serves as an advantage.
On the upper and lower sides you will only find four speaker grills on the iPad Pro since it has four speaker audio. On the budget iPad only two speaker grills are present since it only has two speaker audio output.
9.7-inch comes in Space Grey, Gold and Silver options. The iPad Pro comes in Rose Gold, Space Grey, Gold and Silver options.
Processor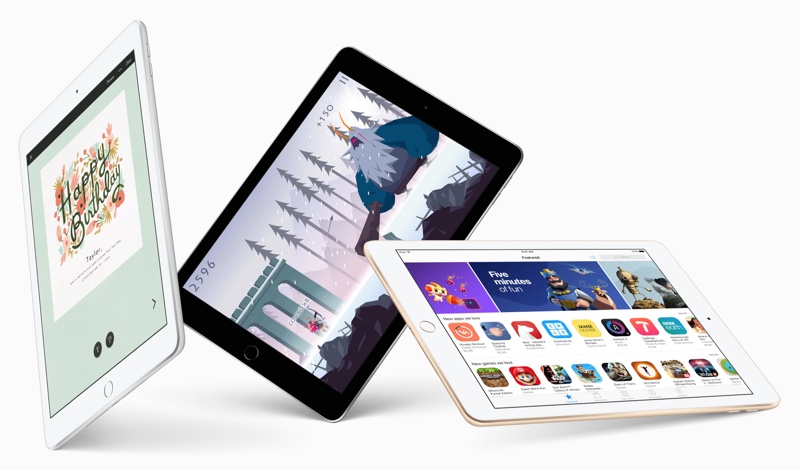 One big difference between 9.7-inch iPad and iPad Pro is that the later is powered by an improved A9X chip. The 64-bit A9X chip allows the iPad Pro to perform heavy duty tasks which according to Apple were previously reserved for PCs and workstations. While the iPad Pro has more advanced A9X chip, the budget iPad is powered by previous generation 64-bit A9 Chip. The A9 chip however is not at all bad, it is just not as good as A9X at tasks like multitasking and perhaps processing graphics.
Display
If there's one thing I personally dislike about the new budget iPad is that it lacks useful features that are found on the Pro model. While both screens feature the same 9.7-inch Retina Display with a resolution of 2048 x 1536, iPad Pro has some advantages over the cheaper model. The budget 9.7-inch iPad lacks the fully laminated displays, anti-reflective coating, wide color display and true tone display feature (the feature that matches iPad's color and intensity with its surrounding environment). This will have significant impact on the user experience.
Camera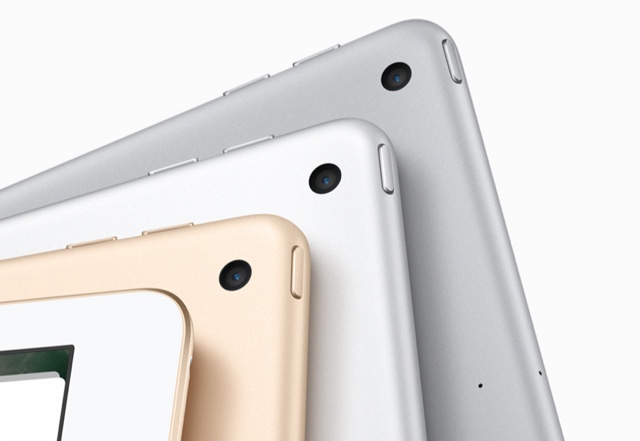 While most people don't take photos on their iPad, having a decent sensor on the device always helps. The only advantage that the budget model has over the Pro model is that it does not have the annoying camera bump. But that's where its advantages end. iPad Pro dominates the budget model, as it features a 12-megapixel rear and 8-megapixel front camera for video calling. Compared to this iPad only has 8-megapixel rear and 1.2-megapixel front camera. It is incapable of taking live photos, does not have true-tone flash or wide color photo capture. The device cannot record 4K video while the Pro version can.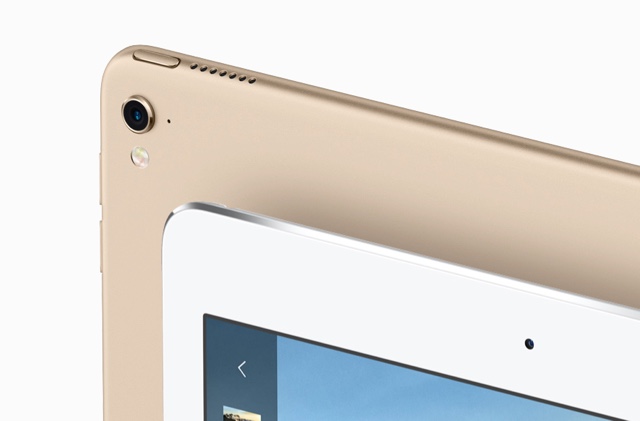 Accessories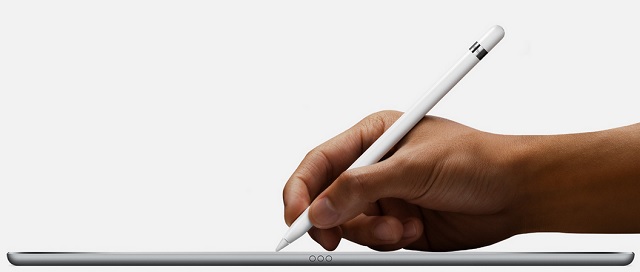 Since both iPad and iPad Pro have the same design and lightning connector most accessories and cases will work with both devices. However if you plan on using the Apple Pencil or the Smart Keyboard case that connects to Smart Connector on the iPad Pro, you are out of luck. Apple has kept both of these accessories limited to 'Pro' models, which is a shame.
Pricing comparison
There won't be two different 9.7-inch iPads if there was no significant price difference between the two. In fact there is a difference of $270 between the entry level iPad and entry level iPad Pro. Here's a full price comparison between different iPad and iPad Pro models.

iPad vs. iPad Pro Specs Comparison
No comparison would be complete without a good old fashion specs comparison. Here we directly compare the 9.7-inch budget iPad with the iPad Pro 9.7-inch model.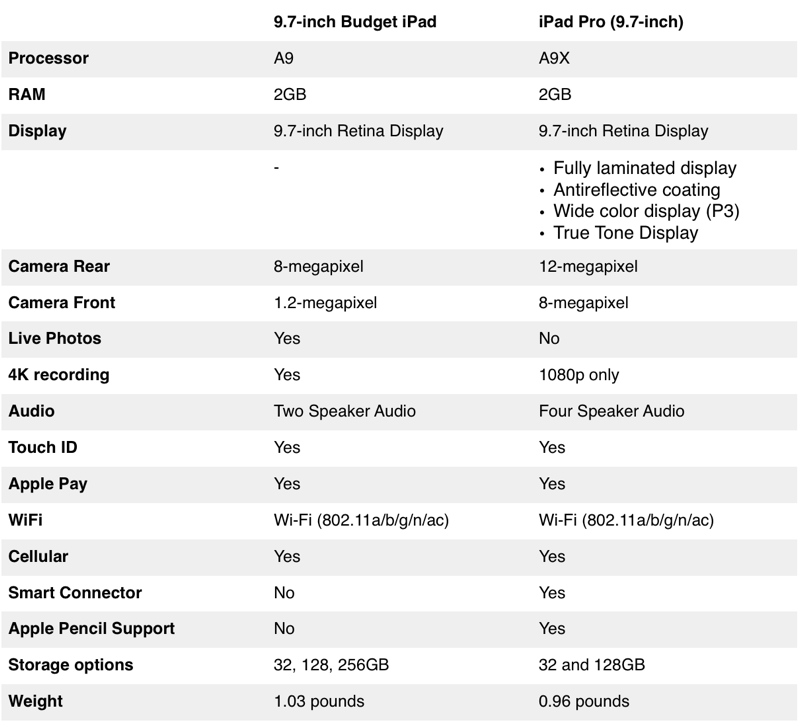 Disclosure: iOSHacker may receive a commission if you purchase products through our affiliate links. For more visit our privacy policy page.