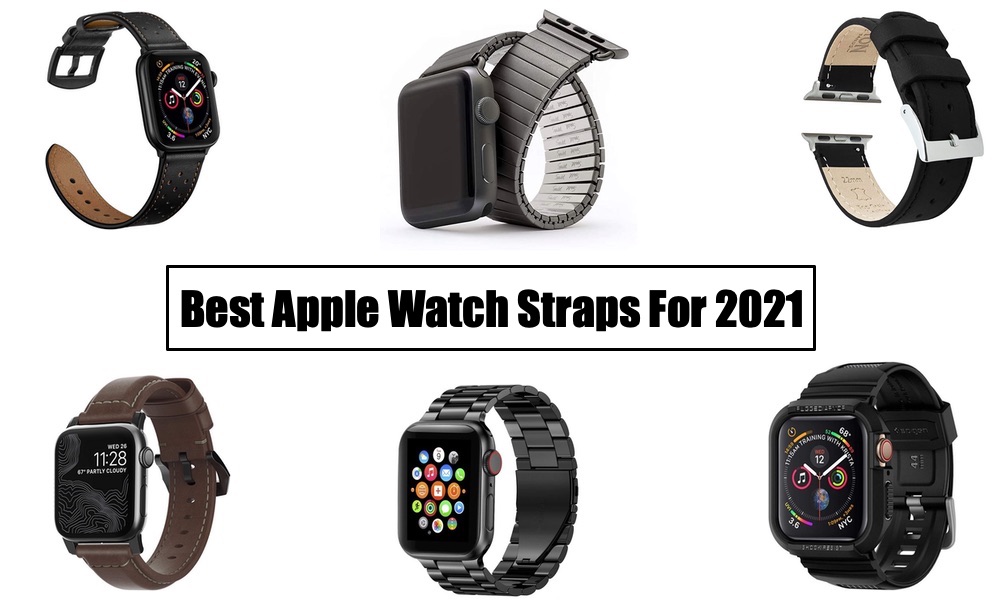 Are you looking to make your Apple Watch more stylish? Then look no further than the best Apple Watch Straps for 2021. The Watch straps that we have featured here add a unique flair to your Apple Watch and add versatility to it.
With these Watch straps you can wear your Apple Watch with a suit, on a casual party, on a beach or to your office.
Read on to learn about some of the best Apple Watch straps from brands like Nomad, Spigen, Fitlink, Barton, Mifa and Speidel.
Nomad Traditional Strap for Apple Watch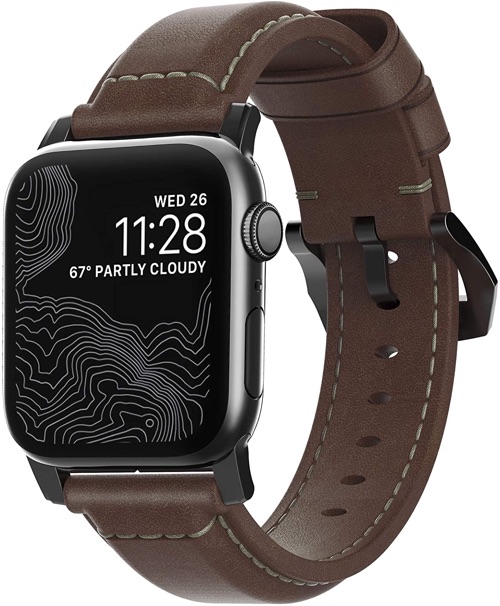 If you are looking for a third party leather Apple watch strap 44mm wide, Nomad Traditional Strap is made for you. It's edgy rustic brown color Horween leather, over time, develops a patina that gives your watch a classic look. Speaking of the design, its traditional and looks graceful on the wrist!
Its buckles and lugs are featured with Metal Injection Molded (MIM) and 316 graded stainless steel making them high tolerance fit. The soft leather that is bound with durable linen thread makes it long-lasting and one of the best Apple Watch straps for 2021 you can find. 
You can buy this Nomad Leather Strap for Apple Watch for $65 or less.
Spigen Rugged Armor Pro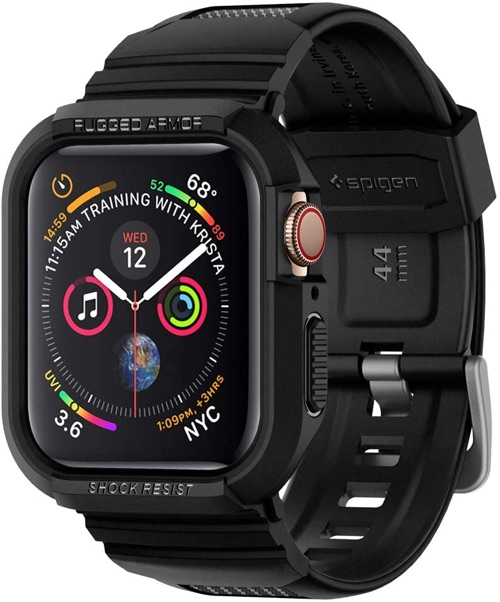 Spigen Rugged Armor Pro is ideal for those who are looking for some robust design and sporty look. Its scratch defense and shock-absorbent layer make it one of the best Apple Watch straps. Its raised bezels protect the screen from breakage while the flexible straps easily adjust on the wrist. The strong metal clasps hold the wrist and you can play outdoor games or complete your workout sessions without any worry to lose or break your Apple watch. This Apple Watch Strap 44mm is compatible with Series 5 and Series 4. You can buy this strap for $19.99.
Fitlink Stainless Steel Metal Strap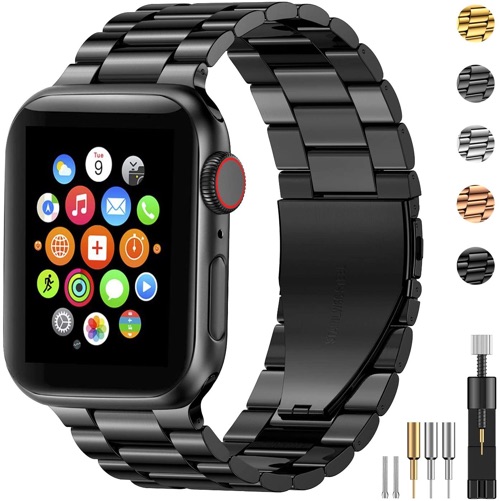 Fitlink's stainless steel metal strap is the new gorgeous (and famous) link bracelet band replacement for Apple watch. The same old-school design that most of us have seen wearing our elders with a traditional time-piece. It fits both the sizes 40mm and 44mm. If you are tired of leather straps and want some bold Apple Watch straps in 2021, these multi-color options are for you. It not only makes your Apple Watch more unique but it also ensures durability and strength. The strap is quite easy to place and remove so that you can enjoy wearing different colors according to your mood and style. 
The best thing? With the help of its removal tool, you can remove 8 links to adjust the length of the strap give the size of your wrist (the length of the strap is 125-175mm: suits 165-215mm Wrist). This third-party Apple Watch strap is not gender-specific. You can get this trap for $15.99.
Barton Top Grain Leather Watch Band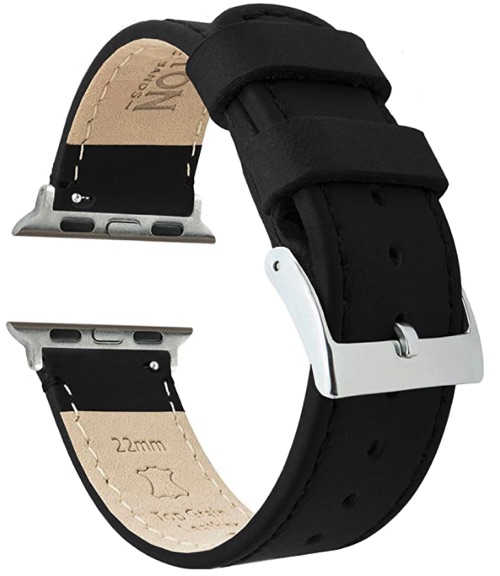 Sleek, stylish, and sober! Moreover, Barton top gran leather Apple Watch straps are super comfortable. The underside is soft to the skin and does not slip. Its 316L stainless steel strap is strong, rust-resistant, and holds securely. It gives you an optimal fit with different sizes from 38mm, 40mm, 42mm, or 44mm. Barton top grain leather watch straps are compatible with all Apple Watch Series 5,4,3,2 and 1. You can buy this strap for around $33.
Mifa Leather Band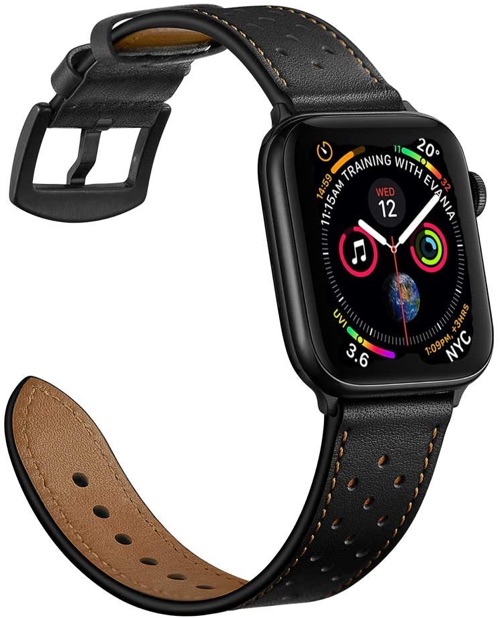 Compatible with Apple Watch 5, this is one the best 44mm and 42 mm Apple Watch straps in 2021 that also works with Apple Watch Series 4,3,2, and 1. This vintage styled band is made of genuine brown leather and anodized black stainless steel buckle, specifically designed to match the black watch face. Unlike other straps, you don't need to have screws to connect the pin, and so no need to worry about the adapter that will separate from the watch band. The anodized aluminum adapters are quick and easy to install and remove. You can buy this trap for $25.
Speidel Twist-O-Flex Metal Expansion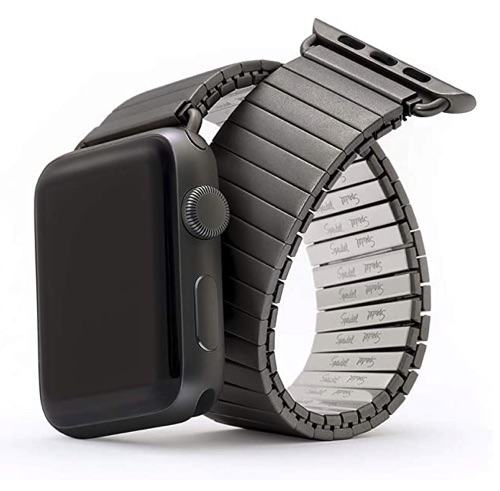 This twisty and flexible metal expansion by Speidel is one of the best Apple Watch straps 44mm. like other metal bands in the list, it is also made of stainless steel that provides your watch strength and resistance against sweat and water. Be it your business purpose or casual wearing, the black Satin finish gives it stylish look making it one of the best Apple Watch straps for any occasion. Moreover, the expanded full-width band gives the watch maximum support. The best part is, the band expands up to 5" that makes it super-easy to wear and take off with no hassle of dealing with a buckle. You can buy this trap for $80.
Which one of the above Apple Watch straps is your favorite one? Let us know in the comments below. Hit the share button, and help your friends and family pick the best straps for their Apple Watch.
Stay tuned to iOShacker.com for more useful posts for your Apple accessories and devices.