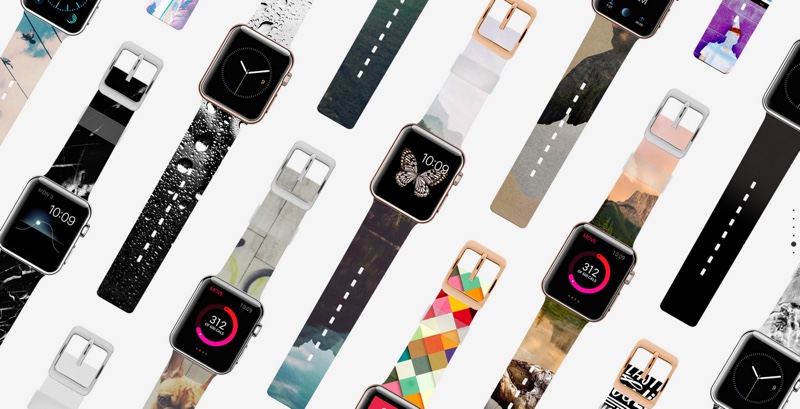 There's a large variety of Apple Watch bands on sale at the official Apple Store, however just like most things sold by Apple they can be pretty common. If you are looking for something more unique and stylish, then you should definitely check out some third-party Apple Watch bands that are available in the market. To help you in finding the right one and narrow down your search we have gather 10 awesome Apple Watch straps that you should consider buying in 2016. Read on to learn about these bands and how you can buy them.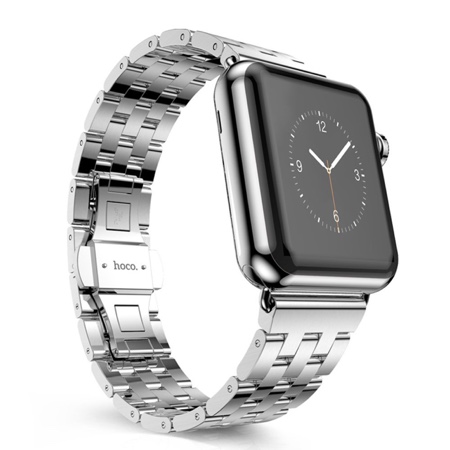 Available for both 38mm and 42mm models this stainless steel metal band offers great durability, style and elegance that make it perfect for any occasion. It fits your Apple Watch just like any official Watch band and is easy to put on or remove thanks to its dual fold-over clasp design. Hoco's Premium Stainless Steel band's size can be adjusted. You can buy this third-party stainless steel Watch band by HoCo for around $30.
Premium Crazy horse Watchband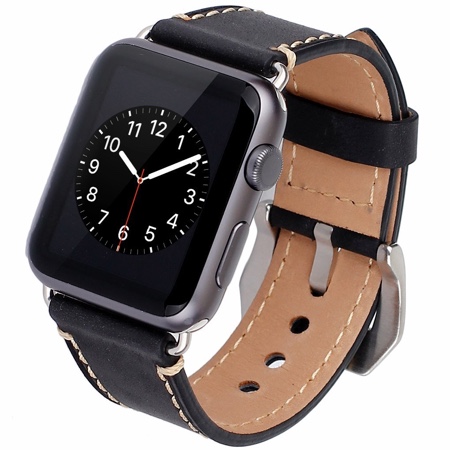 If you have a 42mm variant of the Apple Watch, then you should definitely check out the 'Premium Crazy Horse Genuine Leather Watchband'. It comes in a two of colors including black and brown. It is made up of high quality leather and offers a simple low profile design, which will make it look good on almost any outfit you are sporting on any given day. The band also features a nylon straight line that gives the black and brown straps a unique look. Its buckle is made up of stainless steel. You can buy this leather band for Apple watch at a price of $23. Brown band is available here.
Apple Watch Pebble Leather Dual Material Band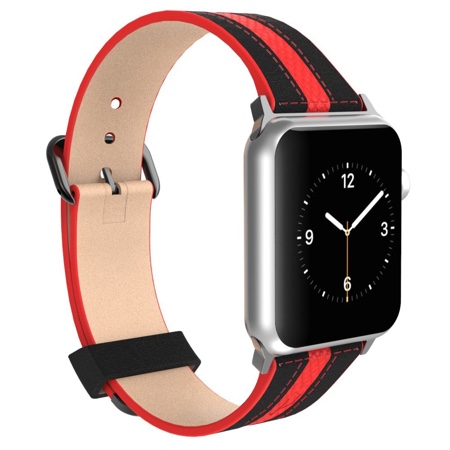 No matter if you have a 38mm or a 48mm Apple Watch model you can buy this premium pebble leather band and look cool. This dual material band that is made up of leather and accented metal gives your Watch a high-end look and a unique design that will definitely make it stand out. With its simple to use buckle and clasp design its as easy to put on and take off as any other watch out there. To complement the design and enhance its beauty the band also features red sport stitching. You can buy this band for $25.
Jisoncase Genuine Leather Strap Wristband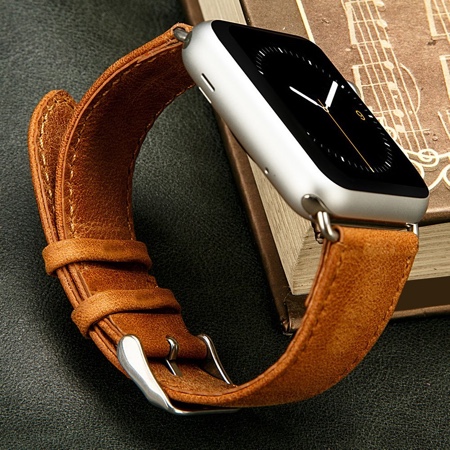 The Jisoncase Genuine Leather Strap Wristband for Apple Watch is made up of '100% Real leather'. It offers a stylish design that features manual exquisite stitching. Thanks to the soft material this watch band is made up of, you will feel super comfortable wearing it. Also, with its light color it will develop a darker tone with age, which looks quite nice. You can buy this band in a variety of colors including red and brown colors for simple leather version and brown and black in alligator pattern.
Mydeal Premium TPU Bracelet Strap Smart Watch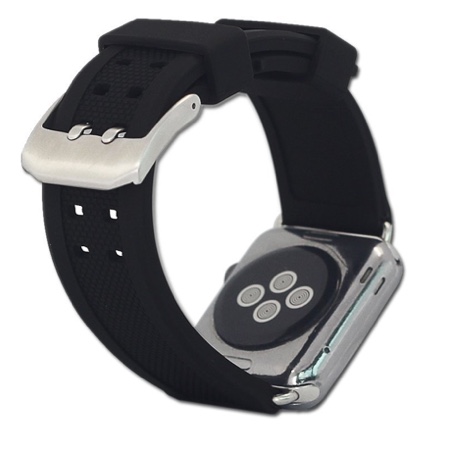 If you are looking for a watch band made up of premium TPU material accompanies with a metal clasp then look no further then Mydeal Premium TPU Bracelet Strap for 38mm and 42mm Apple Watch models. You can buy it for $23.
HuanlongTM Nylon with Genuine Leather Sport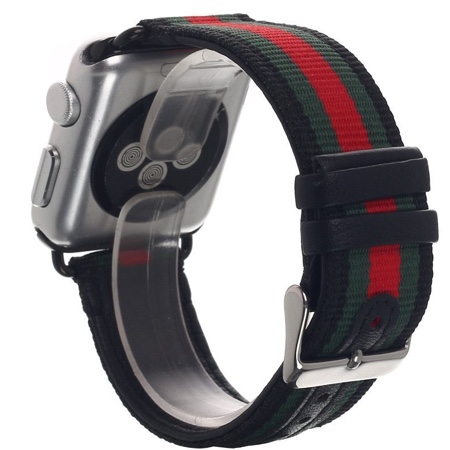 This HuanlongTM Nylon and Genuine Leather band features a sporty look that gives your Apple Watch a fashionable look while being durable. Its metallic buckle and precise cut outs are there to make sure it fits all wrist sizes. You can buy this particular band is two different colors combinations including red, green and black as well as red, green, and white. It is available for $29.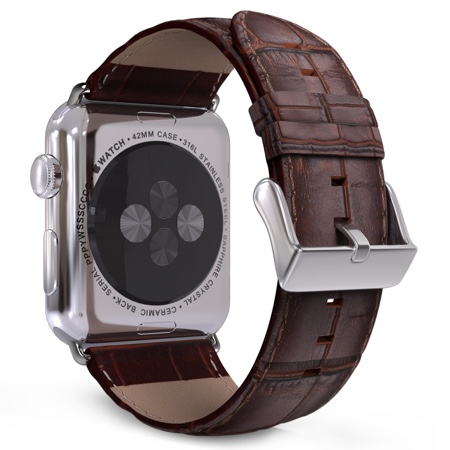 This brown colored leather band with crocodile pattern will definitely make your friends jealous. This watch band is durable, lightweight and looks classy. For closure it features a stainless steel buckle. You can buy it for $14.
Biaoge Stainless Steel Two-Tone Rose and Silver Link Band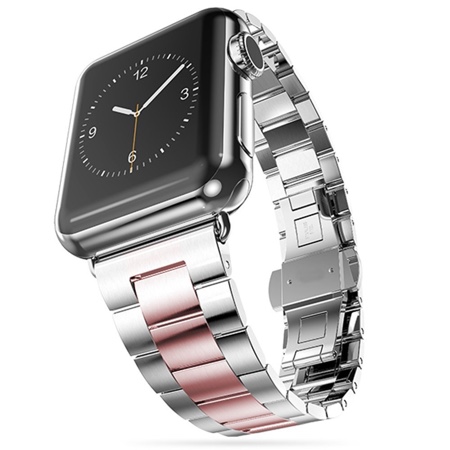 Next up on our list of best third-party Apple Watch bands is Biaoge Stainless Steel watch band that features a two tone design with rose and silver colors that gives the Watch a unique look. For the clasp it features a hidden push button that makes removing the watch quick and simple. You can buy this band for $27.
Apple Watch Genuine Leather Strap by JETech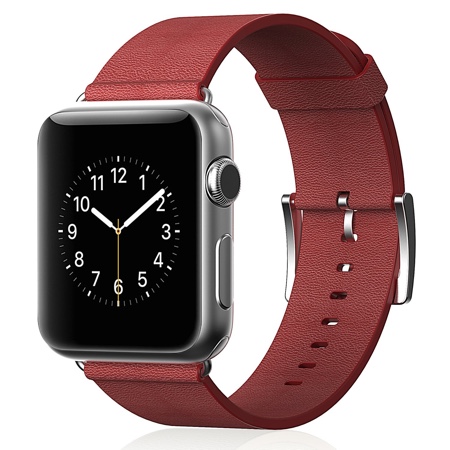 This beautiful band comes in red and black colors. Made up of genuine leather it features a metal clasp, which compliments the overall look and feel while providing strong closure. You can buy this band for your 38mm Apple Watch for $17.
GMYLE 

Genuine Nubuck Leather Apple Watch Strap band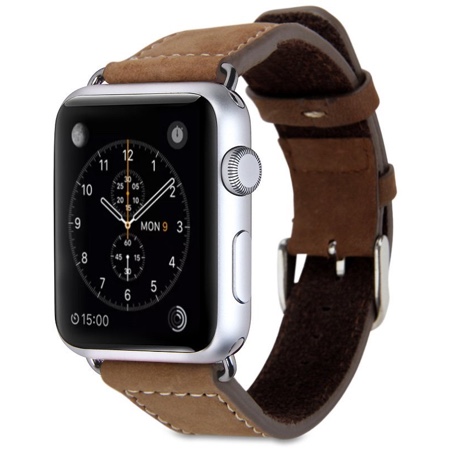 Last but not the least on the list of best third-party Apple Watch bands is GMYLE's Genuine Leather Watch band that is made up of genuine nubuck leather that offers durability as well as looks. The band is comfortable for wear, put on and remove. It comes with a 2 year warranty from GMYLE. You can buy it for $23.