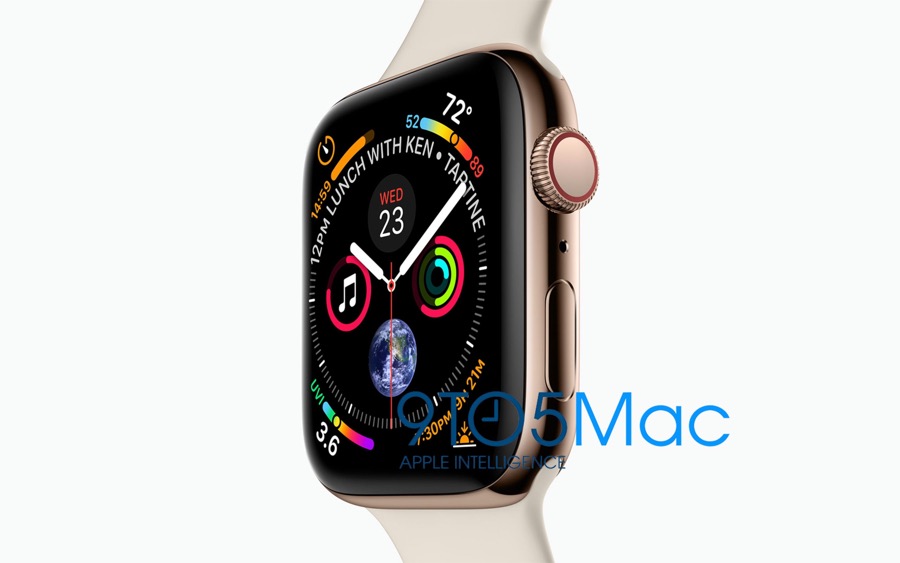 The upcoming iPhone XS isn't the only device that has leaked today, as we also have a major leak showcasing for the first time how the upcoming Apple Watch Series 4 will look like. The leak comes from blog 9to5Mac, which has posted an image that shows the front and sides of the device.
The device that can be seen in what appears to be a promotional image from Apple shows a device that largely looks like previous models, however there are some big changes.
First and foremost the biggest change that can be seen in this new device is the thinner bezels, which makes room for a larger display that is around 15 percent larger than before. It also looks like Apple has taken full advantage of the thinner bezels and larger display of the device by adding so many complications on device's watch face.
On the side we can see a the Digital Crown, a new hole possibly for microphone and a side button. In Apple Watch Series 4 Apple has also changed the red indicator that differentiates that LTE Apple Watch from normal one as now instead of coloring the whole surface of the digital crown red, the company has added a red ring to it, which looks better.