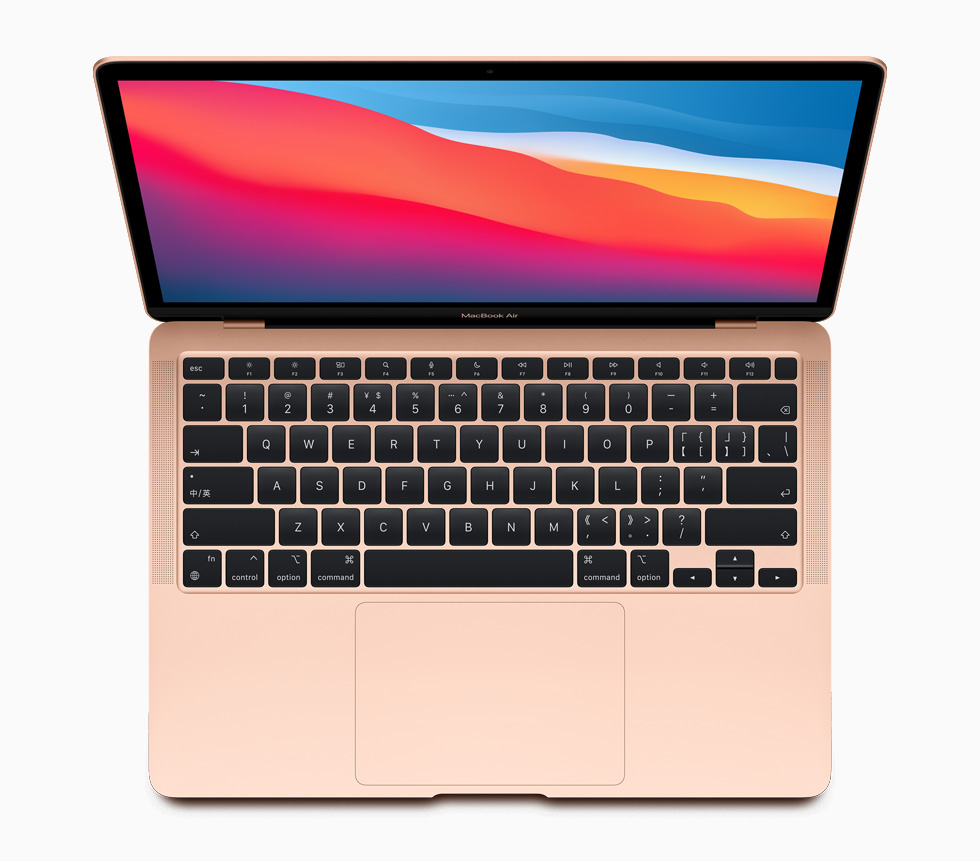 In this post you will find some of the best MacBook Air sleeves for your 13-inch MacBook that you can buy in 2022.
These sleeves not only provide an all around protection to the MacBook Air but they do so while looking stylish.
Your MacBook Air is light, portable, and precious. Be it for study or business purposes, you can carry it wherever you want. That means it can get damaged.
So, in order to protect your MacBook, invest in a MacBook Air sleeve. if you are not sure which one to buy, here is the list to help you find the right one for you!
Best Sleeves For MacBook Air 13-inch
Here you will find some great MacBook Air Sleeves from brands like Tomtoc, Mosiso, Inateck, Towooz, Comfyable and V Vooza.
1. Tomtoc 360 Protective Laptop Sleeve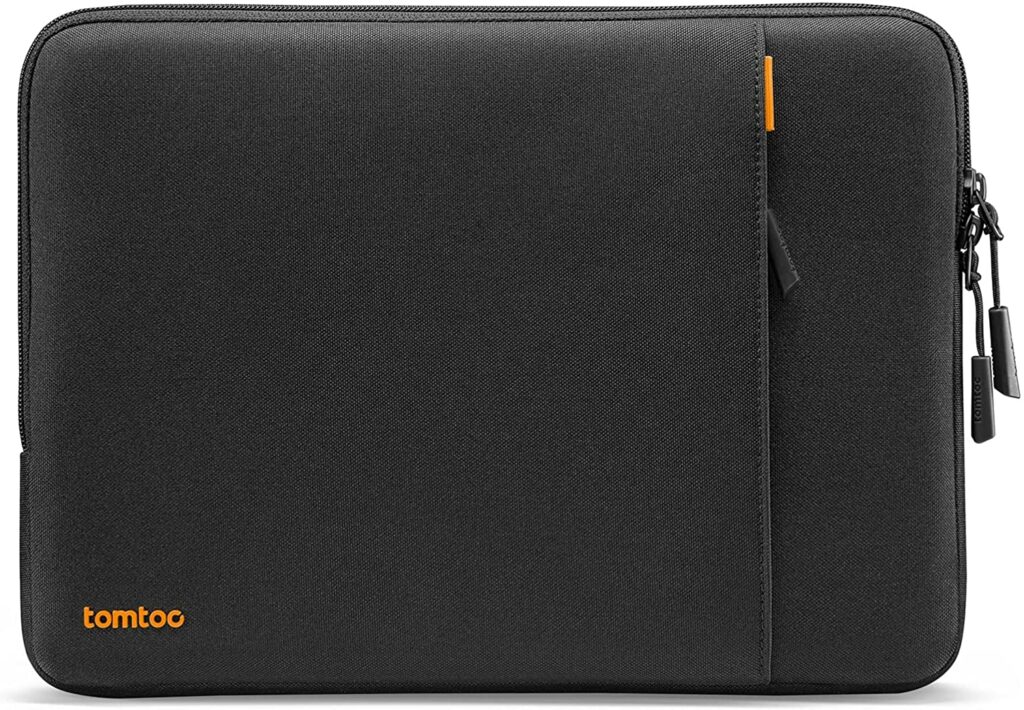 Tomtoc's sleeve is featured with a military-grade protection system. Its CornerArmor technology and highly resilient edges ensure your laptop remain completely protected. Made up of recycled fabrics coupled with YKK zippers, it is one of the best MacBook Air sleeves that is also environment-friendly!
Speaking of its storage, you can easily accommodate your cables, cellphone, notepad, and other essentials. Moreover, its stylish design with a rugged surface enhances your laptop's beauty. 
You can buy the Tomtoc 360 Protective Laptop Sleeve for 13-inch MacBook Air for $22.99 at the link below.
2. Mosiso Sleeve Bag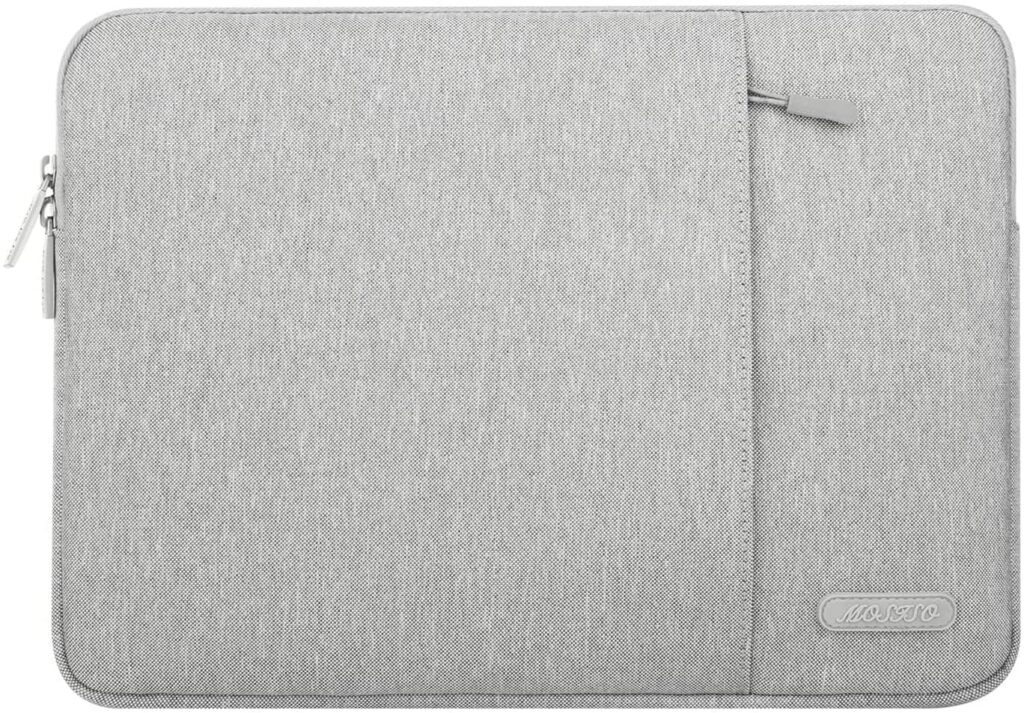 This modern and elegant laptop sleeve is essential to protect your laptop given its material, design, and durability. Its trendy look gives your laptop a stylish look while enabling you to carry it in a unique way. Whether it is business, leisure, or study, it can be used for all purposes. Its durable polyester material is water and scratch-resistant, while the zipper slides smoothly ensuring convenient access.
With its soft and shock-absorbing lining inside you get one of the right MacBook Air sleeves that protects your laptop from bumps, scratches, and dents. Not only it is easy to carry but also adjusts all your cables and other essentials to ensure you stay organized and worry-free! 
The Mosiso Sleeve Bag for MacBook Air is available for $13.69 at the link below.
3. Inateck 360 Protection Laptop Sleeve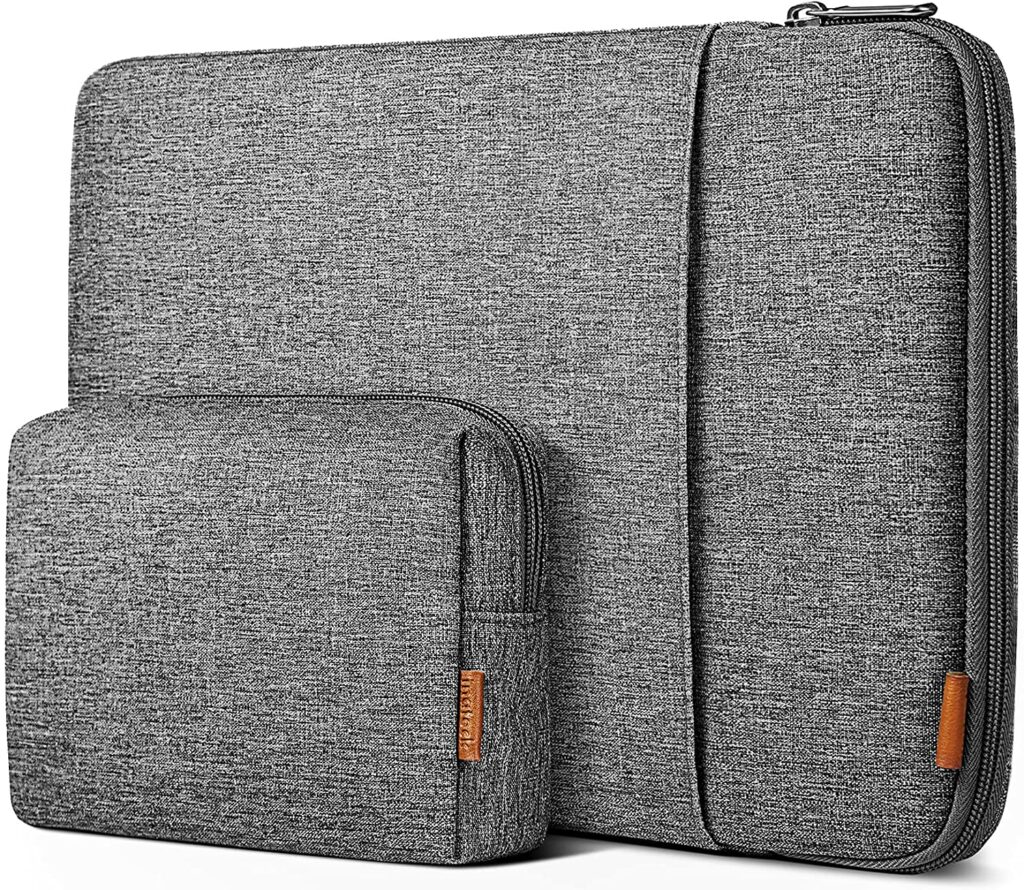 Inateck's 360-degree protection system is an ideal way to protect your laptop from damage. Its thick and cushioned edges substantially reduce the impact of bumps and shocks. Made up of high-density polyester, this cover is waterproof and wear-resistant. Moreover, its super-soft inner lining keeps your laptop scratchless and abrasion-free.
This MacBook Air sleeve is lightweight, portable, and spacious. Its accessory compartment is big enough to adjust all your items such as cables, cords, papers, or keys. Thoughtfully designed, its minimalist look is ideal for office, school, or any other environment. 
Inateck 360 Protection Sleeve Case for MacBook Air is available for $20.99 at the link below.
4. Towooz Laptop Sleeve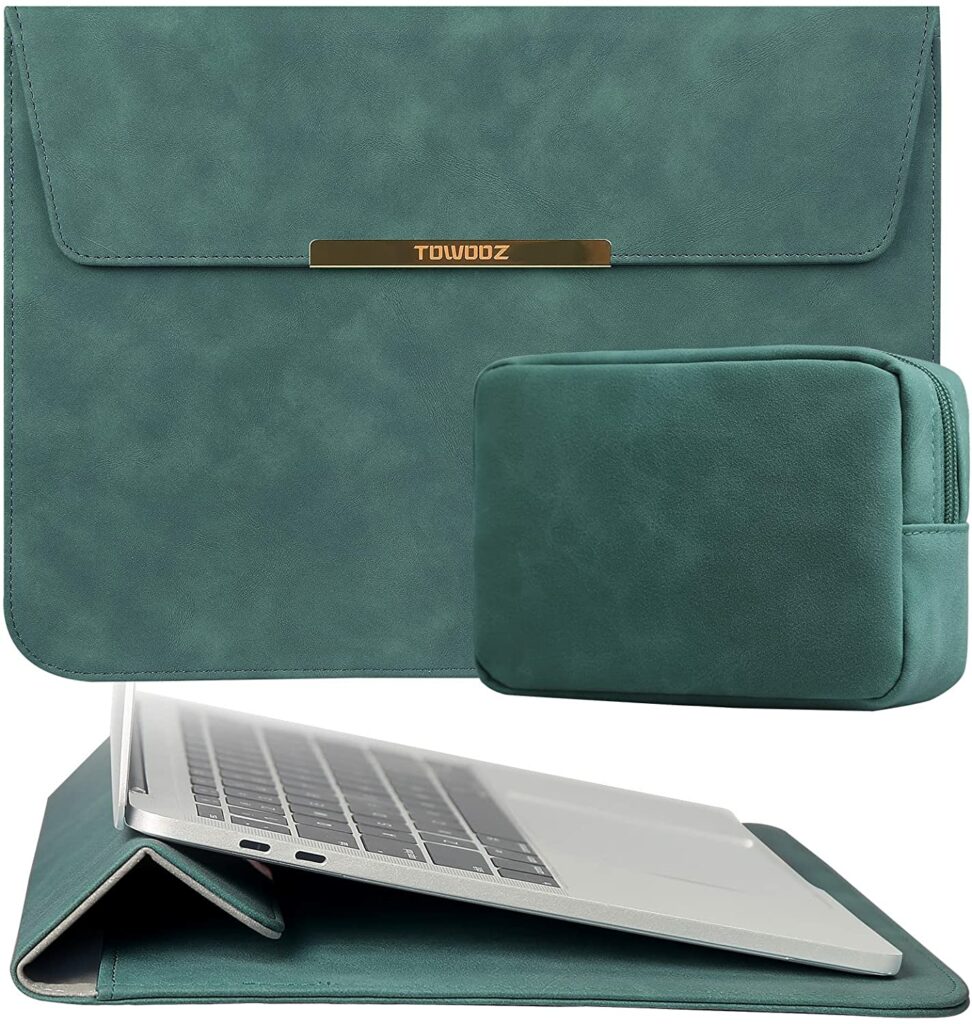 Featured with kickstand functionality, Towooz has one of the best MacBook Air sleeves. You can view your laptop screen horizontally to watch movies or work conveniently. This laptop sleeve is ideal for those who love to keep their style game up! The fashion button on the cover has an invisible magnet buckle that secures your laptop firmly while giving you easy access to it.
Made up of PU leather, this case protects your laptop from scratches and water. While from the inside, its microfiber lining increases its durability and protection. 
You can buy the TOWOOZ 13 Laptop Sleeve Case for $24.99 at the link below.
5. Comfyable Laptop Sleeve 13-inch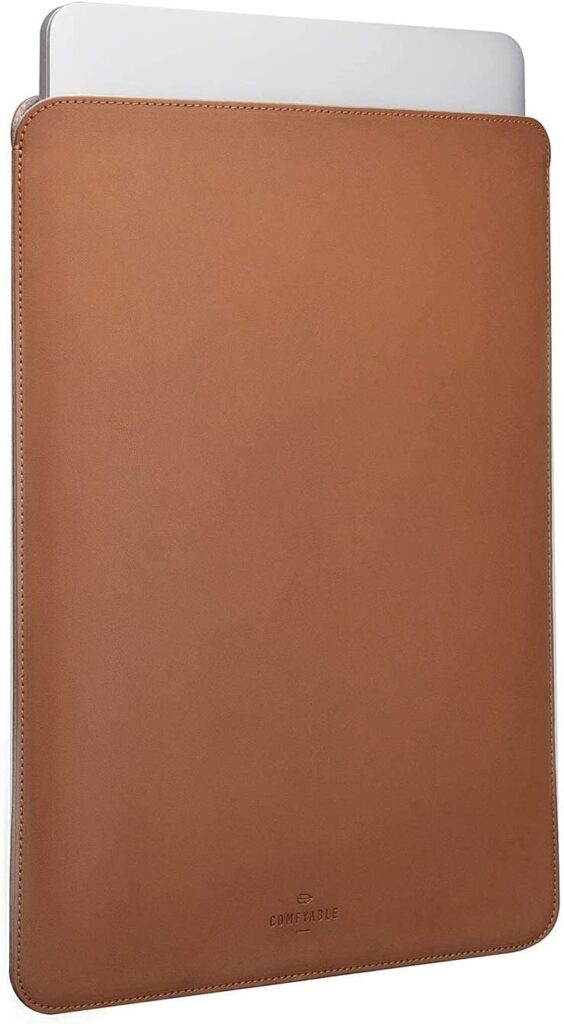 If you want to stay low-key and within budget with your laptop sleeve, Comfyable has the right MacBook Air sleeve for you. It is plain, simple yet strong, and durable which protects your precious laptop from damage. This super slim sleeve ensures to keep the bulk is minimum. While from inside, it has a soft lining to keep your laptop scratchless. Given its flat surface, you can use the cover as a bottom pad for your laptop. 
The Comfyable Laptop Sleeve 13-inch is available for 14.99 at the link below.
6. V Voova 13 Laptop Cover Bag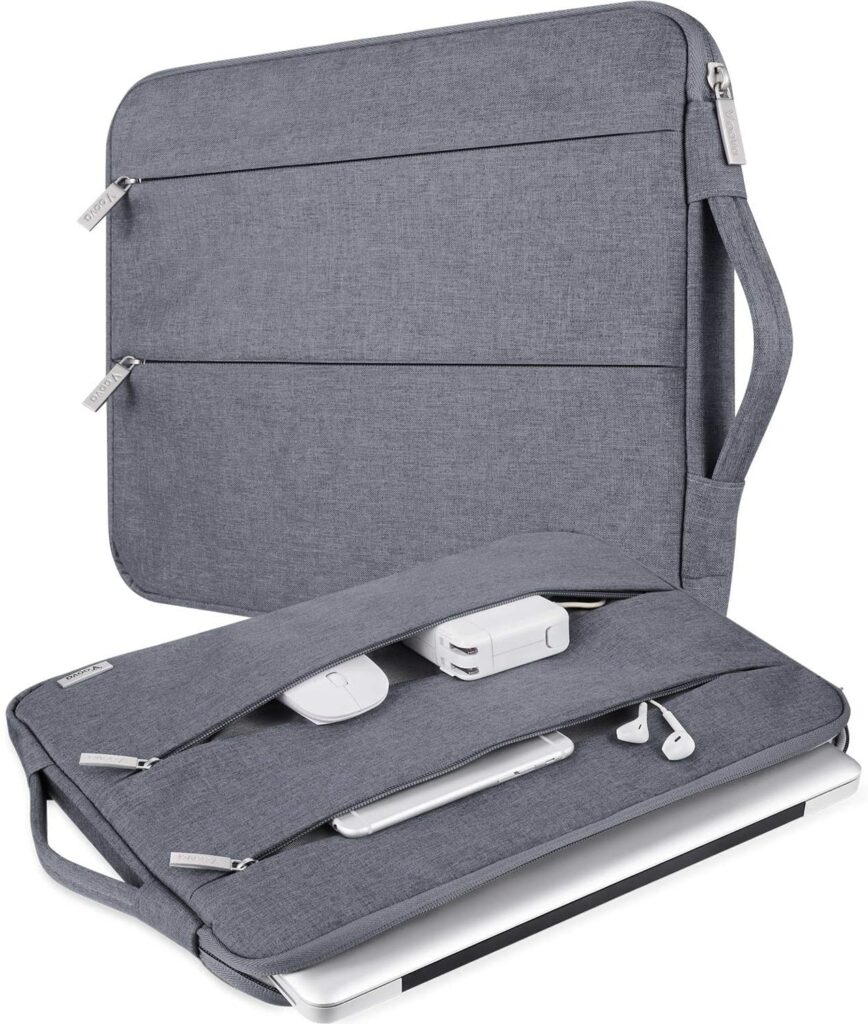 V Voova MacBook Air Sleeve is for you if you need extra space in your laptop cover bag. Its two zipped large pockets are big enough to hold nearly all your accessories, from the mobile charger, cell phone, headphones, mouse, and external drives to small tablets, dongles, USB, etc. Its rugged outer surface with thick velvet lining gives you a soft and premium feel. That means it is thoughtfully layered to protect your MacBook Air from damage to the maximum!
This MacBook Air 13-inch has a handle on top that makes it easy to keep in and take out of your backpack. Also, the handle ensures you have the ease of carrying the bag. Its lightweight body is ideal for everyone, for every environment. Its water-resistant luxurious surface is made up of oxford fabric so that you don't need to worry about rain or any humid environment damaging your laptop.   
The V Voova 13 13.3-inch Laptop Sleeve is available for $15.69 at the link below.
7. Tomtoc Felt & PU Leather Laptop Sleeve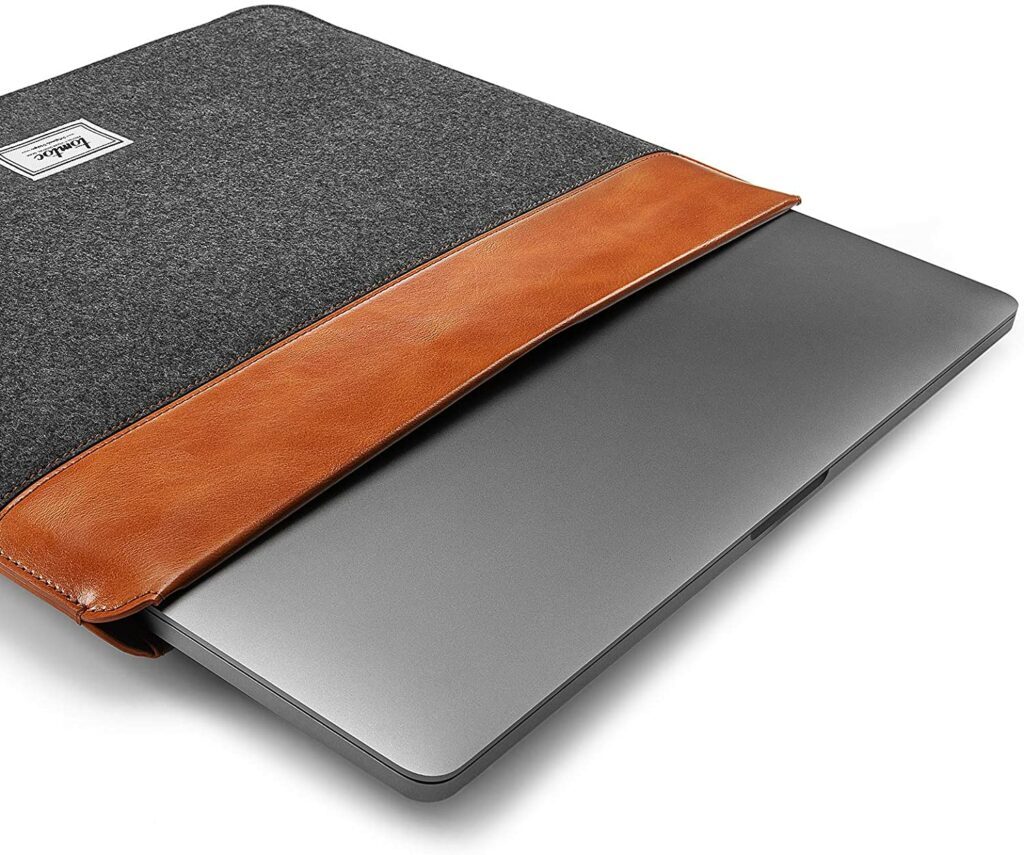 This double-shaded and slim MacBook Air sleeve 13-inch is ideal for daily use. You can place it inside your bag and carry it without feeling any burden. Its zipped pocket secures all your accessories such as charger, USB, mouse, Kindle, AirPods, cables, etc. In order to keep your laptop firmly inside the sleeve, its magnetic closure is strong enough to do the job.
Its smooth PU leather along with its microfiber lining gives your laptop all-around protection. Apart from protection, its seamless design and outlook maintain your stylish personality. 
You can buy the tomtoc Felt & PU Leather Laptop Sleeve for $28.99 at the link below.
So, now you have a list of some of the best MacBook Air sleeves, which one is your choice? Share with us in the comments below.
For more MacBook accessories, stay tuned to iOSHacker.com. 
Disclosure: iOSHacker may receive a commission if you purchase products through our affiliate links. For more visit our privacy policy page.