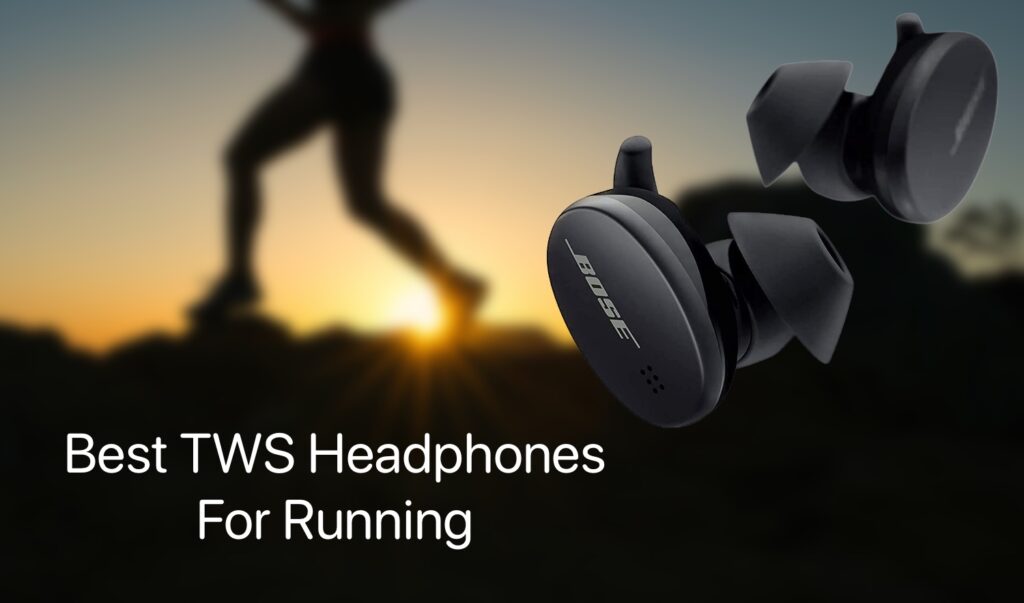 Most people didn't predict the popularity of TWS earbuds. When these earbuds first hit the market, no one was too eager to use them. Aside from the poor sound quality, the risk of losing them was also high.
The table has turned now, the TWS market is crowded today with several companies fighting for dominance.
TWS earbuds are becoming more popular due to their convenience, quality sound, noise cancellation, and ease of use. Additionally, we can find the best true wireless earbuds at a range of price points.
Best Running Headphones for 2023
To help you find the best TWS earbuds, we have compiled this list. Each of these earbuds is worth buying. These headphoens have features like water-resistance, long battery life and great sound quality with transparency features that make them headphones that let you hear outside sounds.
Here's our list of the best water-resistant running headphones!
1. Apple AirPods Pro (2nd Generation) Wireless Earbuds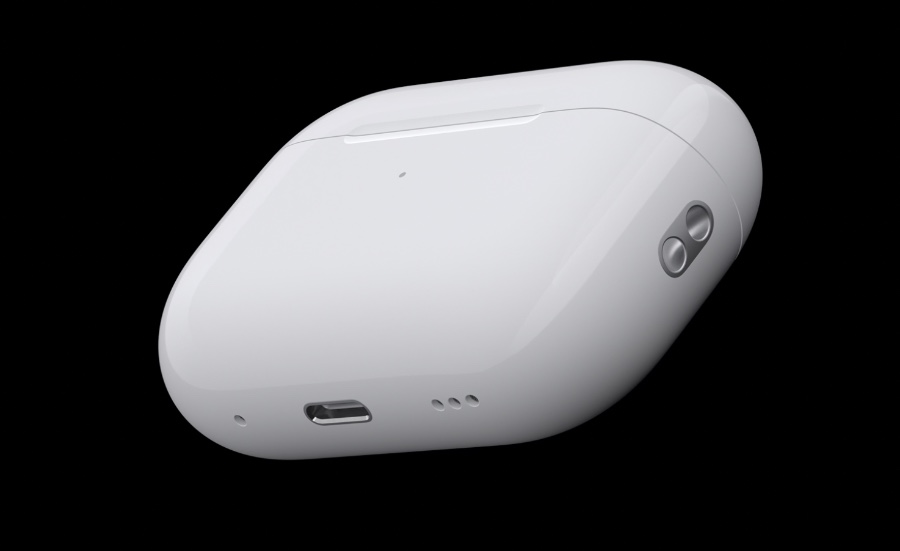 It goes without saying that Apple AirPods Pro does not need any introduction. In terms of performance, Apple AirPods Pro manages to cover all Apple AirPods' shortcomings.
To begin with, the earbuds come with ANC, additional microphones, and transparency mode. While the sweat- and water-resistant features make them good for workouts, they may fall out if you don't use ear tips that fit inside your ears.
Furthermore, the sound quality improved drastically with equal attention paid to both bass and vocals. Auto-detection allows the earbuds to switch between devices. Although the maximum volume of the AirPods is not extremely loud, you can increase it to fit your listening preference.
Apple AirPods Pro offers perfect connectivity to all Apple devices, making them a great choice for Apple users. You won't be disappointed with these TWS earbuds at any point, from their sound quality to their comfort.
Buy Apple AirPods Pro (2nd Generation) Wireless Earbuds for $229 here
2. Bose Sport Open Earbuds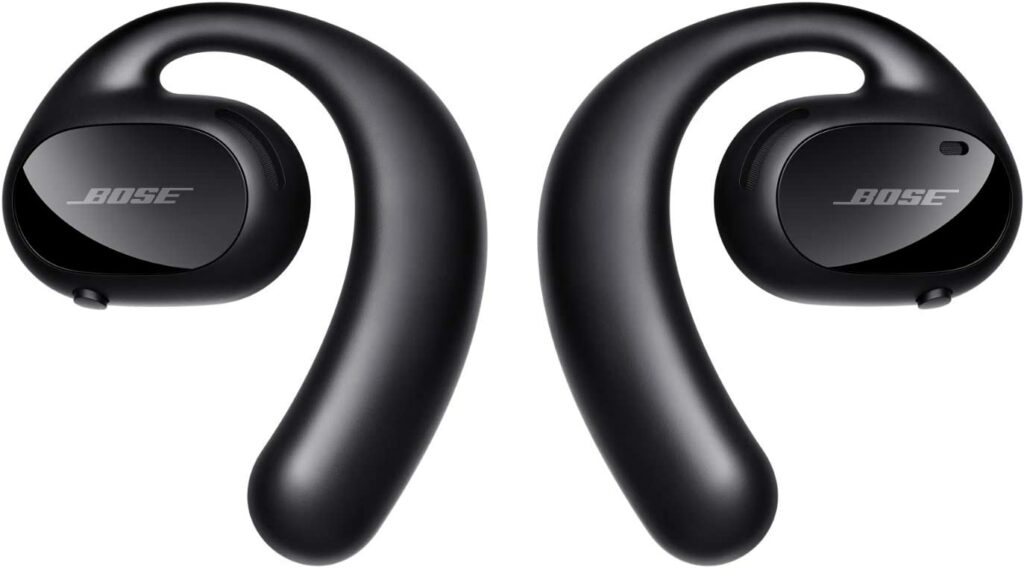 The world's first open-ear sports headphones that don't cover your ears, but rest securely on them to allow you to hear both your music and your surroundings at the same time.
Designed specifically for athletes, Bose Sports Open Earbuds stay in place no matter how much you move. The device is rated IPX4 for water and debris protection.
You can listen for up to 8 hours on a single charge – Fully charge in two hours or short-charge for up to three hours. The headphones support Bluetooth 5.1 and are compatible with A2DP, HFP, AVRCP, and BLE.
The earbuds focuse only on picking up your voice using an advanced microphone system. It feels as natural as speaking to the person next to you with nothing covering your ears.
Buy Bose Sport Open Earbuds for $199 here
3. JLab JBuds Air Sport True Wireless Bluetooth Earbuds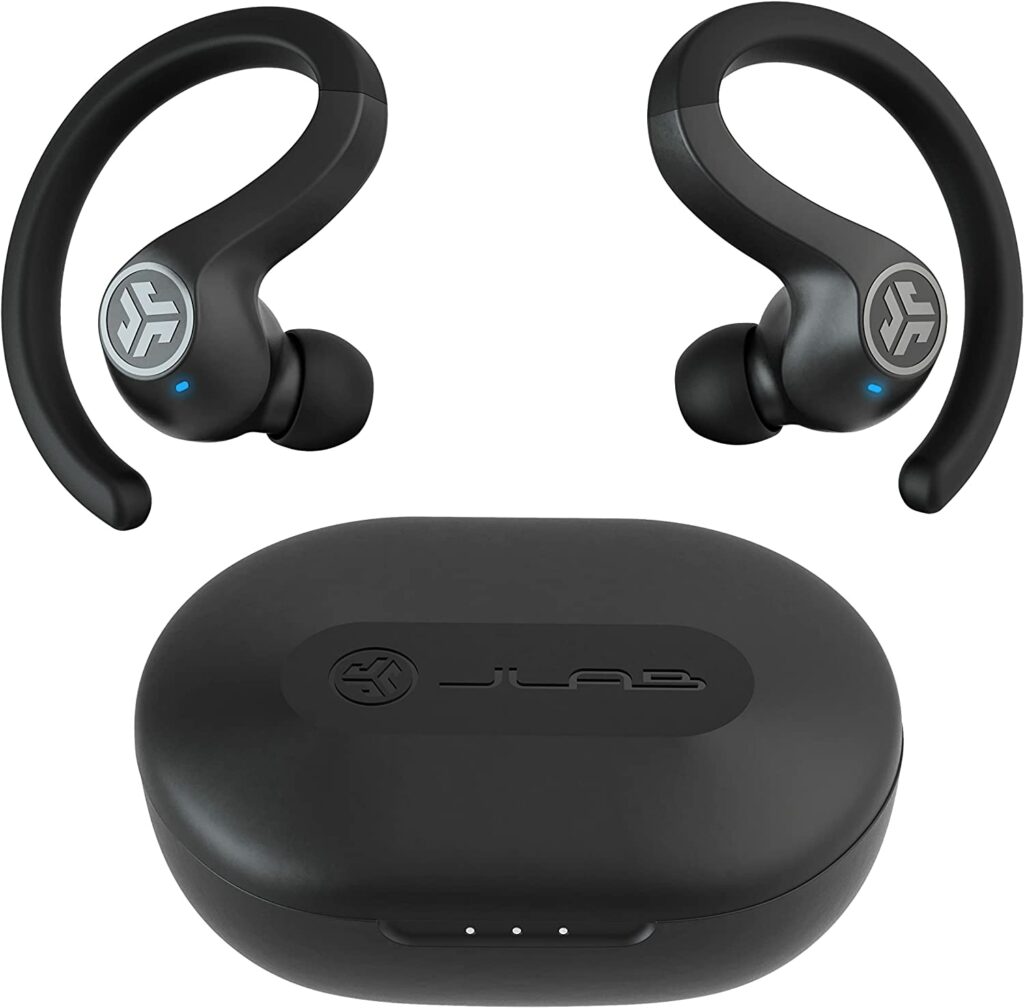 JBuds Air Pros have a stable fit thanks to the gel tips, which seal tight to prevent the buds from slipping. Because they are lightweight, your ears should not experience fatigue during workouts and slippage will never be an issue.
Battery life is perfectly respectable as it lasts 9 hours and the JBuds Air Pro offers a warm sound signature that will appeal to runners who prefer a bit more bass with their pounding beats.
In addition to basic features (playback, call management, digital assistance), there are also advanced ones (EQ selection, listening mode activation, volume) that are cleverly integrated into both buds. A budget-conscious exerciser will find this running companion appealing because this product is equipped with different input methods available, including single, double, triple, and long taps.
Buy JLab JBuds Air Sport True Wireless Bluetooth Earbuds for $39.99 here
4. Beats Fit Pro – True Wireless Noise Cancelling Earbuds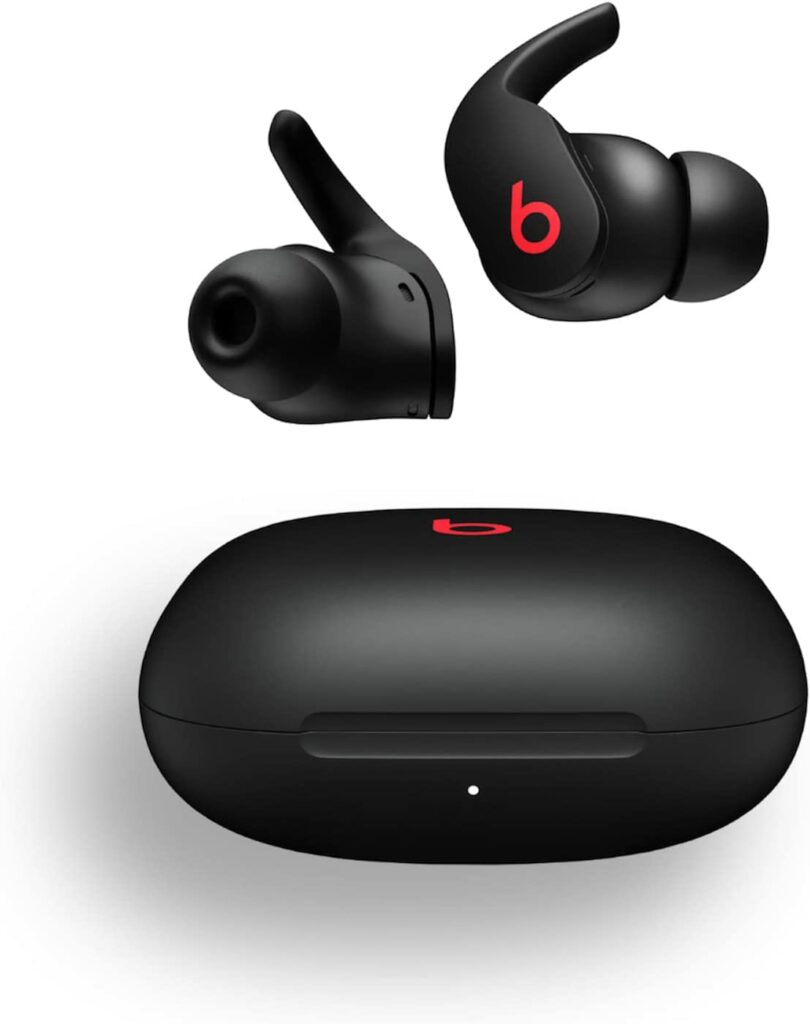 If we had to choose one set of headphones from Apple, we would go with the Beats Fit Pro. Taking everything we love about AirPods 3 and Beats Studio Buds, they've packed it all into a tiny set of earbuds with an ear wing.
They won't budge or ache during long runs, regardless of how sweaty you get.
Like most Buds, the play/pause button requires only a light press, two presses to skip, three to go back, and a long press for active noise cancellation and transparency modes. You don't have to fiddle with small buttons, it's quite easy to use.
Probably the most intriguing feature is spatial audio, which you might have never considered. You can swivel your head, and the audio rotates so it sounds like the band is in the same spot as if you were at a real concert.
Buy Beats Fit Pro – True Wireless Noise Cancelling Earbuds for $199.95 here
5. Bose Sport Earbuds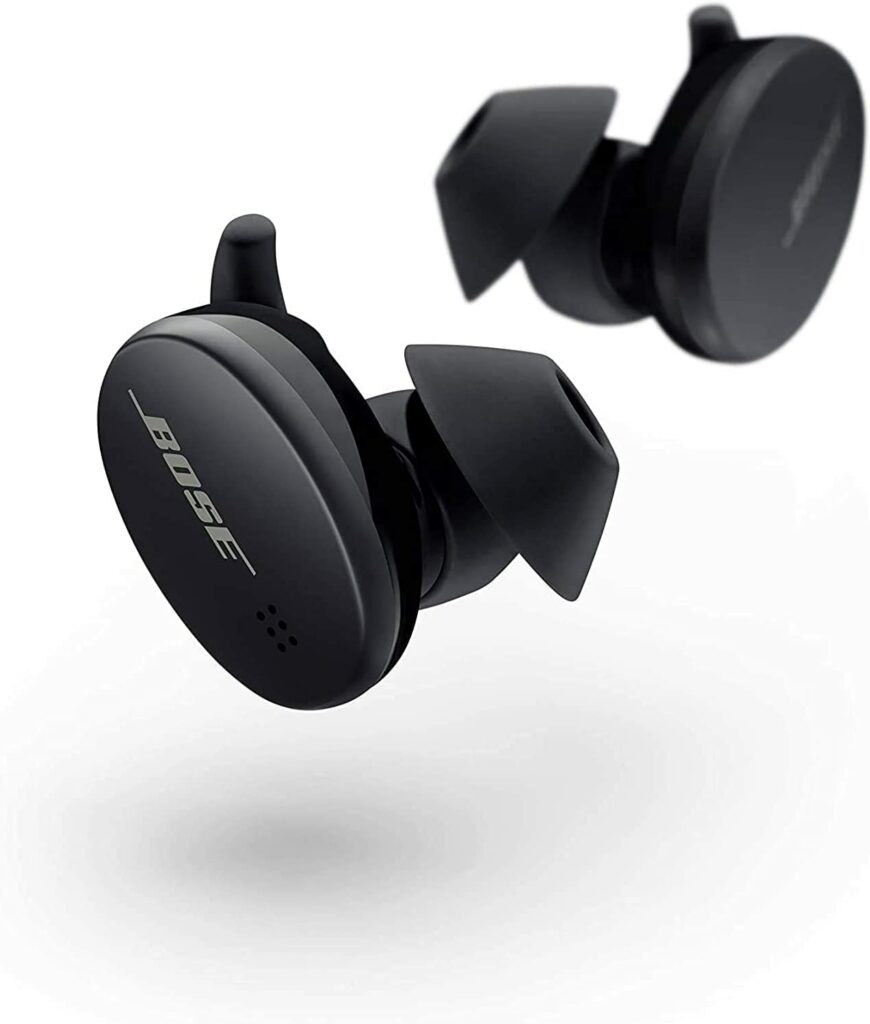 The Sport Earbuds lack ANC functionality but boast a winged design that keeps them securely in your ear, no matter how vigorous your running style is.
Additionally, the earbuds are lighter and smaller than QuietComfort, with a detailed sound that impresses during exercise and rests alike. This fitness-friendly earbud is IPX4 water-resistant, and its 5-hour battery life should be ample for most workout sessions.
You can play/pause and skip tracks with a touch gesture while tapping and holding activates a phone's voice assistant. Furthermore, they still offer excellent audio quality and a comfortable fit because they don't completely seal your ears. Unlike typical earbuds, Bose Sport virtually eliminates the annoying "thump" you hear with each stride.
Buy Bose Sport Earbuds for $129.00 here
6. JBL Reflect Aero TWS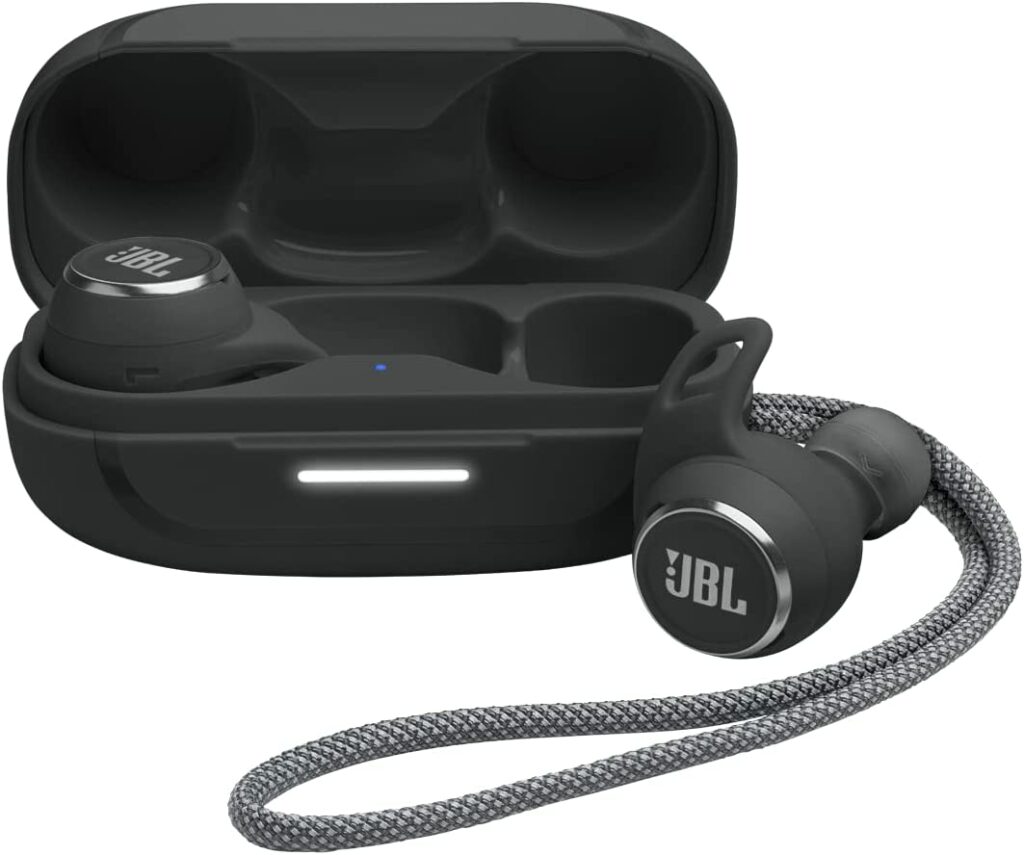 Unlike other earbuds on our list, the Reflect Aero TWS is much more affordable, enabling you to save a bit of money while still getting an excellent pair of sports earbuds.
With adaptive noise cancellation, four mics constantly monitor your current environment using Smart Ambient technology, which is extremely effective. In addition, you'll find beamforming mics to help you eliminate extra noise when taking calls and wanting to be heard. In addition to being dustproof, IP68 means that the earbuds can be immersed up to 5 feet in any kind of water (although we caution against doing that, as it may result in the earbud being lost).
Small tips and compact fins make this design minimal, but inside, the 6.8mm drivers do serious audio work, so you won't have to worry about losing sound quality. As for the battery life, it lasts for eight hours, and the case can hold two more charges in reserve. They are well-rounded earbuds that are especially good if you play a lot on dusty trails or by the ocean.
Buy JBL Reflect Aero TWS for $99.95 here
7. adidas FWD-02 Sport True Wireless Earbuds Headphones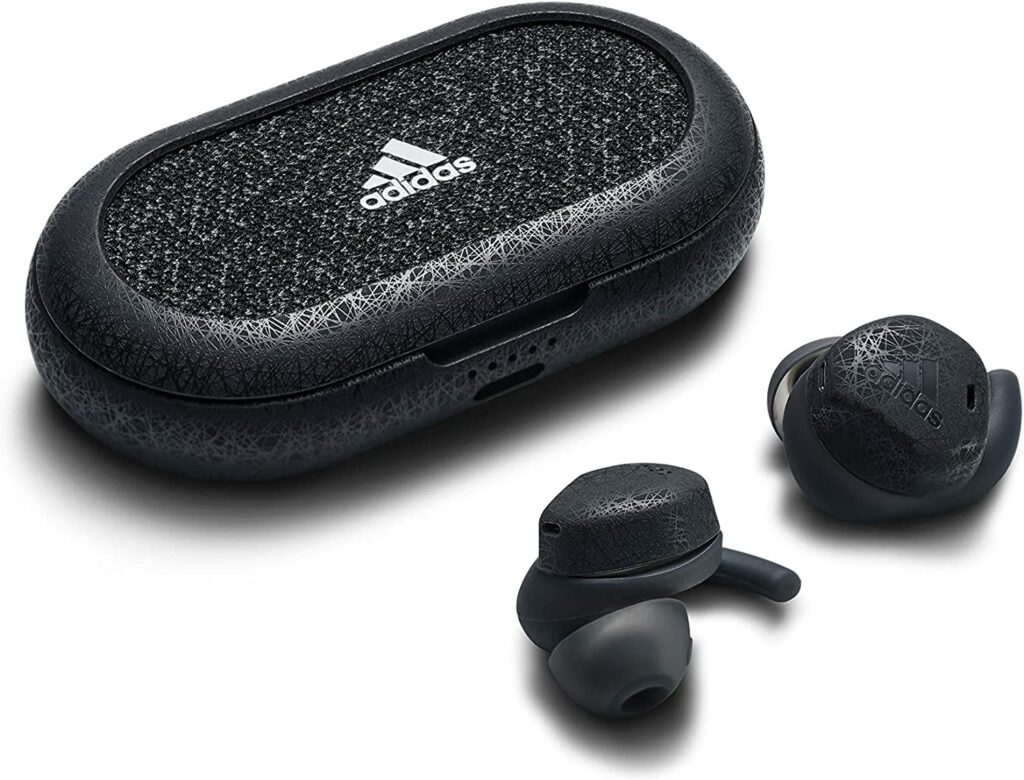 The ergonomic style of these earbuds keeps them in place while you move, and the extra tips and wings allow you to customize the fit to your needs.
You're never far from your favorite tunes with these sweat-proof, glove-friendly, and always responsive earbuds.
With the compact case, you can charge your buds wherever you are. After exercising, the earbuds air out due to their breathable material.
With awareness mode, you can hear ambient noise while working out outdoors meaning they are headphones that let you hear outside sound. If you just want the music, you can turn it off.
The rain should not stop you from running. With an IPX5 rating, the design is sweatproof and water-resistant
Buy Adidas FWD-02 Sport True Wireless Earbuds Headphones for $169.99 here
8. Cleer Goal Sport True Wireless Earbuds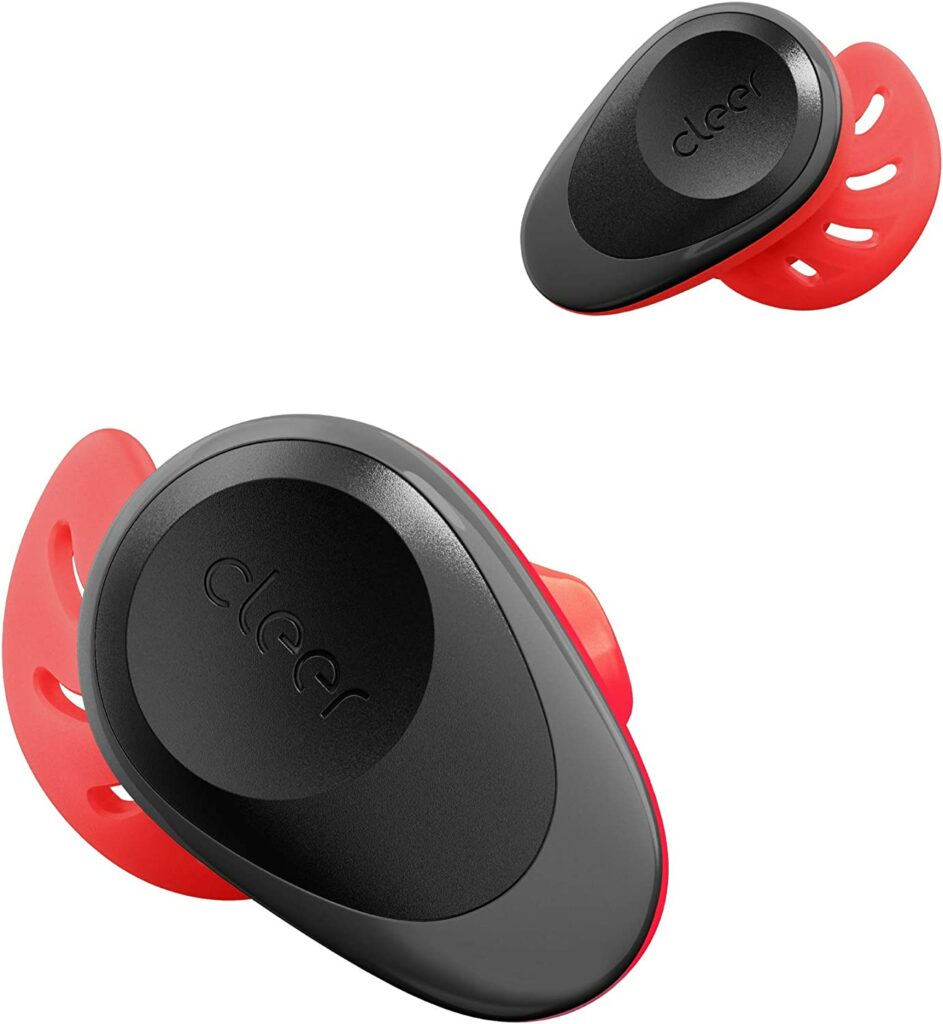 Lightweight passive earbuds allow you to place them outside of your ear canal for added comfort without blocking out surrounding sounds. With its echo suppression technology and dual mics, the design makes taking phone calls a pleasant experience. No matter how intense your workout is, GOAL earbuds remain secure and comfortable. You can simply twist the earbud into place with a Floating Freebit C-skirt.
With Simple TouchPad gestures, you can control your voice assistant, skip tracks, play/pause, volume, and skip calls.
A waterproof and sweatproof IPX4 design, along with silicon-coated controls and drop-resistant features ensure long-term durability.
The charging case provides up to 20 hours of total music playback. The earbuds can play for 6 hours and the charging case can play for 14 hours.
All in all, to keep vocals CLEAR and the bass deep, a 14mm dynamic driver provides an exceptional range of sound.
Buy Cleer Goal Sport True Wireless Earbuds for $79.99 here
Conclusion
There you have it, our roundup of the best TWS for runners. Are you ready to buy one? Our recommendation would be JLab JBuds Air Sport due to their quality and affordability.
It is up to you, however, to decide which model best suits your needs.
Is there anything you'd like to share? Feel free to share it in the comments.