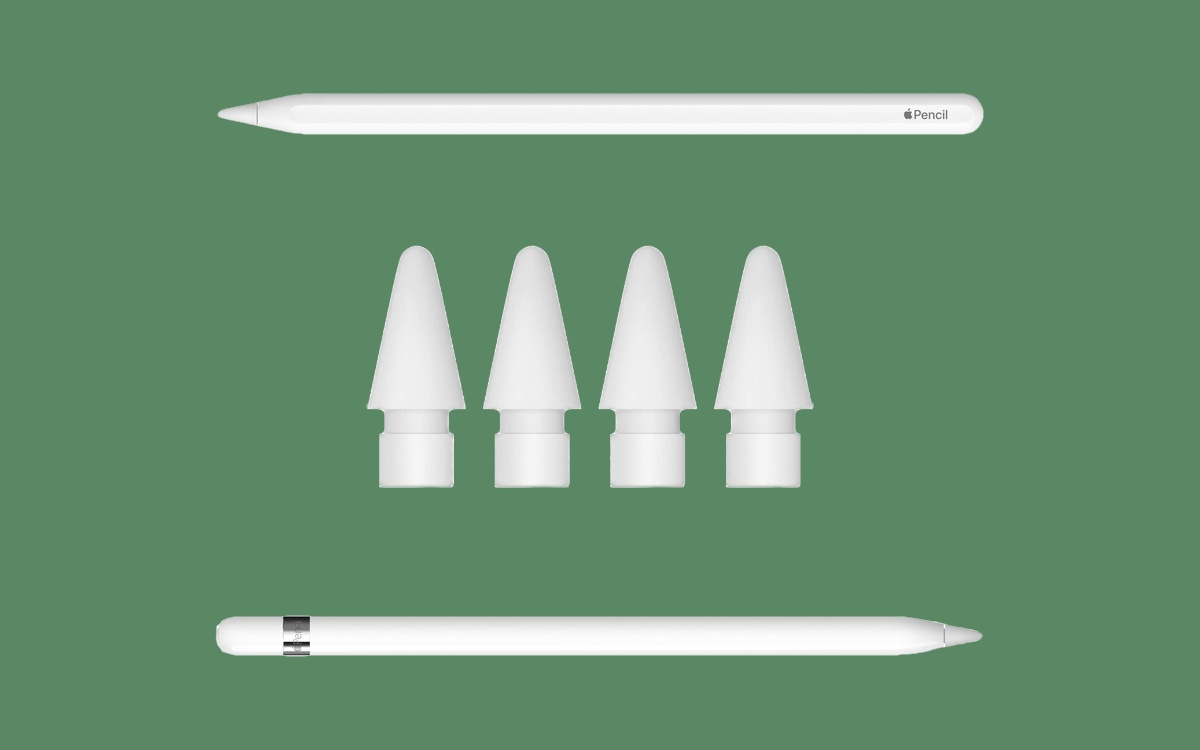 Are you wandering from page to page to find the best Apple Pencil replacement tips? If that's the case, you have reached your destination. In this short article, we will share the best third-party tips for Apple Pencil with you.
Apple provided users with free replacement tips when they launched the first-generation Apple Pencil. The spare tip would serve as a backup if your first Apple Pencil tip was damaged. The free service provided by Apple was both great for users and selfless on the part of the company.
It was unfortunate that Apple did not include a replacement tip with the second-generation Apple Pencil.
You might think you don't need a replacement tip if you have just started using the Apple Pencil. Nevertheless, long-term users will notice that Apple Pencil tips don't last forever. Your Apple Pencil tip will inevitably wear out over time.
It won't take long for you to realize that your pencil does not provide the great experience you are accustomed to. You will now get scratches on the screen of your tablet, and it will no longer work as accurately as before. It needs to be replaced.
Best Apple Pencil 2 Replacement Tips
For all the illustrators and creators out there, here are our recommendations for the best Apple Pencil Tip Replacements!
1. Apple Pencil Tips by Apple (4-Pack)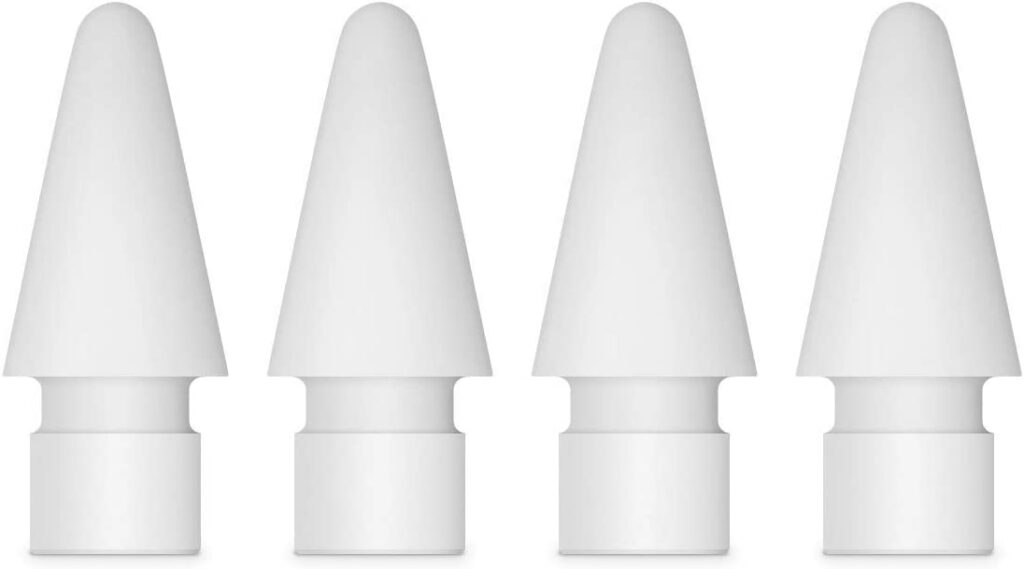 These original Apple Pencil replacement tips are just as awesome as they claim to be. They are excellent replacement tips for the Apple Pencil. These tips function just as well as the original tip that came with the original Pencil. The fact that this pack includes more than one is a bonus.
The writing instrument combines precision, responsiveness, and natural fluidity. These tips feature a seamless design that will make digital illustrations more enjoyable for creative souls. It attaches magnetically to the device and pairs with it seamlessly.
Buy Apple Pencil Tips for $19 here
2. Paiholy Precise Control Pencil Replacement Nibs (2-Pack)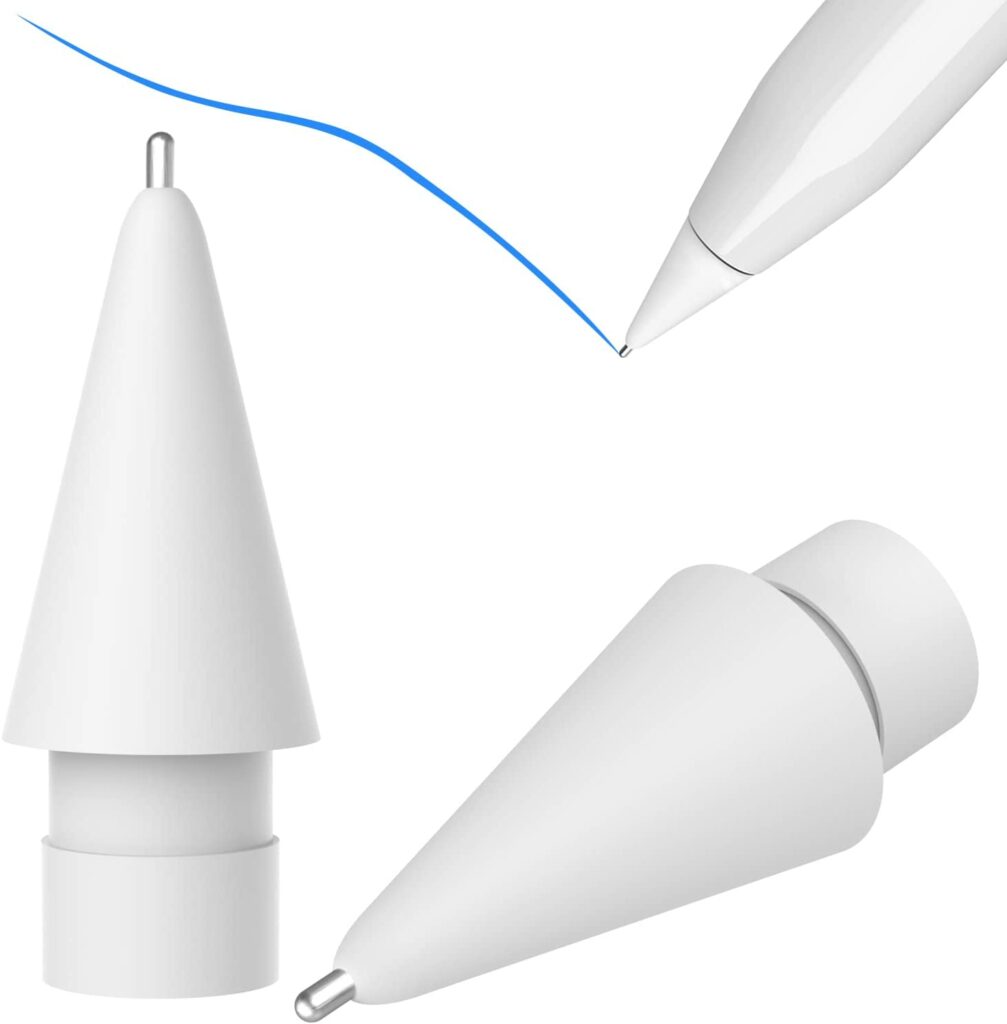 Replace your pencil tips with these newly upgraded precision fine-line control tips. The length of the metal nib can be increased to facilitate tilt drawings and sketching. A high-strength covering material and an improved welding process make it difficult to break when it falls.
Designed with copper conductors and anti-scratch balls, the pencil tips are highly durable. It will not wear out or scratch your screen protector if you use a paper-like screen protector. The pencil tip is durable and cost-saving, so you don't have to worry about it wearing out or having to replace it often like other large pencil tips.
With a fine nib that measures 0.8 mm in diameter, you can precisely control line detail and capture the details. The spherical tip of the pen writes smoothly and remains highly sensitive to pressure changes, so it can be used to draw lines and shadows of varying thicknesses, just like the original pencil tip. It is lag-free, allows writing and drawing without hindrance, and is flexible and accurate. Especially suitable for artists to create designer digital drawings for students, office notes, and illustrators.
Buy Paiholy Precise Control Pencil Replacement Nibs for $9.99 here
3. Ailun Apple Pencil Tips Replacement (3-Pack)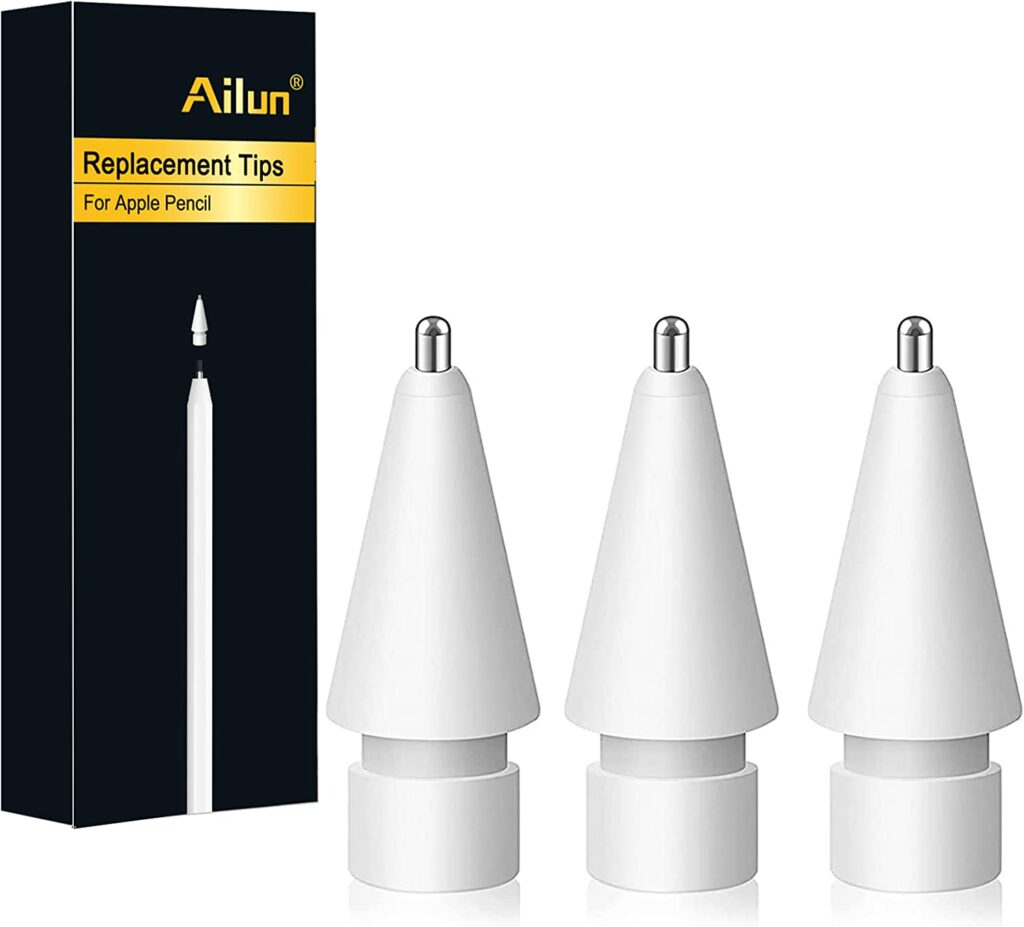 Ailun products are carefully selected, designed, and exploited by qualified professionals. Ailun emphasizes product quality and performs thorough quality control.
It has the same screw size as the original Apple Pencil tip, and is compatible with Apple Pencil 1st Gen & 2nd Gen models.
The pencil tip is made from 100% nickel alloy with tempered crystal diamond coating to maintain high ductility and hardness. The surface is highly polished and corrosion-resistant. With its wear-resistant and durable properties, it won't wear out even with the paper-like screen protector in place, and it won't scratch the screen protector either.
Spherical nibs write smoothly and maintain high sensitivity to pressure changes, enabling you to draw lines and shadows of different thicknesses, just like pencil nibs.
In addition to providing precise line details, this fine nib makes writing or painting more flexible and precise, just like using a real pen.
Buy Ailun 3 Pack Apple Pencil Tips Replacement for $9.89 here
4. Tankicom Replacement Metal Needle Pencil Stylus Tip (5-Pack)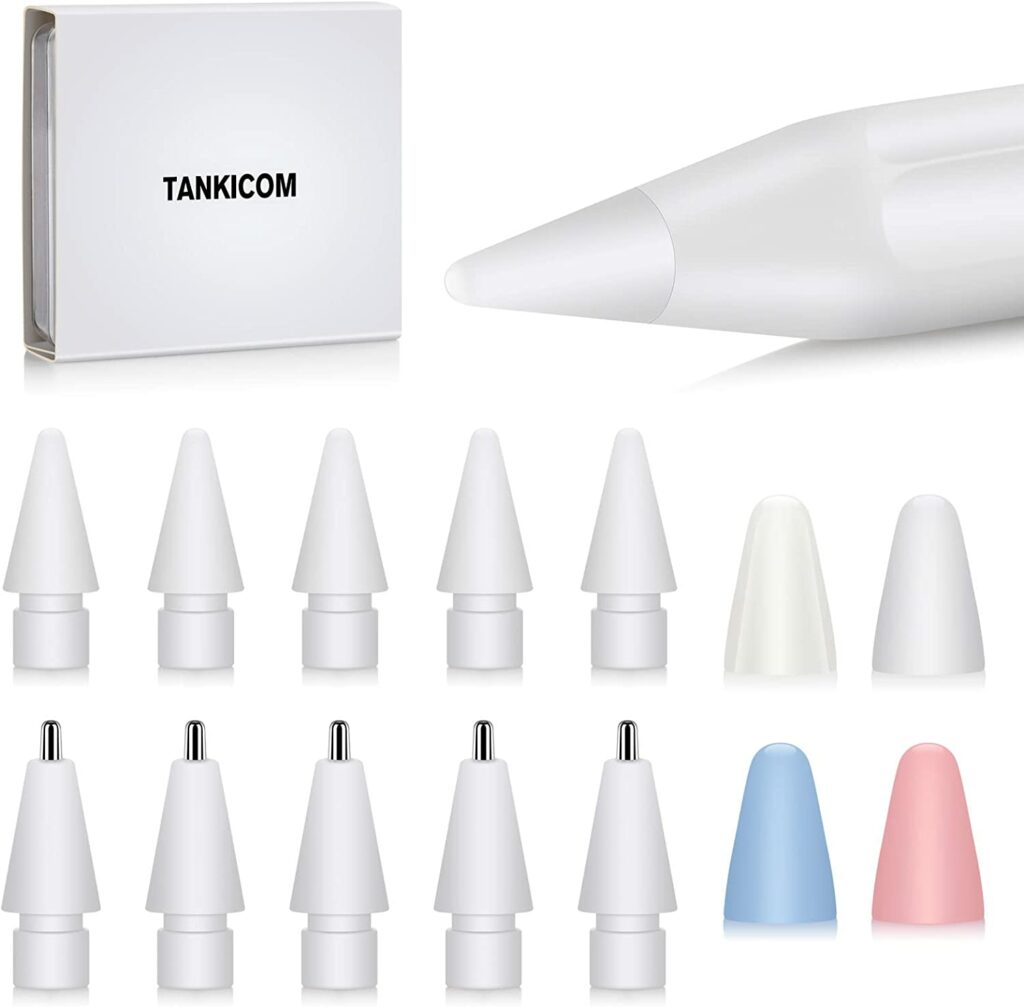 These pencil tips work with Apple Pencil 1st and 2nd generations. Ascertain that the pencil works flawlessly as an iPad accessory.
Featuring high-quality durable material, this iPad Pencil tip replacement ensures that the Apple Pencil works smoothly and perfectly.
Although there are intermittent lines, painting and seeing are almost simultaneous. The thickness of the line is easily controlled by the pressure size. Quickly perceives pressure and angle changes, and easily draws different lines and shadows.
Rotating threads allows easy installation and removal. However, directly plugging or unplugging is not recommended.
Buy Tankicom Replacement Metal Needle Pencil Stylus Tip for $19.99 here
5. MEKO 4 Pack Replacement Tips (4-Pack)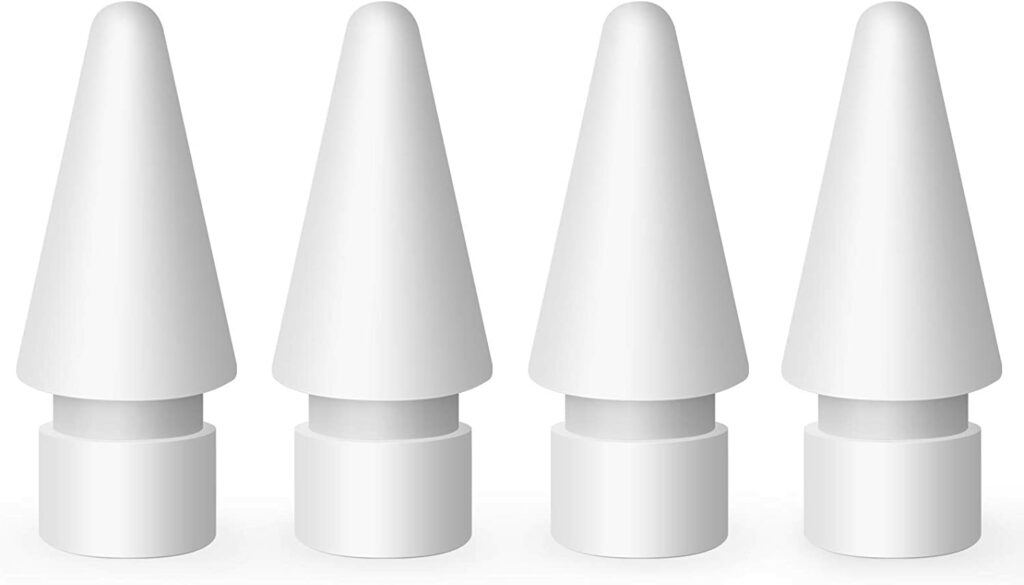 This tip is the same size as the original Apple Pencil tip which ensures smooth and flawless operation of your Apple Pencil. Make sure you don't scratch the screen of your iPad pencil.
With the replacement pencil nib for the Apple Pencil, you will have virtually no lag and can draw smooth lines. Lines and shadows can be painted on the iPad with high sensitivity and pressure sensitivity with this replacement nib.
It is made of silicone rubber, which is reliable, durable, and smooth. The pencil tip can be easily installed, removed, used, and removed.
Buy MEKO 4 Pack Replacement Tips for $11.99 here
6. Digiroot Upgraded Replacement Tip (2-Pack)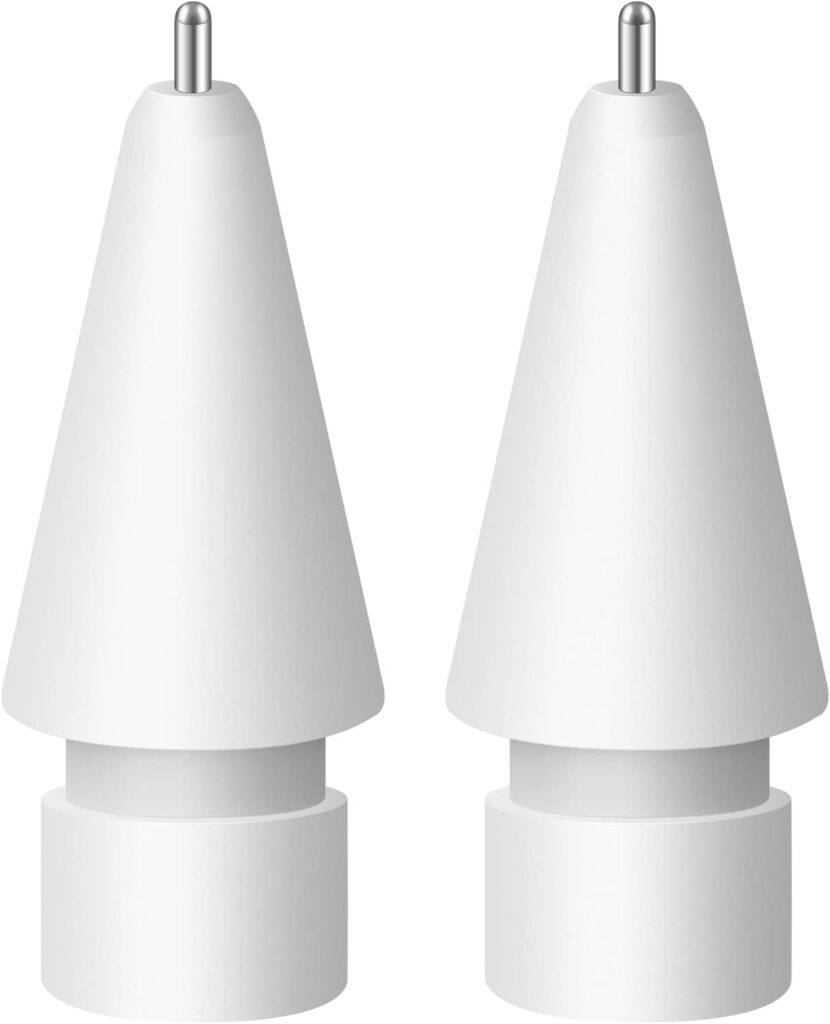 With the upgraded 0.72mm fine point tip, you can control fine details with precision. You can use your Apple Pencil as a biro, an ink pen, and a stylus at the same time. It's great for students, illustrators, and especially for Procreate artwork designers who want to draw digitally and take notes on the go using Goodnotes, Google Notes, or Notability.
Its copper pencil tips are durable and long-lasting, not prone to breaking or wearing out easily like the original pencil tips, saving you money if you use them frequently. You don't have to worry about scratching your iPad screen with this pencil tip because it has a reliable anti-scratch ball design. Despite this, we encourage you to use a screen protector with this pencil tip.
The pencil nibs are compatible with the Apple Pencil 1st & 2nd generation and Logitech Crayon digital pens, as well as the iPad Pro 11-inch 10.5-inch 12.9-inch 9.7-inch model, making them a fantastic companion to iPad model pencil tips.
Buy Digiroot Upgraded Replacement Tip for $8.99 here
7. REEYEAR Realistic Pen Like Fine Point Pencil Tips (2-Pack)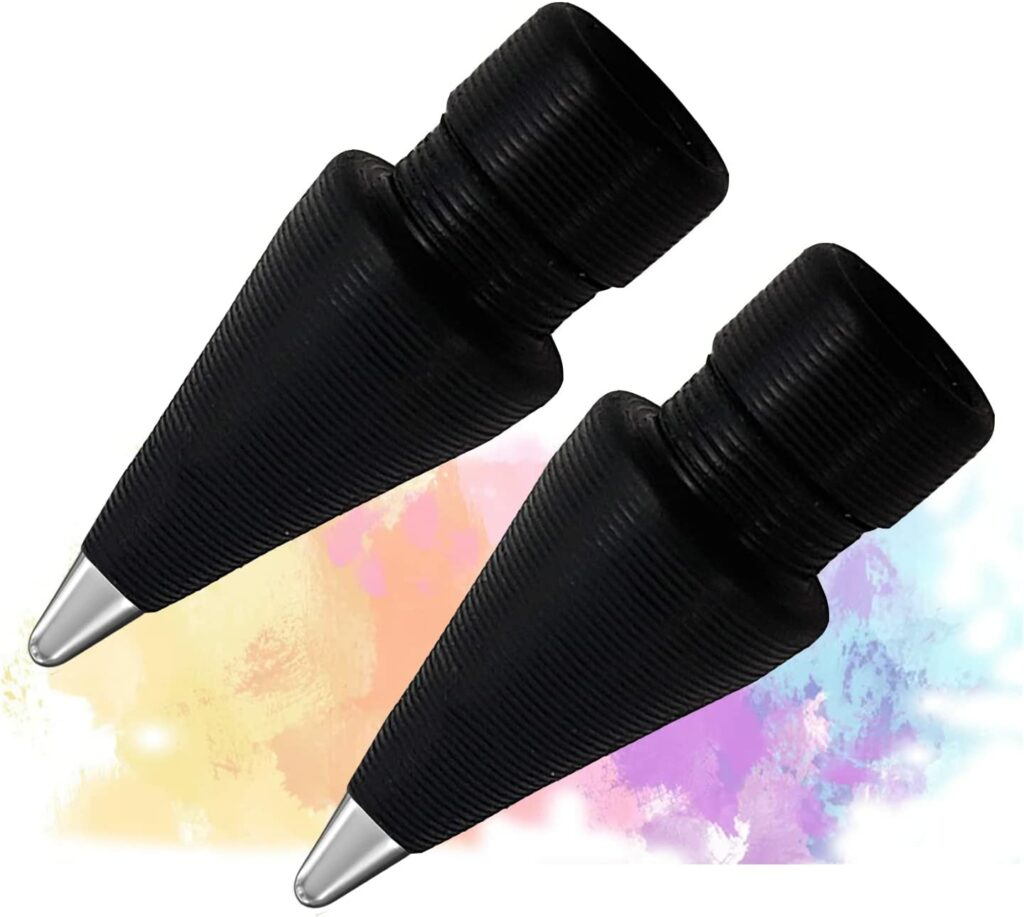 Design concerts came from the mechanical pencil paper feel writing, smooth, bold, with a narrow point, write or draw like thin pencil tips on paper, delivering a precise, effortless writing experience
Upgraded Fine Pencil Nibs, Simulated Fineliner Pen, allows you to write and draw on the screen naturally and easily, which improves your accuracy and control. You will experience amazing pen-like writing experiences when you use the screen protector
With breakthrough innovations, you will not need to replace pencil tips frequently. The stainless-steel pencil tip is less prone to wear, more durable, and lasts longer than the original Apple pencil nibs.
It is thin and precise with a 0.78mm fine tip, it does not scratch on the screen, and there are no lags, offsets, or breakpoints issues! Digital artists in Sketching, Manga, Animation, Graphic Design, Illustration, or note-takers in digital Journal Planners, Calendar, Note Taking can use this pencil tip as it has higher sensitivity, no resistance, and is more comfortable in the hand than the original pencil tips.
For digital artists, digital planners, lab note-takers, and note-taking students, it is a Gifted product.
Buy REEYEAR Pen Like Fine Point Pencil Tipsfor $9.99 here
Was this helpful? Let us know in the comments section.