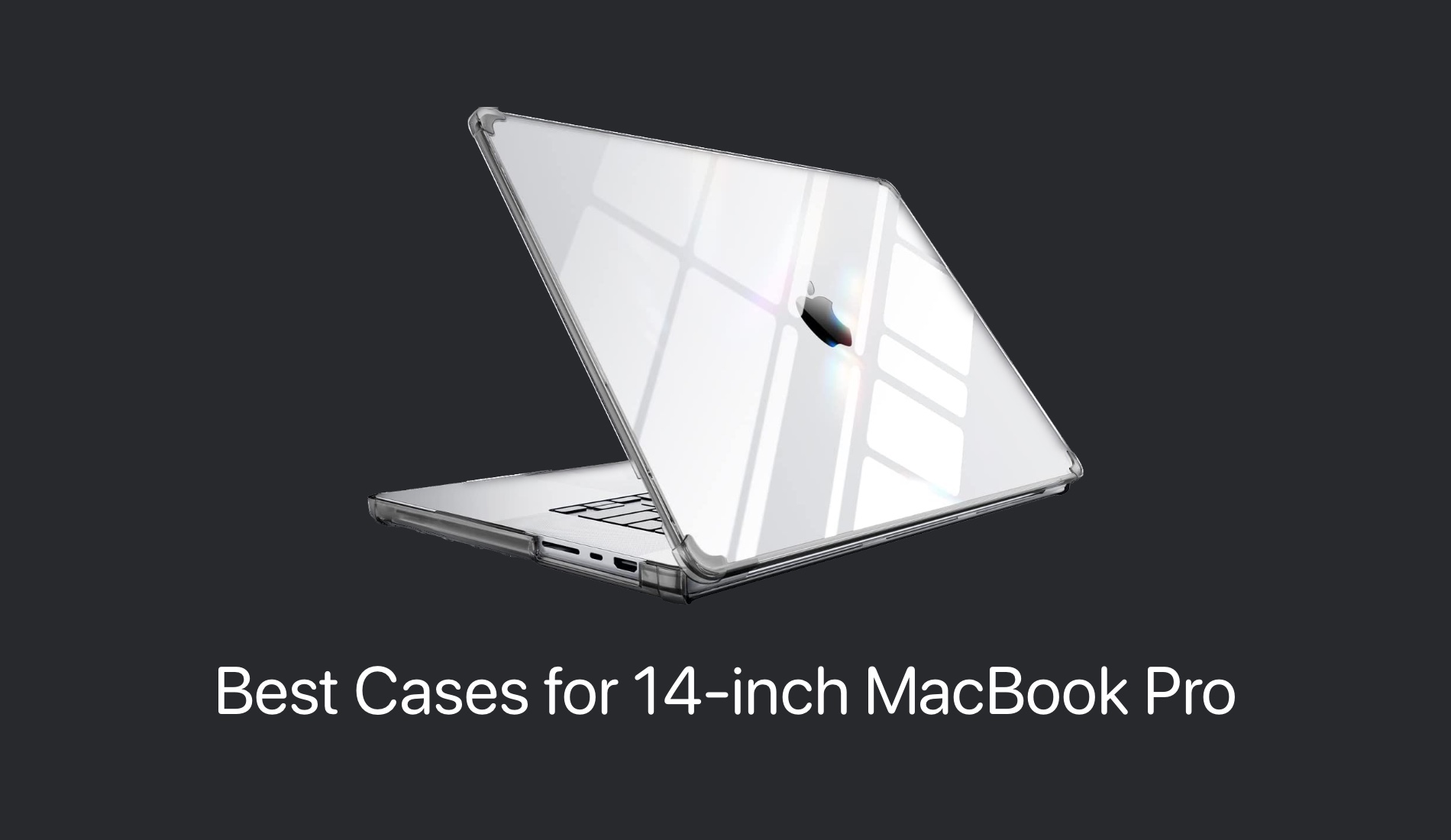 If you are searching for the best cases for 14-inch MacBook Pro, then we have got you fully covered. Here you will find a selection of 7 best cases that protect your costly MacBook Pro and adds much-needed durability to it.
To make the most of your shiny brand-new MacBook Pro, you will probably need some additional accessories. To be more precise, you might need a USB-C hub, an external portable monitor for a better viewing experience, or a high-quality webcam since online classes and meetings are the new norms.
While you are at it, you should also invest in a good-quality case for your MacBook Pro so it can be protected from scratches.
Listed below are some of the best cases for 14-inch MacBook Pro you can buy for your laptop to keep it safe and visually appealing.
If you are using a 16-inch MacBook Pro, then you can find 16-inch MacBook Pro cases here.
Best Macbook Pro Cases for 2023
Customers often have a hard time deciding which case to buy. It's due to the abundance of cases available for 14-inch MacBook Pro laptops.
The following list will help you find the best case for the 14-inch MacBook Pro you can find on the market.
In addition to a nice case, you might also want to invest in a good sleeve for 14-inch MacBook Pro.
1. MOSISO MacBook Pro 14-inch Case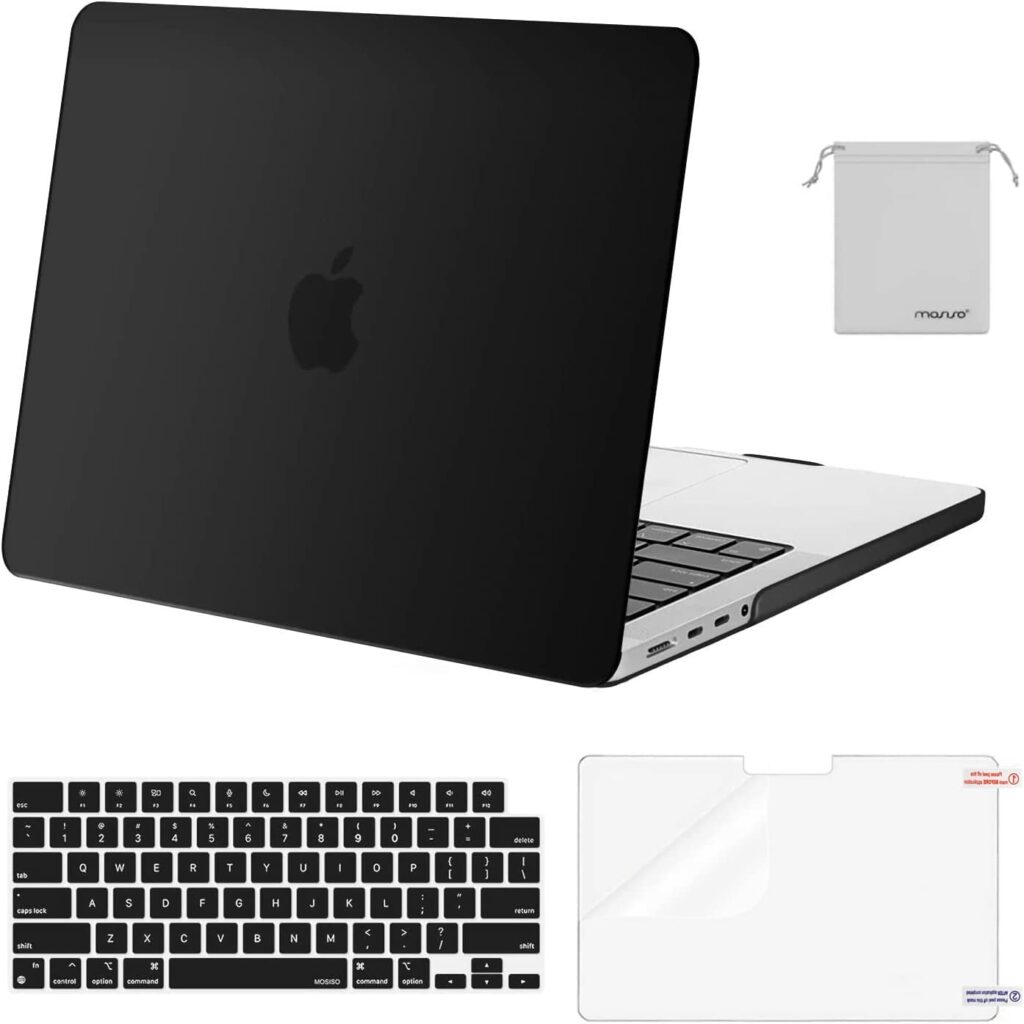 MOSISO has remained synonymous with protection and mobility since its inception to meet today's creative demands. They provide products that combine design simplicity and high utility at the convergence of lifestyle and technology, reaching millions of consumers worldwide.
Unlike other hard-shell cases, the plastic hard-shell case is made from sturdy polycarbonate material that is lightweight and seamless, flexible and durable, and not easily breakable.
This durable polycarbonate case protects your laptop from scratches and scrapes.
There are two rows of bottom ventilation on the case, which enable safe heat dispersal and keep your laptop cool. Besides, you can keep your laptop firmly in place with four non-slip silicone feet.
Buy MOSISO MacBook Pro 14-inch Case for $14.39 here
2. EooCoo MacBook Pro 14-inch Case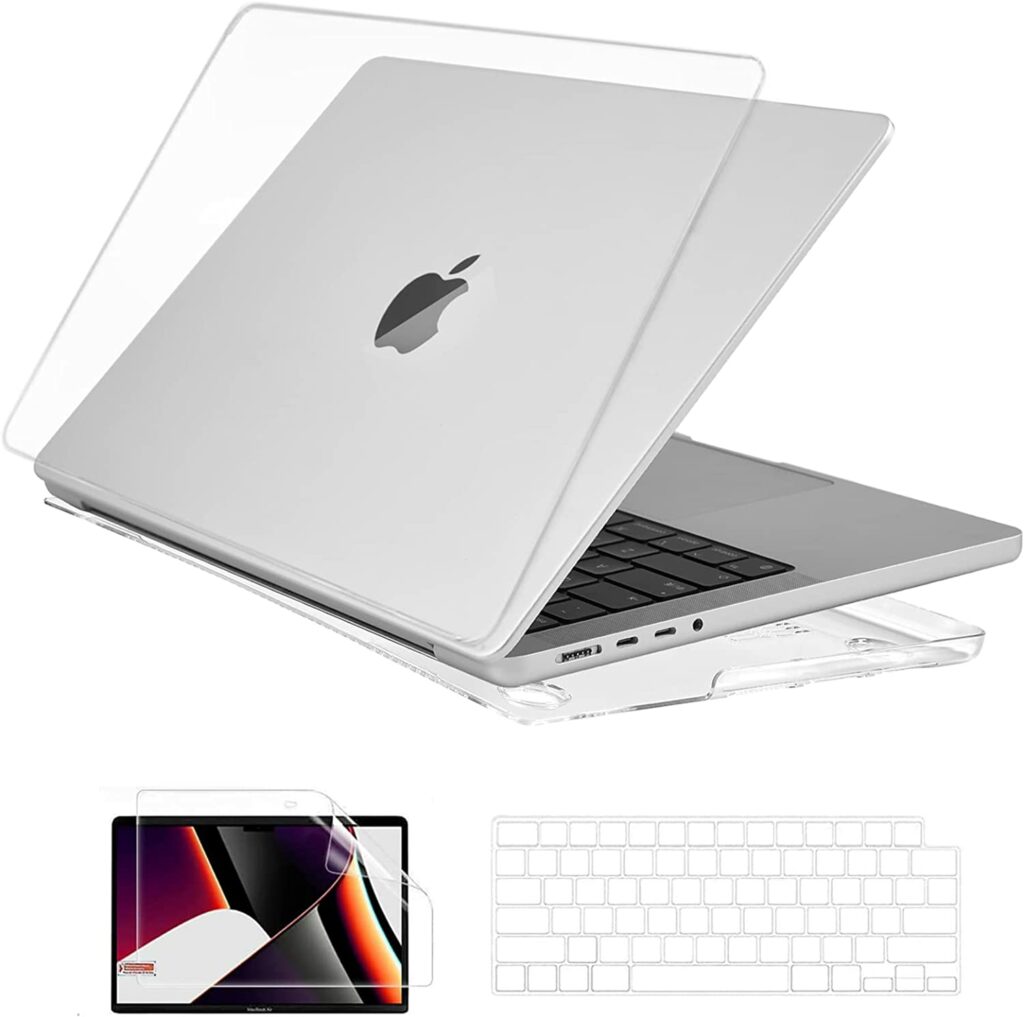 Design and technology are at the forefront of EooCoo's mission. It is their goal to design and manufacture products of the highest quality.
All EooCoo products are designed and crafted with the utmost thought and craftsmanship, this case is no exception.
The case has good dimensional stability, a wide temperature range, and high impact strength. You do not need to worry about the case deforming at high temperatures. A rigid shell case could prevent scratches on your MacBook. Additionally, the case is coated with a colorful rubber coating, which makes your Mac unique and even more stylish.
This high transparency and engineering grade TPU case is ultra thin at 0.12mm, won't harm the screen, and is easy to type on. Backlit keys can be seen through the high transparency film, and the keyboard cover is completely washable and reusable, easy to clean and disinfect.
Buy EooCoo MacBook Pro 14-inch Case for $15.95 here
3. BlueSwan MacBook Pro 14-inch Case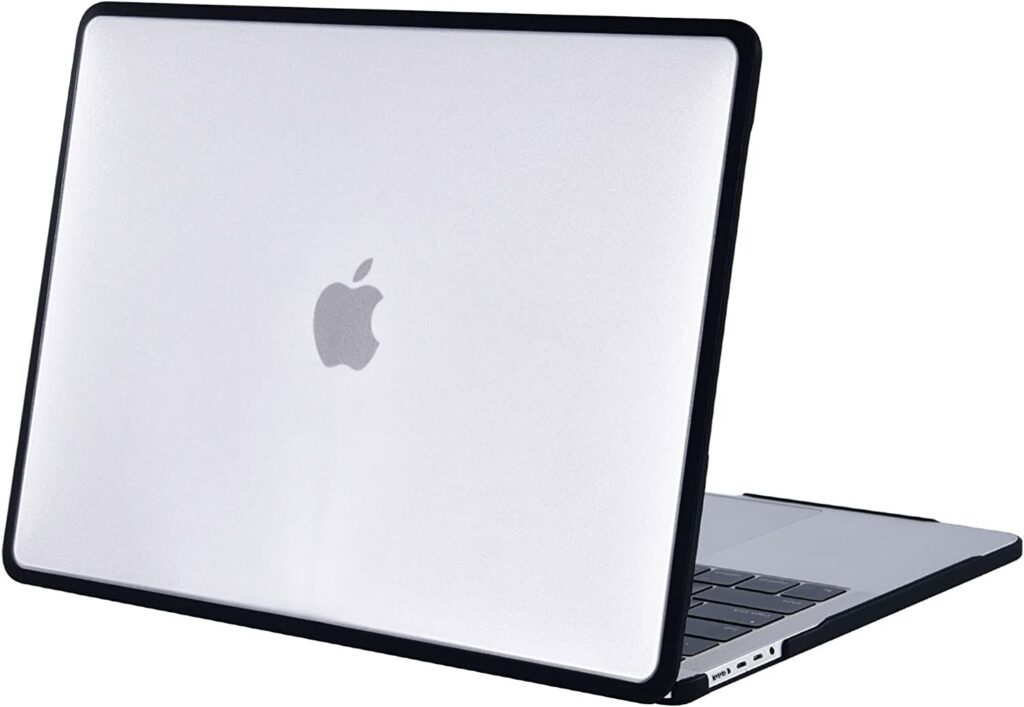 Next on our list of the best 14-inch MacBook Pro 2021 cases is the BlueSwan case. The high-quality PC plastic of this case exhibits high impact strength, dimensional stability, and a wide temperature range. It has four corners that are edging, easy to install, and provides access to all ports. Both the upper and lower covers are easily opened and closed.
On the bottom, there are many vents that are suitable for dissipating heat when using the computer.
Furthermore, the highly transparent color is almost invisible, restoring your notebook's original color perfectly. It is anti-scratch because of its frosted polished surface, delicate feel, and non-stick fingerprints.
Buy BlueSwan MacBook Pro 14-inch Case for $16.95 here
4. Spigen Urban Fit MacBook Pro 14-inch Hard Shell Case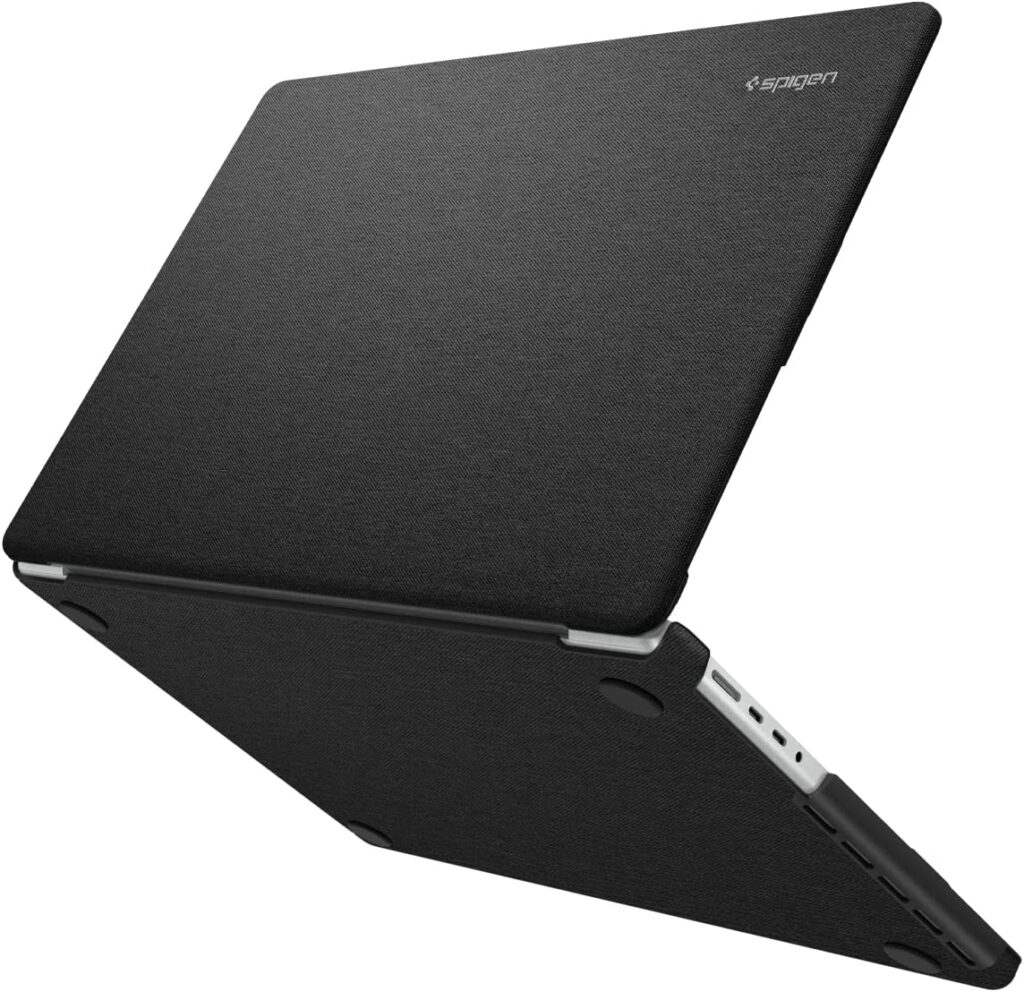 Whether you are taking care of business or binging your favorite show, Urban Fit will keep you comfortable and connected.
This Spigen Urban Fit case combines polycarbonate and fabric to protect your laptop without sacrificing style.
In addition to providing a comfortable grip on the laptop, the knitted material is made of polycarbonate, which protects it from damage. Unlike other cases, it includes a folding stand that can be used as a workstation.
In addition, it features a magnetic closure mechanism that helps keep the lid securely closed when the laptop is not in use. It also integrates with the MacBook's magnetic sleep/wake system.
Buy Spigen Urban Fit MacBook Pro 14-inch Hard Shell Case for $66.99 here
5. SUPCASE Unicorn Beetle Clear Series Case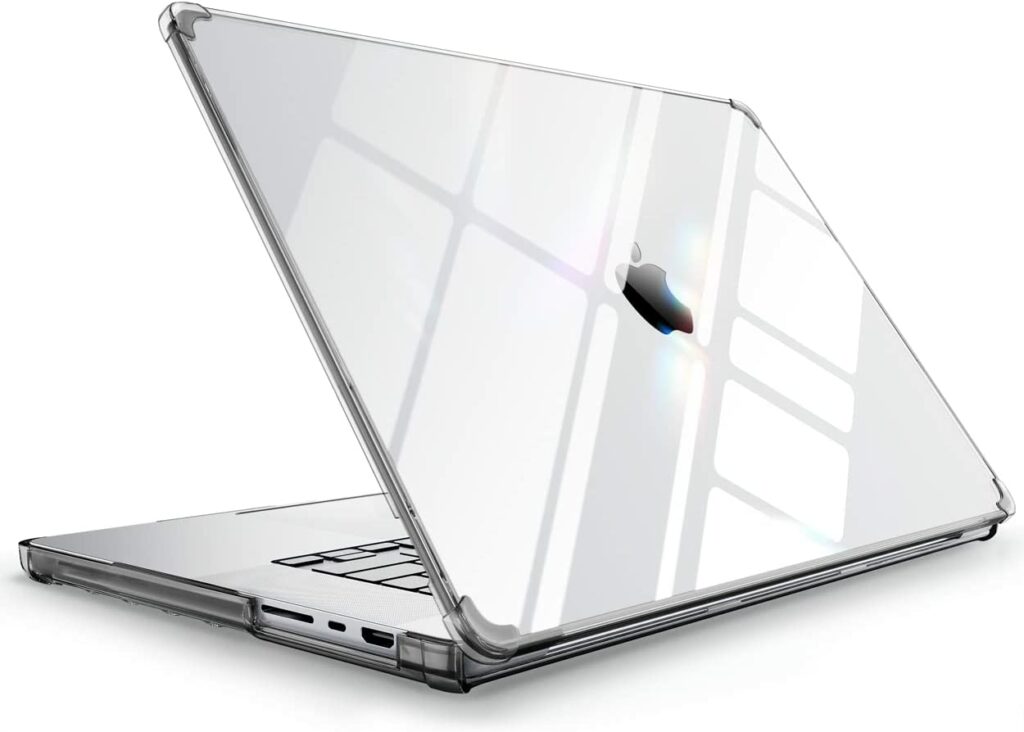 It is no secret that SUPCASE Unicorn Beetle Series cases offer superior protection. This case is no exception. To provide enhanced protection, the case uses transparent double-layer polycarbonate panels and a shock-absorbing wraparound bumper. You won't have to worry if you accidentally drop your MacBook Pro or bump it against a rough surface thanks to military-grade drop protection.
It features a crystal-clear cover that displays your Apple MacBook Pro 14-inch device in its original charm and resists scratches extremely well.
What's more, the precise cut and design allow easy access to all ports, sensors, speakers, cameras, and buttons. Raised rubber feet are located in the corners of the bottom case for improved heat dissipation.
Buy SUPCASE Unicorn Beetle Clear Series Case for $32.99 here
6. IBENZER MacBook Pro 14-Inch Case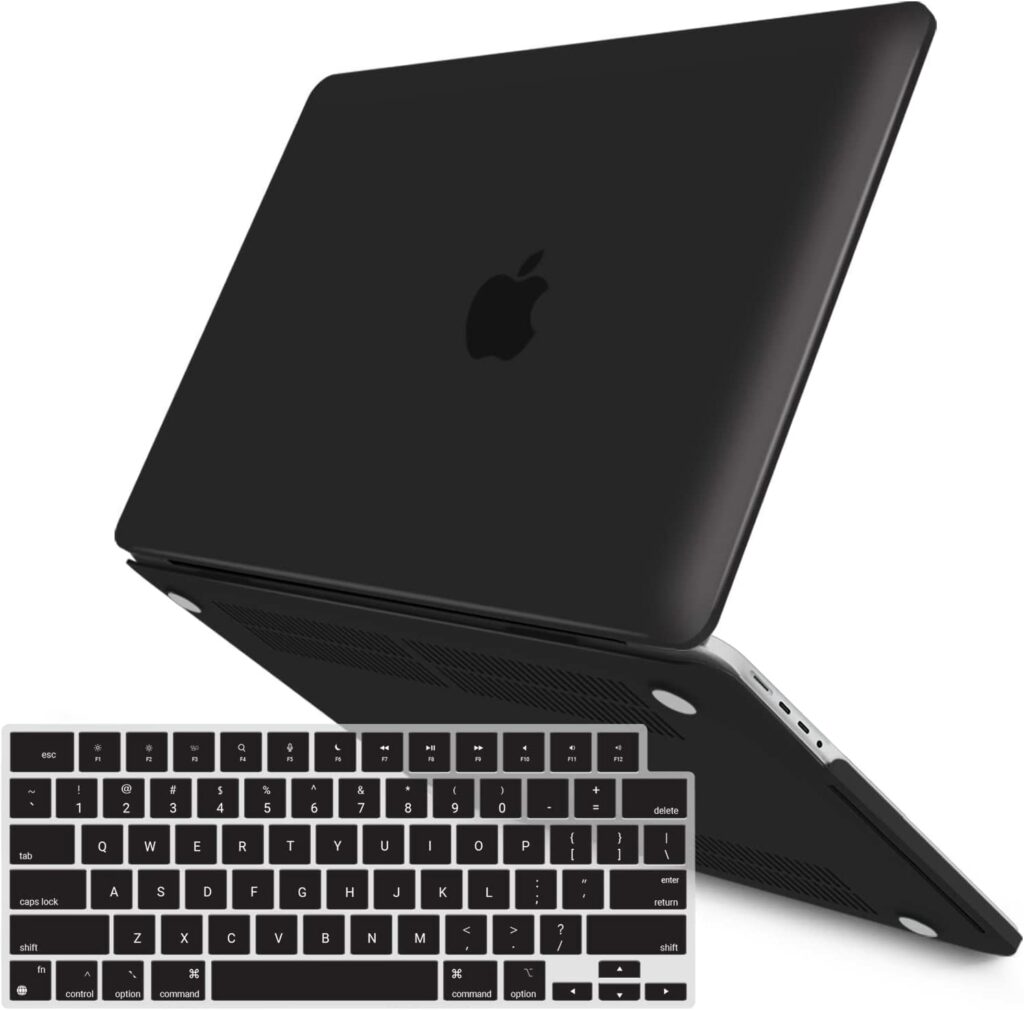 It does not matter how careful you are with your MacBook, an accident can still happen. If something bad happens, you could end up spending hundreds of dollars on repairs.
There is a wide range of costs associated with repairs depending on the type and extent of the damage. As an example, changing a screen under warranty is less expensive than repairing other types of damage.
Your most suitable option when it comes to protecting your MacBook is the IBENZER MacBook Pro 14-Inch Case.
With this MacBook Pro Case, you can protect your MacBook Pro without sacrificing access to ports, lights, or buttons. To keep your laptop cool and firmly in place, this rugged MacBook cover features sophisticated styling, injection-molded construction, and rubberized feet.
In addition, IBENZER protective covers come with micro clips that securely fasten to your laptop, and they snap off easily when required.
Buy IBENZER MacBook Pro 14-Inch Case for $13.99 here
7. URBAN ARMOR GEAR UAG MacBook Pro 14-inch Case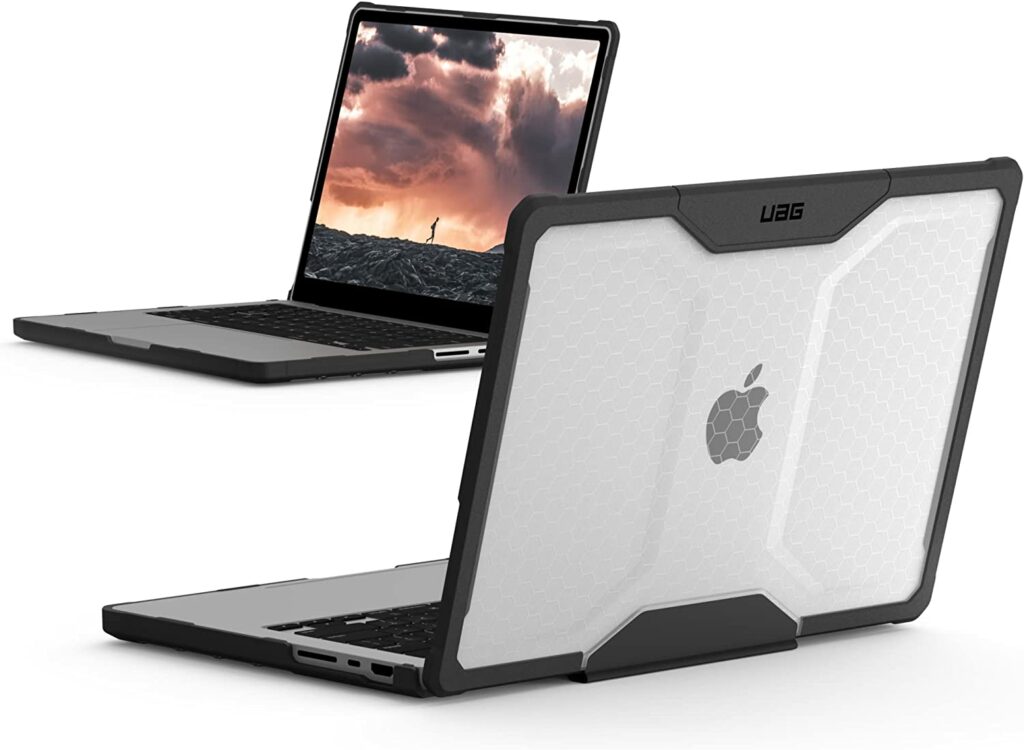 The UAG MacBook Pro 14-inch case features a transparent honeycomb design, a durable shell with a shock-resistant soft core for excellent protection, and air-soft bumpers for added corner protection.
Besides being sleek and minimalistic, yet classy and well-built, it provides exemplary protection. It features a precise cutout for full access to all ports and features, as well as four rubberized feet to prevent your MacBook from slipping on smooth surfaces.
With the non-slip tactile grip, you will have a secure grip even in wet and slippery surfaces. Furthermore, cooling vents ensure unrestricted airflow to prevent laptop overheating.
Unlike bulky and heavy plastic snap covers that scratch up your MacBook investment, this case will protect and cover your MacBook without adding excess bulk or bulky cover layers.
Buy URBAN ARMOR GEAR UAG MacBook Pro 14-inch Case for $79.95 here
To Conclude
These are our top picks for MacBook Pro cases that will protect your expensive portable computer.
You can protect your MacBook Pro with any of the cases on this list and guard your device against accidental scratches or damage. In terms of protection, some cases emphasize functionality, while others emphasize aesthetics, so you can select the one that suits you best.
Is there a case on this list that caught your attention? Let us know in the comment section below.