The majority of people today own two or more devices that require regular charging. While it's easy to slip a charger onto your phone to get extra juice, charging multiple devices can be overwhelming with all the cables.
You can organize your space by investing in iPhone charging mats, which allow you to charge all of your devices without a mess. A charging station typically has a built-in storage compartment, so you can keep your devices plugged in in one place, like a desk or nightstand.
Here are the best charging mats for iPhone, AirPods, Apple Watch and other devices.
Best Charging Mats For iPhone And Other Devices
Here are the best charging mats that can charge multiple devices such as iPhone, AirPods, Apple Watch and more at once.
1. mophie 4-in-1 Wireless Charging Mat for Apple iPhone
With the Mophie 4-in-1 Wireless Charging Mat, you can simultaneously charge up to four Qi-enabled devices (10W) and one USB-A device. With multiple charging coils, this charging mat allows you to power up your phone, earphones, and Apple Watch.
The multi-device charger is convenient for charging all your main devices at home or the office without having to use any additional cables.
Unlike most wireless chargers, it is capable of charging lightweight smartphone cases as thin as 3mm, as well as AirPod cases. This charger has easy-to-align valleys and intuitive markings to make it easier to find the charging "sweet spot."
In addition to being practical, the wireless charging mat also looks elegant. You can add a touch of style and sophistication to your office or home with the fabric finish. The product blends perfectly with your setup and is easy to maintain.
Designed to minimize overheating and battery damage, the charger's 25W power output ensures the safety of your phone.
Buy the mophie 4-in-1 Wireless Charging Mat for Apple iPhone for $99.99 here
2. Courant Catch:3 Essentials – Belgian Linen Wireless Charging Station & Valet Tray
Designed to elevate technology to a whole new level. A matte, color-matched frame and cable provide smart wireless charging technology, paired with high-end Belgian linen. In a way, this proves that technology can be stylish and cutting-edge at the same time.
You can charge your phone up to 10W without fumbling with cords.
Using environmentally conscious methods, Belgian linen is made to the highest standards. With OEKO-Tex Standard 100 certified and CO2-neutral, it meets the highest standards of safety and social responsibility.
You can charge your device and keep your accessories organized all in one place with the valet-style wireless charger. You can seamlessly integrate it into your home and lifestyle. With its weighted, non-slip construction, it stays where you place it.
Qi-certified charging technology prevents overheating, overcharging, and overvoltage. You can wirelessly charge Qi-certified devices from Apple, Samsung, Google, LG, and more. Although Apple's new iPhone 12 and 13 models are compatible with QI, they may be more sensitive to wireless charger placement than previous models. It may be necessary to take extra care when aligning the phone with the charger.
Buy Courant Catch:3 Essentials – Belgian Linen Wireless Charging Station & Valet Tray for $79.99 here
3. ZealSound Triple Wireless Charger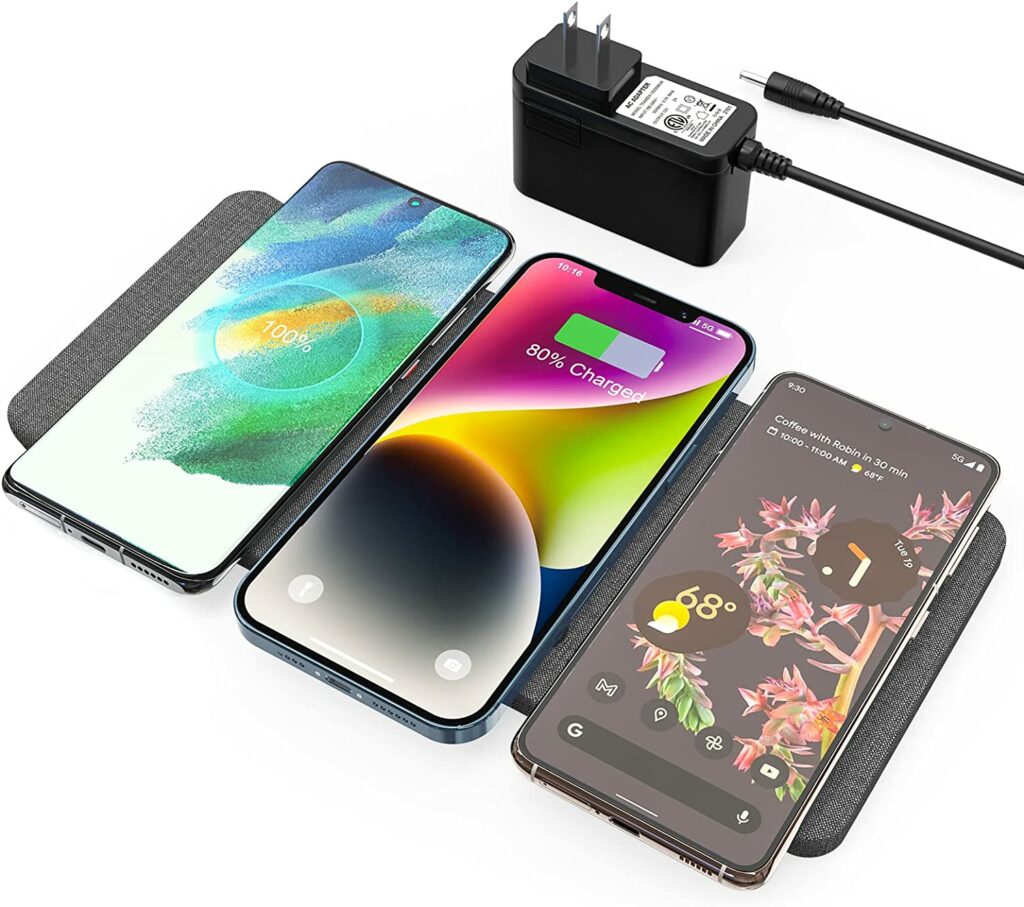 With fast charging speed for Phones, iPhones, and AirPods, you can charge three Qi-enabled phones simultaneously.
This exclusive Multifunctional Intelligent Protect Technology protects against short circuits, surges, and temperature fluctuation. This charging mat is equipped with a 0.39-inch thickness design. The intelligent temperature control system ensures a cooler, more efficient charging process, while the ultra-slim PU leather pad and the premium copper coil provide good heat dissipation.
An advanced chipset and highly efficient components make it possible to charge any Qi-compatible device 15% faster using the 10602's 12V/2A AC Adapter. However, remember, it does not charge through metal or cases thicker than 4mm.
Buy ZealSound Triple Wireless Charger for $39.99 here
4. SliceCharge 6-in-1 Fast Wireless Charger Station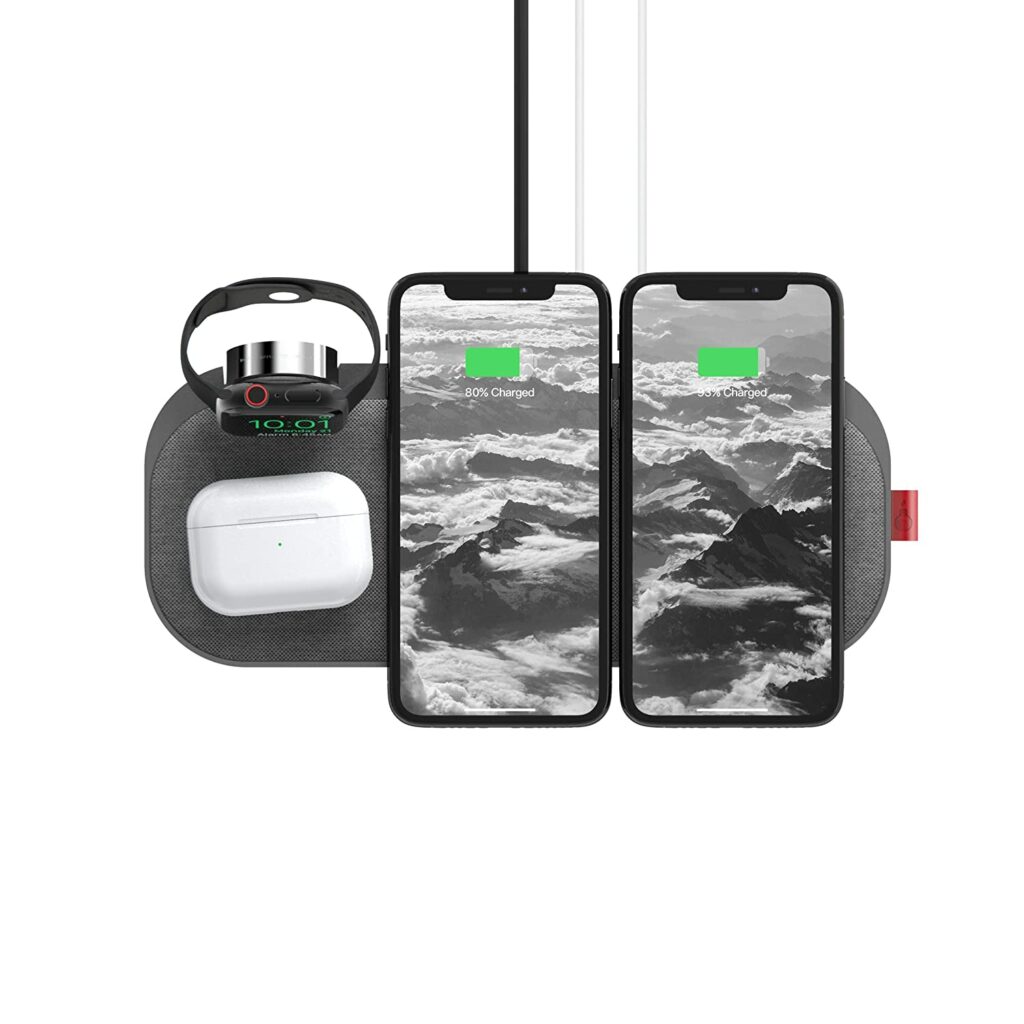 The SliceCharge 3 Pro utilizes revolutionary charging technology called full-area charging. The SliceCharge 3 Pro's 10 coils allow it to significantly expand its charging range, letting you charge pretty much anywhere on the pad.
Having been certified by the Wireless Power Consortium as Qi-compatible, this one of the best charging mats to charge iPhone and AirPods can power three smartphones at once at up to 10W output. With support for iPhone 13/12/11, Samsung New models, AirPods Pro, and iWatch, you can now wirelessly charge your phone and other Qi-enabled devices at today's fastest charging speed.
The updated SliceCharge Pro features a Certified Apple Watch Charger, enabling it to fully support all Apple Watch models.
It is also equipped with an 18W USB-C port and a 10W USB-A port.
Buy SliceCharge6-in-1 Fast Wireless Charger Station for $149.99 here
5. Jewaytec Wireless Charging Pad
3 Qi-enabled phones can be charged simultaneously using this wireless charging pad. Advanced Qi wireless charging technology eliminates the need for cables when powering your devices.
A safe first, automatic protection design includes protection against overcurrent, overvoltage, and overtemperature. To ensure safe and fast charging, the fast wireless charger features a copper coil of high quality, efficient heat dissipation performance, and a 0.24″ thickness design with intelligent temperature control.
In addition to the sleek and modern design, the wireless charger pad is made of genuine PU leather, which makes it both comfortable and anti-slip for multi-device charging, as well as home decor.
Buy Jewaytec Wireless Charging Pad for $35.98 here
6. HALO Universal Wireless 4-in-1 Charging Mat with Apple Watch Holder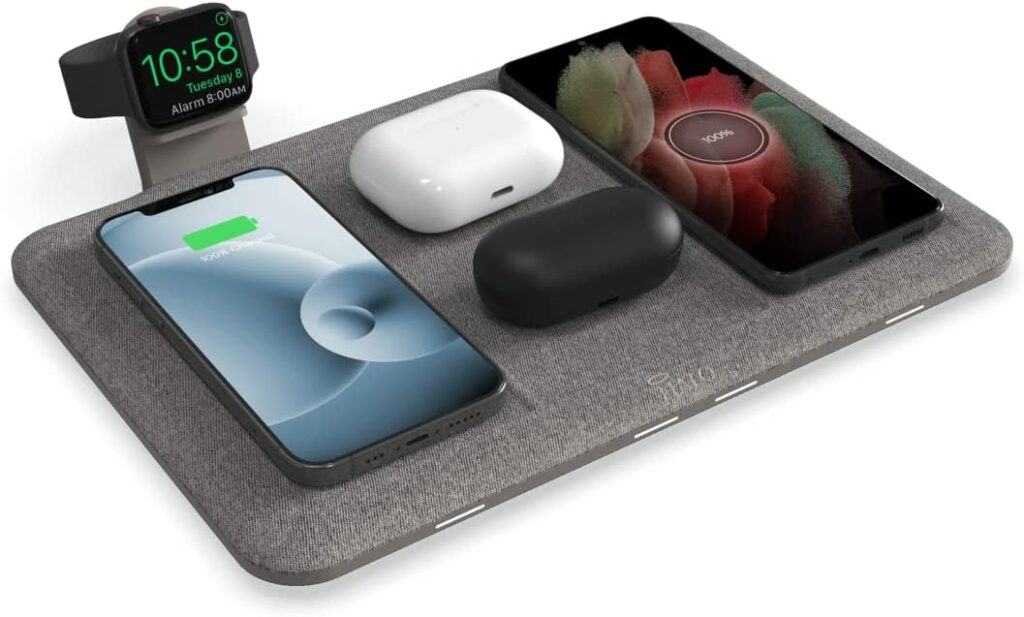 With its intuitive design, the HALO Universal Wireless Charging Mat with Apple Watch Holder allows you to charge up to five devices at once while clearing up any cable clutter.
Create a wireless charging station that can charge two phone-sized and two AirPods-sized devices simultaneously and wirelessly.
No matter what brand or ecosystem your device uses, the HALO Wireless Charging Mat is highly compatible.
The great news is that to charge your phone with the wireless mat, you won't need to remove your phone's case.
Buy HALO Universal Wireless 4-in-1 Charging Mat with Apple Watch Holder for $149.99 here
Final Verdict
All the above-listed best charging mats to charge multiple iPhones make charging alignment effortless.
These are all excellent wireless iPhone charging pads that cover a wide range of needs, but wireless charging makes life just a little bit easier. Although it might seem like a small thing, picking up your iPhone off a charging pad and returning it there when you're done with it is something awesome.
Need more recommendations? Let us know in the comments below.